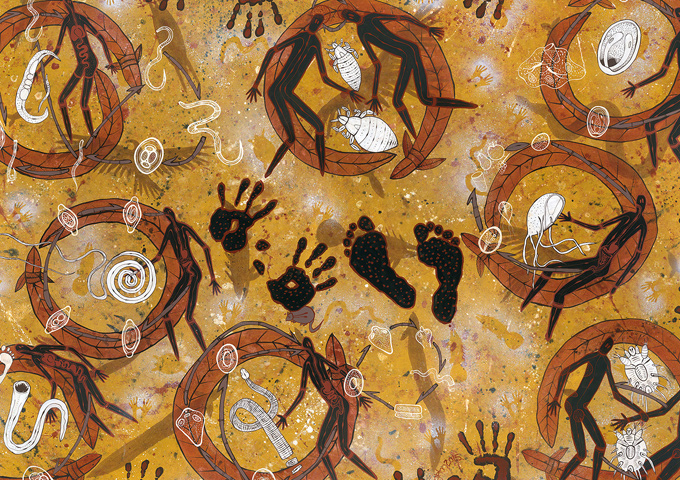 During National Science Week we celebrate Indigenous knowledge, as throughout our past, and in the present day, First Nations people and their wisdom have made significant contributions to the development of science and technology in Australia. Indigenous people are the first scientists, engineers, innovators and carers of the land and sea and only through learning from their experiences is it possible to continue to develop science in Australia in a sustainable and culturally significant way.
Two-Eyed Seeing-Learning
The understanding and knowledge of Indigenous Australians is many thousands of years old, and varies across Australia, and forms a crucial part of what the Palawa Science and Sustainable Futures event called Two-Eyed Seeing-Learning. This concept is that you need to see from one eye the strengths of Indigenous knowledge and ways of knowing and from the other eye, the strengths of scientific ways of knowing, and then learn to use both eyes together for the benefit of all.
This National Science Week, many events bring together this idea to engage Australians across the country. So which events can you be involved in to celebrate Indigenous knowledge this Science Week?
Science of the Black Box
The Tasmania Museum and Art Gallery held their event The Science of the Black Box this week, an online program inviting young people to explore traditional Lutruwita Aboriginal artefacts and the science of First Nations practices.
Aboriginal Learning Facilitator, Teangi Brown, spoke about the practice of Welcome to Country, and the complex shaping of identity. He then opened up the black box, bringing out bull kelp and explaining how its oxidisation meant it could be used to form a bag to carry fresh water.
The livestream also explored the science behind the use of Yula or mutton bird and Tuylini, meaning canoe. You can check out the livestream on the Tasmanian Museum and Art Gallery YouTube.
Canoe Making
Staying in Tasmania, the island state has a long history with water exploration and travel, but can you guess how many years Indigenous canoe making existed before colonisation? Anytime during or after Science Week, check out the online resource Tasmania's First Scientists – Investigations into Tasmanian Aboriginal Canoe-making. 
Gain insights from Uncle Rex Greeno, a nationally recognised canoe builder and artist, learn the ethnographic information of canoe building and download the resources so you can have a go at building your own canoe at home.
Indigenous Science Experience
The Indigenous Science Experience at the Redfern Community Centre in Sydney is giving you the opportunity to use Indigenous knowledge in your own home with their weaving workshops this Saturday. The Indigenous Science Experience has also been highlighting the value of traditional and contemporary Indigenous knowledge in science, technology, engineering and mathematics (STEM) and the relevance of science to our everyday lives. The move to online events in 2020 has allowed people from all over the country to get involved in this experience, with numerous sellout sessions.
So far this year, they've had live online events featuring artefact and bush tucker experiences, bush medicines to pharmaceuticals and Indigenous history and artefacts. As we enter the second half of Science Week, there are still a few events to go including Indigenous Astronomy in Australia (Thursday 20 August, 7 – 8:30pm), Global Indigenous Engineering (Friday 21 August, 7 – 8:30pm) and Weaving workshops (Saturday 22 August, 10 – 12pm or 1 – 3pm). But get in quick, tickets for each session are limited.
Live From the Lab
Though we love getting up close to science, sometimes it is better observed from a distance. Later in the week, #SciFest presents Live from the Lab, a Facebook livestream which will see Professor Tina Skinner-Adams and Dr Tiash as they talk about the parasite Giardia. Throughout the presentation there will also be animations of parasites from Gula guri mayin, painted by Bernard Singleton and animated by Russell Milledge and Tai Inoue. Join them on Friday 21 at 11am.
Also from the Australian Society for Parasitology, Lyluequonny man Cameron Raw from the University of Melbourne spoke earlier this week about the importance of community-led One Health research, including his veterinary work with remote Aboriginal communities in Arnhem Land. In the livestream, he spoke of the west Arnhem Land veterinary program he participates in and how dogs can be potential reservoirs of infection with zoonotic soil-transmitted helminths in remote Aboriginal and Torres Strait Islander communities, including how they can be treated. You can still watch his presentation on the Australian Society of Parasitology Facebook page.
Collection Podcast
Also from the Northern Territory comes the Collection Podcast, a chance to discover the rare, wonderful, and unexpected objects in the Museum and Art Gallery Northern Territory. In episode three, Seven Seasons and a Very Rare Fish, explore the Larrakia calendar, learn how two-way knowledge sharing can mutually assist both Aboriginal people and collecting institutions, and follow the search for a rare rainbow fish.
Episode four, Surviving a Cyclone, hear from MAGNT's Curator of Territory History, Jared Archibald, MAGNT conservator, Lisa Nolan, and Aboriginal artist Candy Nakamarra Nelson from Papunya. Find out how some of the first artworks from the Papunya Desert Art movement were rescued in the aftermath of Cyclone Tracy and what it takes to keep collections safe in the tropics. Both are available online now.
The Great Southern Reef 
From the north of the country down to the south, take a virtual tour of the Great Southern Reef Marine Life and explore Aboriginal connections to coast and marine as Experiencing Marine Sanctuaries collaborates with universities, Indigenous communities, the Department for Environment and Water, Marine Parks, the dive industry and science communicators to tell the story of the Great Southern Reef and its inhabitants (Monday 7 September, 7:00 – 8:00pm).
Fighting Bushfires With Science
Aboriginal connections extend far beyond the coast and marine, and the knowledge and practices of Australia's First Nations peoples and their connection to land have been a very important part of findings solutions for Australia's recent devastating bushfires. Fighting Bushfires with Science (Thursday 20 August, 5:30pm) with Associate Professor Michael-Shawn Fletcher, a Wiradjuri man from the University of Melbourne who specialises in fire ecology, climatology and geology, as well as Sandra Whight from the Bureau of Meteorology. Hear as they discuss how in a crisis, creativity is required to solve problems.
Lessons From the Fires
This creativity will need to extend to the lessons we have learnt, particularly considering biodiversity and climate, which will be discussed at Lessons From the Fires: A biodiversity and climate perspective (Tuesday 25 August, 3:30 – 5:00pm). The webinar will bring together perspectives from biodiversity and climate change experts, and policy makers, to focus on understanding bushfire seasons under a changing climate, preparedness for future bushfires seasons, and ongoing impacts on biodiversity.
The panel includes Oliver Costello, Co-Founder of the Firesticks Alliance Indigenous Corporation, an Indigenous led network which aims to re-invigorate the use of cultural burning by facilitating cultural learning pathways to fire and land management.
Palawa Science and Sustainable Futures Virtual Trail
Fire and land management is an important part of a broader idea of land sustainability, which will be explored by the Palawa Science and Sustainable Futures Virtual Trail (26 August, 9:00 – 10:00am). Convened by Aboriginal educator Dave Gough the event will include guests Menna Jones from the University of Tasmania and landholders Rae Young and Tom Dunbabin.
The webinar will showcase a video taster by film maker Georgia Stone and Rosny College media students of two field days held On Country at Bangor, Dunalley and Lewisham, Campbell Town. These On Country experiences involved local Aboriginal students, Aboriginal Elders and educators, scientists and others engaged in Aboriginal immersion.
Future Indigenous Leaders
Indigenous Elders and educators are crucial for inspiring the Indigenous students and leaders of tomorrow, country wide. Heading north from Tasmania, in the ACT the STEM Canberra Forum: Future Indigenous leaders of tomorrow being inspired by Indigenous elders of today (Friday 21 August, 10:30am – 12:00pm) is devoted to providing insight into studying science, technology, engineering and mathematics for Indigenous students aged 16 – 24. The future Indigenous leaders of tomorrow will be inspired by Indigenous elders of today, an impressive line-up of researchers, CEOs and health workers.
However you celebrate First Nations knowledge and science this #scienceweek, make sure to tag us @Aus_ScienceWeek on Twitter or @NationalScienceWeek on Facebook, and use #scienceweek.
Image: Bernard Lee Singleton's painting, Gula Guri mayin (which means "Heal the body"). Created with funding from Inspiring Australia to the Australian Society for Parasitology.