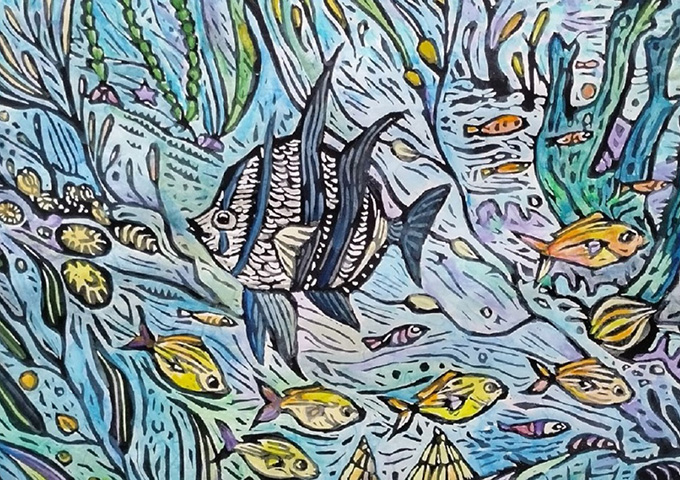 Do you love a day at the beach? Are you fascinated by the ocean and the creatures that call it home? If you answered yes to either of those questions, then National Science Week has got some events for you!
The world's oceans affect the lives of every organism on the planet, but most of it still remains a mystery. More than 80 percent of our oceans have not been mapped, explored or seen by humans! The following events give an insight into some of the amazing creatures and ecosystems that lie beneath the surface.
Aliens Amongst Us – Cephalopods
Andamooka Observatory, SA
If you're a fan of sci-fi, Andamooka Observatory is the place to be this evening. Learn about Cephalopods in sci-fi and alternative future fictions. Cephalopods are a class of molluscs that includes octopuses, squid and cuttlefish. These intelligent, ancient creatures have inspired many of the fictional beings you see in sci-fi and future fiction films with their evolutionarily unique traits and alien-like appearance.
Opalised fossils of Belemnites, an extinct order of squid-like cephalopods that lived from the late Triassic period to the late Cretaceous period, have been found at Andamooka. During the Cretaceous period, the ocean gradually retreating saw the opalization of many types of prehistoric marine life including marine reptiles and giant Belemnites.
Some examples of cephalopod themes in pop culture and sci-fi can be seen in films such as Arrival and Men in Black, as well as in TV shows like Doctor Who and The Simpsons!
Fun Fact: Andamooka was referenced in the Futurama series and the Max Brooks novel, World War Z. Find out more.
Colour & Sip Workshop: Blue world virtual dive
Waverley Library, NSW
Help raise awareness of marine life while mindfully colouring in beautiful drawings of local marine habitats this Friday evening. Waverley Library is hosting a special Colour and Sip Workshop for National Science Week, where you can join marine scientist Zuhairah Dindar and artist Merran Hughes Zuhairah and immerse yourself in both art and science.
Start off the evening with a short film presented by Zuhairah that shows scientists' work-diving in the waters of New South Wales. Learn about the habitats and wonderful species of the coastal waters of Sydney and marine science processes. You will hear about the local fish and marine plant life, as well as marine science processes and ocean protection is so important.
After the short film, participants will be invited to collectively work on large scale colouring sheets of local marine habitats designed by Merran Hughes Zuhairah. All works will go towards a large scale art instillation to raise awareness of marine life that will be launched later this year. There is no need for formal art training to attend, just a willingness to learn and a sense of fun! Find out more.
Gardening Below the Surface
Sydney Institute of Marine Science, Mosman, NSW
Seagrasses are unique plants that are an integral part of Sydney Habour's most important ecosystem. They provide food and habitat to many different species and are important for natural defence against climate change. However, human activities are causing immense threat to seagrasses. Operation Posidonia is a conservation project working to safeguard the future of seagrasses.
Join marine ecologists from Operation Posidonia and the Sydney Institute of Marine Science this Saturday from 10 am to learn about Sydney's seagrass meadows. You will be able to participate in practical scientific activities to gain an understanding of their function. Participants will also have the opportunity to share their new-found knowledge of seagrasses with community, friends, and family by taking part in a science meets art activity led by artist Liss Finney.
Students of upper school age are encouraged to participate in this event but this program is suitable for all ages. Find out more.
Sea Country Stories
SA Maritime Museum, Port Adelaide, SA
This Friday evening, the South Australia Maritime Museum will be launching the first ever Sea Country Stories from Ngarrindjeri Country on the lower Murray River and Coorong.
Join cultural icon and Ngarrindjeri elder Major 'Moogy' Sumner for an immersive experience of being on Yarlawa Ruwi, Sea Country. HE will be demonstrating how to make the kaiki, the freshwater reed spears, harvested from Lake Alexandrina and speaking about what story and Sea Country mean to him.
You will hear stories about fishing with pelicans, spearing flounder at night, and how to find a stingray in the stars. Afterwards, join the kuti, pipi cockles, fishers and artists at Goolwa and learn about sustainable fishing using traditional techniques to protect the kuti for the future.
This series will offer an introduction to Indigenous marine science and the practical application of knowledge about Country for the research and management of Australia's lands and waters. Find out more.
Giant Cuttlefish and the Currents
Point Lowly, SA
Do you want to see the annual gathering of giant cuttlefish near Whyalla in South Australia, but aren't very keen to get in the water in winter? Well, now you can by embarking on a glass-bottom boat tour instead!
The tours go for 45 minutes each, with six cruises running between 9 am and 2:30 pm from 16-21 August, allowing plenty of time to spend with the giant cuttlefish which can be up to 60cm long!
The cruises will crawl along the shallows of the coast to find the best congregations of giant cuttlefish and other sea life. The tour will also locate the major hotspots for cuttlefish breeding around the sub tidal reefs north of Whyalla while discussing how currents cause environmental constraints on their actions and distribution.
Learn about the differences between the behaviours, movement and preferred boundaries of the diurnal (awake during the day and sleeps at night) cuttlefish and the continuous activity and slope-soaring tactics of squid. This will make it easier to understand energetic trade-offs in buoyancy that allow for access to prey in currents. Find out more.
Make sure to dive into some marine science events this National Science Week 🤿🐠🦑🦐🐋