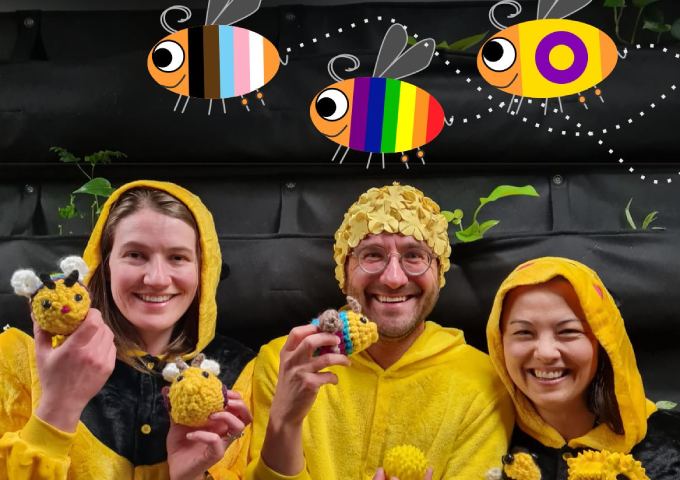 Calling all Ken Behrens! Having somewhat recovered from the 'excitement' of a territory-wide lockdown being announced right as the official launch for National Science Week kicked off, we are excited to share many of the postponed events coming up in the ACT.
Many event-holders have adapted their events to take place online. Events that are still scheduled to go ahead in person are subject to future changes to COVID-19 restrictions in the ACT. Check the Inspiring ACT and Science Week websites for updates. Due to the possibility of evolving COVID-19 restrictions, more events will be added to this post in the coming week.
Saturday 28 August
Diversity is the Bee's Knees | 10:30am – 12:30pm, online
This event from Australian National University (ANU)'s School of Culture, History & Language will introduce LGBTQIA+ student scientists to the amazing ways plants share genetic information through pollination. Participants will gain a renewed appreciation that all the world's beauty and resilience comes from its incredible diversity.
Science of Outdoors webinar with SciScouts and Fizzics Education | 1pm – 2pm, online
In this webinar from Sci Scouts and Fizzics Education, Scouts and Guides across Australia will participate in activities including creating a water filter and a cloud in a jar, as well as learning the science of topography and map reading.
Sunday 29 August
Sustainability and Composting at Home and in the Workplace | 4pm – 5pm, online
Mt Stromlo Observatory has diverted more than 250kg of organic waste from landfill — saving over a tonne of carbon emissions — through their on-site composting system. Join Dr Phil Taylor for this informative discussion on the issue of waste and simple, low-cost, low-effort sustainability initiatives we can all take in the home and workplace.
Saturday 4 September
Brain Teaser | 10am – 5pm, John Curtin School of Medical Research
Brain Teaser 2021 will comprise of multiple neuroscience themed demonstrations, as well as short communicative talks from neuroscience researchers. Demonstrations include interactive stations where attendees can learn about various aspects of their nervous system and brain, as well as stations with informative content about neuroscience research and neurological diseases such as Parkinson's Disease.