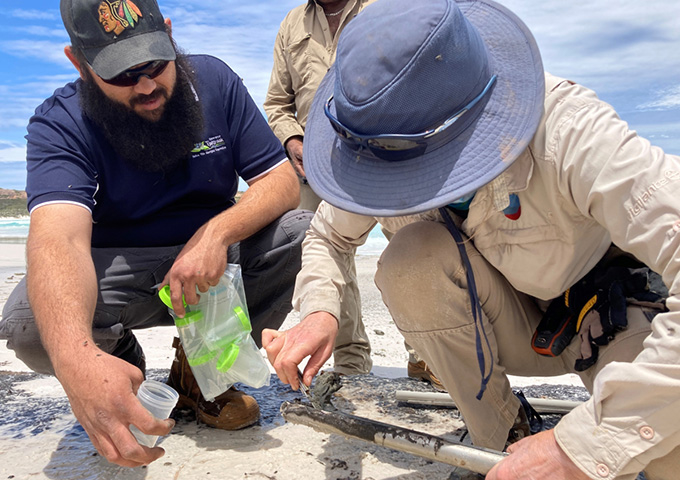 The First Nations people of Australia had some of the world's earliest scientists and inventors and have been using science for over 65,000 years. Science has always been an integral part of Aboriginal and Torres Strait Islander culture and continues to be an important part of cultural life today.
 Aboriginal and Torres Strait Islander peoples practise science in all aspects of life – such as using fish traps, navigating via the stars, fire management and agriculture. The use of science and a deep understanding of the environment contribute to the longevity of cultures and knowledge systems.
Aboriginal and Torres Strait Islander peoples and their scientific knowledge and practices have shown incredible resilience and adaptability. They are being increasingly recognised and respected as being integral to important scientific questions of today, including food security and climate change.
First Peoples Science Event Holder Booklet
This year's event holder booklet, Celebrating the first sciences of these lands, highlights the important contributions that Aboriginal and Torres Strait Islander science and traditional knowledge make in understanding our world and our place in Australia.
The booklet gives examples of how science can be found everywhere and in everything, from the land to the skies and waterways. The booklet also provides resources and guidelines on how Aboriginal and Torres Strait Islander people, and First Peoples science, can be an integral part of all National Science Week events.
Here are some of the First Nations science events held in National Science Week this year.
Aboriginal Rangers STEM & Cultural Restoration
Esperance, WA
On Wednesday 17 August, Indigenous Rangers in Esperance, WA presented their scientific, research, and culturally sensitive conservation activities with a mix of authentic video, live talking, and opportunities for students to ask questions for 20-30 mins.
The rangers discussed the "how, what, why?" of scientific inquiry and demonstrated data collection and analysis, conservation strategies, and what can we do?
Over 150 Aboriginal Ranger groups throughout Australia will present unique STEM content and conservation activities in their community as monthly virtual excursions, with different Aboriginal Ranger groups, regions, and topics being showcased.
Indigenous Science Experience at Redfern
Redfern Community Centre, NSW                    
Have you ever wondered what Aboriginal astronomy can teach us about the night sky? How can our native flora be used in bush medicine? What can we learn about sustainable living from over 65,000 years of Indigenous culture? The Indigenous Science Experience being held this weekend will have the answers to those questions and more.
This Saturday, the Redfern Community Centre is hosting a community open event, celebrating both Indigenous and Western science and highlights the relevance and importance of science, technology, engineering and mathematics (STEM) in our everyday lives.
This event allows participants to have a hands-on experience with a large and diverse range of scientific activities that are accessible to all ages, so there is something for everyone! Some of the activities will include speaking with Elders about bush foods and medicines, maths puzzles, making Aboriginal tools, and much more. You will also have the opportunity to meet Indigenous Elders and student leaders from the National Indigenous Science Education Program who will be assisting with the demonstration of the activities.
The event will begin with a traditional smoking ceremony and official welcome.
The First Astronomers: How Indigenous Elders read the stars
Altona, Vic
There is much we can learn from First Nations Elders around the world. Associate Professor Duane Humacher's book The First Astronomers gives an insight into the rich knowledge of the stars and planets that is held by First Peoples around the world. Guided by six First Nations Elders, Duane takes us on a journey through time and space to reveal the wisdom of the first astronomers.
On Wednesday 17 August at the Altona Library, hosted local independent bookseller Book and Paper for the sale of the book and Duane was available to sign any books on the night.
Indigenous science is dynamic and adapts to changes in the sky and the earth, leading the way for a world facing the unpredictable nature of climate change.
These are only some of events celebrating First Peoples science that have been held as a part of National Science Week.