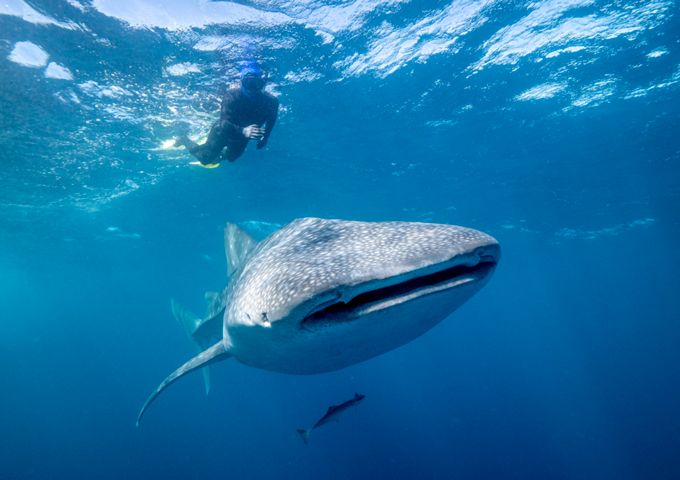 The ocean is our planet's largest ecosystem. It stabilizes climate, stores carbon, nurtures biodiversity, and directly supports human well-being through food and energy resources, as well as by providing cultural and recreational services.
2021 is the first year of United Nations Decade of Ocean Science for Sustainable Development. The Ocean Decade is an once-in-a-lifetime opportunity for countries across the world to work together in developing 'the science we need for the ocean we want'.
Scientific research and innovative technologies can connect ocean science with the needs of society. Scientists, governments, academics, industry and the general public all need to work together to create new ideas, solutions and partnerships to protect our oceans.
"More than ever, protecting the ocean requires us to think globally and collectively. We must join our forces, share our knowledge and embrace the cause of the ocean to shape a future where humankind and seas benefit from each other. It's our responsibility to give new generations a chance to live in a sustainable world." — HSH Prince Albert II of Monaco
The schools theme for National Science Week 2020 was 'Deep Blue: Innovation for the future of our oceans'. This year, there are many events taking place during National Science Week that celebrate innovations in ocean science, raise awareness of the risks of ocean degradation, and engage future generations in protecting our incredible marine ecosystem.
Here are just a few of the ways you can dive into ocean science this National Science Week.
Week-long events
Swim with the Giant Australian Cuttlefish – Virtual Tour | Friday 6 August – Tuesday 31 August
An internationally unique marine phenomena occurs from May to August each year, in the cold water of Upper Spencer Gulf Marine Park near Whyalla. This amazing annual event is the aggregation of the Giant Australian Cuttlefish, who migrate to the rocky coastline with one thing on their mind — to breed.
Actually, it's Phytoplankton! | Saturday 14 August – Sunday 22 August
Go2Qurious presents season 2 of the kids science podcast Actually, it's Phytoplankton!, this year with the sub-title Planet Ocean. Students, families and teachers are invited to tune in for six science lessons on the topic of oceanography, delivered as a podcast.
Oysters: Different by Design | Monday 16 August – Friday 20 August
Discover how our local oysters are Different by Design as a seafood, a sustainable and regenerative species in our marine environment and pearl producing shellfish. Across five sessions throughout National Science Week, Broken Bay Pearl Farm are sharing the story of the oysters that are found and farmed in the waters of Broken Bay and hosting five special online webinars with industry guests.
Wednesday 18 August
Deeper into STEM of our Ocean with Dr Sylvia Earle | 11:00am – 12:00pm (AEST)
Hosted by wildlife scientist Dr Vanessa Pirotta and Michael AW of Ocean Geographic, this session explores the ocean and the world of STEM with Dr Sylvia Earle. Students from every state and territory will have an opportunity to ask Sylvia one question about the ocean. In this live session, Dr Sylvia Earle will share one of her most exciting secrets of our ocean.
Follow the Fish | 1:30pm – 2:00pm (AEST)
In this session, experts Grant Logue from Harley & John's Seafood and Phil Ravanello from Tuna Australia will answer student questions about the journey of our fish from the boat to the shop. How big are tuna, how are they caught, and how do they become a fillet of fish?
Thursday 19 August
The Ocean's Chemistry is Changing. Why does it matter? | 11:00am – 12:00pm (AEST)
Excessive CO2 emissions isn't just an atmospheric problem, it's changing the chemistry of our oceans and impacting ocean life. Join Australian Institute of Marine Science Senior Principal Research Scientist Dr Katharina Fabricius for a special webinar to learn about ocean acidification and how we can help mitigate it.
Human Change Not Climate Change | 1:00pm – 2:15pm (AEST)
Phillip Island Nature Parks present a discussion between marine biologist Dr Rebecca McIntosh, marine scientist Associate Professor Andre Chiaradia and PhD student Lauren Tworkowski. The conversation will focus on the impact of a changing climate on iconic native species: little penguins and Australian fur seals, and explore the science and conservation actions at Nature Parks aimed at understanding and mitigating these impacts.
Rocking the Cradle of Life | 6:30pm – 7:30pm (AEST)
Join A/Prof Brendan Burns to hear about how his astrobiology group at UNSW is studying the origin of complex life using the stromatolites, 'living rocks', of Shark Bay in Western Australia as a model environment. Discover how the field of astrobiology has relevance for our search for life elsewhere, including one of our nearest neighbours, Mars.
Friday 20 August
Fishing in Antarctica | 1:30pm – 2:00pm
In this session, experts from Austral Fisheries and the Commission for the Conservation of Antarctic Marine Living Resources will answer student questions about sustainable fishing in the Antarctic. Learn about the great variety of sea life in the sub-Antarctic, from the Patagonian Toothfish to the Emperor Penguin.
Saturday 21 August
Justice for the Oceans | 3:00pm – 4:00pm (AEST)
How can we make a Blue New Deal? Healthy oceans are fundamental to a healthy planet. But our oceans are both under threat and pose a threat. Join the UNSW Centre for Ideas for a conversation between globally-renowned ocean defender Dr Ayana Elizabeth Johnson and leading Australian marine scientist Emma Johnston. They will explore how these issues are playing out in Australia and internationally, the future of the oceans in the age of climate change, how to mobilise support for a Blue New Deal and how women leaders are pioneering global climate action. 
Sunday 22 August
Virtually Marine Mammals: Dive into Burrunan Dolphin Research | 10:00am – 11:00am
Hear from Marine Mammal Foundation researchers as they provide updates on current research projects and conservation endeavours including Burrunan dolphin acoustics, population assessments, geospatial mapping and ecotoxicology.
Citizen Science
Virtual Reef Diver | 14 August – 22 August
Help our reef scientists and managers by classifying reef images, for improved coral reef cover modelling and predictions for reef health. The Virtual Reef Diver project represents a new approach to monitoring and managing the Great Barrier Reef. You can view contributed images taken on the Reef and help with data collection through your observations as you classify images.
Where Do You Go To My Lovelies? | Saturday 14 Aug – Sunday 22 Aug
Kangaroo Island/Victor Harbor Dolphin Watch is a longitudinal Citizen Science dolphin research project that has monitored Common Bottlenose and Shortbeaked Common dolphins in the Fleurieu region since 2005. Local community members can assist by contributing images showing where the dolphins are, so the data collected can fully recognise their important habitats in our waters.
Past events
There have already been some sea-sational ocean-themed events this week. Check them out:
Aboriginal and Torres Strait Islander peoples of Australia have built an intimate understanding of both the land and the sea and their resources over more than 60,000 years. Harnessing Knowledge of the Land and the Sea, as part of the Indigenous Science Experience Online, explored how individuals and communities are working to collect and revitalise traditional knowledge on natural resources and bush medicines, and share this knowledge in innovative ways to positively impact our food industry and the environment.
Mid-Afternoon Masterclass: Calculating whale migration was led by Dr Stuart Johnson on Tuesday night. Dr Johnson explained the spectacular phenomenon of long-distance whale migration and the mathematical modelling used to understand how human activity affects it.
Also on Tuesday was The Science Behind Sound Navigation in Shipbuilding, hosted by the Naval Shipbuilding College (NSC). NSC discussed the phenomenon of sonar, used by both submarines and dolphins to locate objects and interpret information with the help of sound.