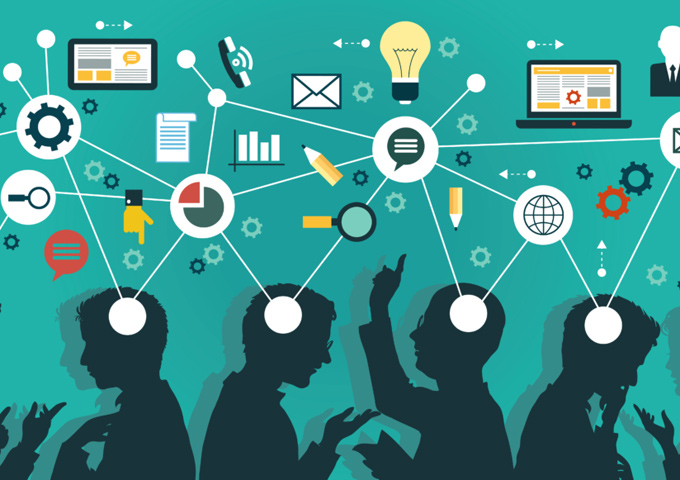 This National Science Week is the first of its kind and arrives at a time when there is increased pressure on science to answer the 'Big Questions'. But science has been answering the Big Questions for a long time and it's no different now.
One of these big questions is in the future of genomic data and what this means for populations. Specifically, for First Nations Australians which UNSW explored yesterday in their Inclusive Science Series. Professor Emma Johnson AO, Dean of UNSW Science hosted Mrs Azure Hermes from the National Centre for Indigenous Genomics at the John Curtin School of Medical Research (ANU) and Professor Marcel Dinger, head of the School of Biotechnology and Biomolecular Sciences at UNSW Science, in a discussion about the human genome and Aboriginal and Torres Strait Islander communities.
The panel discussed the challenges for First Nations Australians regarding the collection and use of blood samples for genomic analysis in the past. They asked some of the big questions such as who has the right to use the data, what do historical samples stored in Canberra mean for Indigenous culture and what consequences does understanding genetic diversity of First Nations Australians have?
The panel called for increased scope for Indigenous researchers to be involved in genetic research so that Aboriginal people can take back control and ownership over their genome, moving away from a tokenistic role, towards co-designed research with a true understanding of the community. It left the audience with another big question: How do we ensure First Nations people can take ownership of their genome and how can we create narratives around people's stories who participate in research?
This event was just one of many that are asking big questions in science this week.
Coming events
There are many more questions to be asked, so check out some of the other National Science Week events below:
Reimagining Trust in Science | Wednesday 19 | 12:00 – 1:00pm
Recent crises have prompted discussion on 'Trust in Science'. This raises the question: is science the kind of thing that can be trusted? This History and Philosophy of Science seminar will discuss recent work on the philosophy of trust in science.
The Data Lab: Exploring the future of AI | Thursday 20 | 6:00 – 6:30pm
Join the South Australian Health & Medical Research Institute (SAHMRI) in the (virtual) data lab as they shine a light on the future of data science, artificial intelligence and machine learning. SAHMRI's Dr Jimmy Breen, bioinformatician extraordinaire, will be your virtual host as they look at what our data says about us and the power it has to change our health.
How to be a Star Citizen in Space | Thursday 20 | 6:00 – 7:15pm
People are rocketing out into the unknown, talking about colonising Mars, populating the Low Earth Orbit with shiny satellites, and relying more than ever before on data beamed up and back down. This new frontier sparks ethical questions about what our rights and obligations are as spacefarers, and who is responsible if things go wrong?
What Makes Science Good? | Thursday 20 | 6:30 – 8:30pm
What makes science good? How do we know who to trust? How can the public contribute to scientific research? With the rise in science denial and public mistrust of science, it is increasingly important to find answers to these questions and develop effective ways of communicating scientific findings to the public. Join in to discuss these questions and more during the online Q&A.
Make sure to tag us @Aus_ScienceWeek on Twitter or @NationalScienceWeek on FB, and use #
Past events
Check out these other National Science Week events asking big questions that have already happened:
How can we progress biomedical research without animal experiments? Examples from infectious disease research and ME/CFS | Tuesday 18
Humane Research Australia advisor, Dr Brett Lidbury, highlighted non-animal (human-centred) biomedical research strategies via his own research into infectious diseases, as well as an ongoing research program into the physiological basis of chronic fatigue syndrome (CFS). 
Public Forum on the Moon – Newcastle edition | Tuesday 18
On Tuesday night the Office of Other Spaces & Satellite Applications Catapult on behalf of the Moon Village Association (MVA) and the Space Junk Podcast hosted five space experts, to discuss the question What would it mean to give "Legal Personhood" to the Moon? 
Within Reason: Trusting science in a time of crisis | Tuesday 18
So many big questions! Last night four speakers discussed why do people deny or ignore the science of climate change, or the miracle of vaccines? How does a jury decide which forensic evidence to trust? And what if we trust science, and it turns out to be wrong? 
Glowing Green – How green is nuclear energy? | Tuesday 18
Nuclear energy enthusiast Dr Jo Lackenby explored how the world actually generates its energy and electricity, and what are the resulting carbon emissions? How does nuclear energy fit into the climate change picture? And how is today's nuclear technology different from that of the past?