Windy Joules measures your renewables
National Office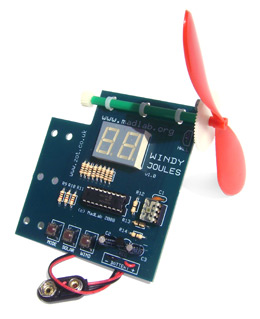 The school theme for National Science Week 2017 is Future Earth with a focus on Australia's sustainability science and issues that are unique to Australia and the region.
Farmers across Australia are choosing to invest in on-farm renewable energy sources to cut costs and reduce reliance on electricity providers.
A Queensland potato grower says switching to solar will save cash and give him independence from power companies and a dairy farmer in Gippsland said he was pleased that solar panels reduced his reliance on his electricity provider.
South Australia is heading towards a 50% share of its energy output from wind and solar, and the ACT government plans to source all of its electricity needs from renewable energy by 2020.
The energy sector has called for a national plan to transition to a lower-emission economy. While newer sources of energy (i.e. wind and solar) are currently more expensive than older forms of energy (i.e. coal), over the next 20 years those older forms of energy are going to make way as renewables and batteries become cheaper – and better for the environment
A recent study from the Australian National University said wind and solar can be that replacement, with water pumped up into reservoirs used to store energy and later generate power. A cheap, stable, zero-emissions network is possible for Australia.
Overland Sun Farming are about to build a solar farm in northwest Victoria and there are similar facilities in NSW and the ACT. Energy Australia has plans to build a solar power station in Victoria, a wind farm in South Australia and a gas-fired plant in New South Wales. There is a need for innovators to invent less expensive new generators that will lead to even more affordable energy from renewable sources.
Just how much renewable energy is there where you live? Become a citizen scientist during National Science Week!
One way to get involved is to collect and analyse data, and what better learning opportunity than to build your own data logger that measures light levels or wind speeds? A very handy tool for carrying out investigations around the home, school or workplace.
Created by MadLab, the Windy Joules science kit is purpose-designed for Australian conditions.
Guest blog post by Adam Selinger, Creative Director, Children's Discovery Museum.