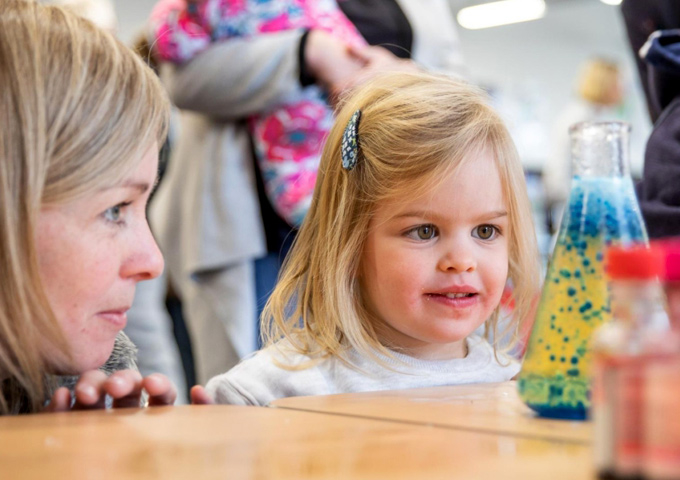 Young children are natural scientists. The curiosity about the world around them starts early and once they are talking the constant question of "why?" means they are well on track to being excellent scientists. And it's never too early to learn science. Warren Berger, author of A More Beautiful Question, says it's been shown that kids ask an average of 40 000 questions between the ages of 2 and 5. So what questions will your kids ask this National Science Week?
Foster your 3-6 year old's curiosity with a Science Week event specifically for young minds. With many events and resources being online, you can do science with your little one at a time that's convenient, or jump into a live event. There are heaps to choose from – browse the full list or have a look at some highlights below.
Make sure to tag us @Aus_ScienceWeek on Twitter or @NationalScienceWeek on Facebook, and use #scienceweek to let us know what you're attending.
Events for Young Scientists
Stories for budding scientists – That's RAD! Science | Thursday 20 10:00 – 10:30am
That's RAD! Join Professor Kathy Andrews from Griffith University as she tells stories of the amazing and sometimes weird world of parasites and about the jobs of scientists who study them. You'll find out about parasites that can be found in poo, head-lice and, Kathy's favourite, malaria parasites.
Kitchen Science Storytime | Friday 21 10:00 – 10:30am
Join the Wagga Wagga Library Kids Facebook page on Friday 20 August at 10am for two science-themed stories, Do Not Lick This Book and Arrgh! There's a Skeleton Inside You. They will also demonstrate kitchen science-inspired experiments that you can try at home.
Story Time for Young People and Families – "Here We Are" | Friday 21 10:00- 10:15am
You can join Nat from State Library of Queensland as she talks about the importance of looking for science every day with young children and families. Nat reads the beautiful children's book Here we are by Oliver Jeffers.
Science for Breakfast | Every weekday morning in National Science Week
Join Celia and John for bite-sized science facts each weekday morning during National Science Week and power your mind with information while you feed your brain with breakfast. Tune in to the Riverina Science Hub Facebook page at 7.10am from Monday 17 August for your fix.
SciFest Art meets Science – Crystals Rock! Family Science Workshop | Saturday 22 12:30 – 1pm
Get ready for some family fun with Dr Rina in this interactive workshop. Bring out your scientific and artistic best as you embark on an adventure and create a beautiful keepsake. You'll examine some large and some microscopic crystals found in nature, the human body and even parasites. This event is for families with children aged between 5 – 12 years.
Science Storytime | Available all week
City of Parramatta Libraries presents a special Science Week Story Time session for children aged 2-6 years. Join them for story time as they read The Rainbow Fish by Marcus Pfister and Heads & Tails Underwater by John Canty, available on YouTube.
A Dive Down Under with George the Farmer | Available all week
Join Georgia the Farmer for a dive down under to investigate the Deep Blue. In a fun and exciting 15 minute pre-filmed interactive show, George the Farmer and his mates, Simone and Ben will uncover exciting facts about the Southern Rock Lobster which live off of the South Australian coast, including a chat with a real live scientist from the South Australian Research and Development Institute (SARDI).
Science Week at SciencePlay Kids | Available all week
Jump on to the SciencePlay website during Science Week to get access to free science videos and science downloadables for kids aged 4-10. Get crazy with Dr Loz (who has a PhD in biochemistry AND two children under 7) as she shows you how to set up and run your own awesome science experiments, using materials you have around the house.
Call of the Blobfish – a Pod Play by Kids Story Room | Available all week
Call of the Blobfish is an audio drama (presented as a Pod Play) for 4-10 year olds that tells a wondrous, scientific and at times magical underwater adventure story. This podcast aims to ignite the curious scientist in children by engaging them in a story of oceans and marine life and of their importance to human existence.
Deep Blue Marine STEAM Competition for 3-10 year olds | Available all week
Dive into the deep blue and let those creative juices flow this National Science Week. Enter the 'Deep Blue' Marine STEAM Competition for a chance to WIN an awesome science pack. Get creative with craft materials, paint and items from around your home and backyard to design and make a marine creature. A science prize pack will be awarded to one winner for each age division.
Little Bang Discovery Club | Available all week
City of Parramatta Library presents this fun set of videos of science experiments for young children you can do at home. A series of four videos presented by Wendy from Children's Discovery Museum. The program engages preschool children and their caregivers with simple science ideas using materials from around your home.