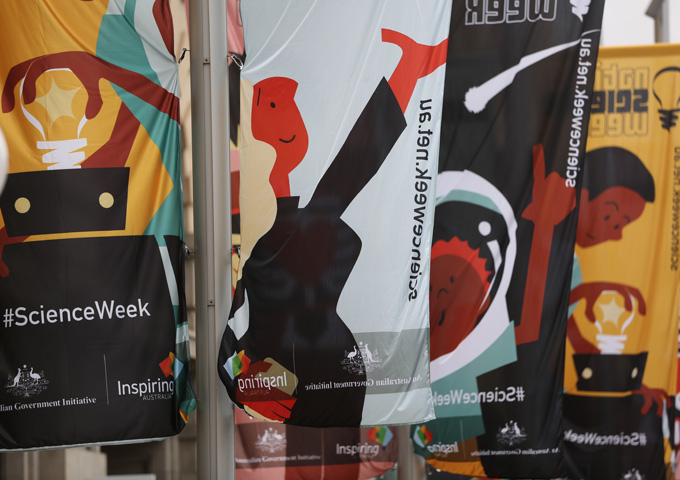 The Victorian National Science Week Coordinating Committee invite you to apply for seed funding to run a public event, activity or program in Victoria during National Science Week 2018 (11 – 19 August).
Event holders may apply for up to $500 (GST incl.) each.
Apply now. Fill in the short application form by 23 May 2018.
Applications are open to organisations and individuals who would like to create and present a public event during National Science Week highlighting and celebrating the contribution science makes to our society because science is for everyone.
Feel free to get creative! Previously, National Science Week has featured workshops, lectures, demonstrations, exhibitions, festivals, competitions and film screenings, but as long as your proposed event meets the eligibility criteria below we would love to hear about it.
How to Apply
For full details and to apply, please read and complete the details in the linked application form by 23 May 2018.
Applications will need to include:
Your contact details
Event title, proposed event date, and the location of your event
An event summary and details about how the event will be delivered
An overview of the event aims and expected outcomes
A statement detailing how you will promote your event
A brief budget detailing proposed expenditure of the grant and any in-kind contributions
Key Dates
Applications for seed grants will close at 11.59pm on 23 May 2018
National Science Week 2018, 11-19 August
Eligibility
Events will preferably take place in Science Week 2018, between 11 – 19 August 2018, but may take place within a week either side of National Science Week.
Events must take place in Victoria (regional events will be prioritised).
Events must be open to the general public; applications that are primarily for school-based or student focused activities will not be considered.
Applications detailing collaborations between organisations or individuals from different sectors will be assessed favourably.
Due to the limited availability of funding, the costs of salaries, capital equipment and catering are unlikely to be funded.
Successful applicants must
Provide a valid tax invoice (ABN required) to receive funds.
Acknowledge this grant funding by including National Science Week and Inspiring Australia logos on all promotional materials.
List their event on the National Science Week website by Friday 6 July 2018.
Provide event details to the Victorian Science Week Lead to be uploaded on the Victorian Science Week website by Friday 6 July.
Provide content for at least two tweets related to their event to the Victorian Science Week Lead by July 6 to be used for National Science Week promotion.
Complete a brief event evaluation in a specified format by 21 September 2018 (including photographs/video).
For further information
Please contact Dr Renee Beale, Victorian Science Week Lead by email.