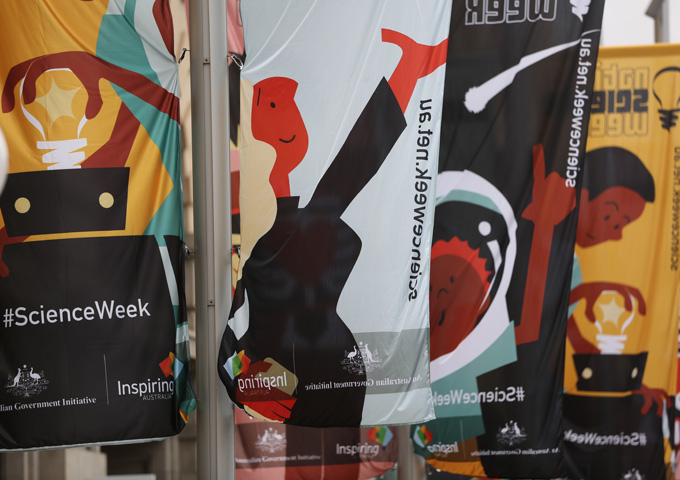 The finalists in the Unsung Hero of South Australian Science and  Science Communication Awards have been announced. The winners will be annouced at the at the SA Science Excellence Awards on 10 August 2018. The finalists are:
Unsung Hero of SA Science
Jan Bell
Ms Jan Bell is with the Australian Centre for Antimicrobial Resistance Ecology (ACARE) at The University of Adelaide.
Jan undertakes invaluable work in helping to protect Australians from the most challenging infectious disease agents facing us. Drug-resistant "superbugs" affect an increasing number of Australians. Through her dedicated efforts, Jan has made major contributions of far-reaching importance to national antimicrobial resistance surveillance programs, including the development and implementation of molecular techniques.
Jan has contributed a large amount of data and work to the preparation of high impact reports of immense value to the Australian health-care sector. She is widely-known and respected for her technical diagnostic expertise and meticulous and invaluable reporting.
Katia Ferrar
Dr Ferrrar is a lecturer and researcher in the School of Health Sciences, UniSA.
Katia's clinical science career as a physiotherapist spans 20 years and has provided her with a strong foundation of clinical research knowledge and practice which she translates to others through her role as lecturer and clinical educator. Her key area of research is physical activity for chronic health conditions. She has, and will continue to have, a significant and positive impact on the lives of people in crisis.
One of her major achievements has been the establishment (with a number of partner organisations) of a student-led pro bono health clinic that provides free health services to adults in crisis or experiencing homelessness in Adelaide. This involved Katia applying her research capabilities and combining it with her role as an educator in a way that provides an invaluable service.
Joanna Woodcock
Dr Joanna Woodcock is with the Centre for Cancer Biology, UniSA, working as a medical scientist in South Australia for almost 30 years.
She has made original and significant contributions in such areas as cytokine receptor biology field. She initiated studies investigating the regulation of important adapter proteins that play a critical role in the survival and growth of cancer cells and represent a new target for anti-cancer drug development.
Over the course of her career, Joanna has taken a particular interest in training upcoming researchers and assisting colleagues with her expertise in biochemistry, cell and molecular biology. She has also shared her passion for medical research with school students, has presented her work to cancer research supporters and hosted events for cancer fundraising.
Unsung Hero of SA Science Communication
Heather Bray
Dr Heather Bray is a Senior Research Associate at the University of Adelaide. She is a practitioner, teacher and researcher in the field of agriculture.
Heather explores the community understanding of, and attitudes to, the role of science and technology in food production, in particular genetically-modified crops and food, and farm animal welfare. Her prime interest is in how attitudes to agriculture and food are shaped socially, culturally and historically, and the role of social media in shaping these ideas. She is motivated to improve the way the research community engages with the public in issues related to science and technology.
Heather is also interested in how current research paradigms affect the development of early and mid career researchers.
Shelley Paull
Dr Shelley Paull is with the Department for Environment and Water, Natural Resources Eyre Peninsula, working on the Marine Parks Project.
She has worked in different facets of the project, including community engagement, marine parks planning, and design of the monitoring and evaluation program. She was instrumental in guiding the local community in the design principles and science behind marine parks, as well as local ecological values. These members then helped to design the sanctuary zone using these principles.
Shelley is passionate about inspiring people to connect with the marine environment and empowering them with knowledge to create ocean advocacy. She is also actively engaged in promoting science to young people, including organising scientific expeditions to marine parks and incorporating traditional Aboriginal culture. Another successful project was the development of a pop-up Marine Discovery Centre.
Liz Reed
Dr Liz Reed, from the University of Adelaide, is a vertebrate palaeontologist specialising in Quaternary aged cave deposits.
Liz has been communicating the science and World Heritage values of the Naracoorte Caves for over 20 years, particularly in her role as lead paleontological researcher. She has contributed significantly to increasing the profile of the caves and is a tireless promoter and communicator of the science behind the caves, including the design of educational and interpretive material.
She has participated in countless media engagements, including print, radio and television interviews for national and international media. Liz also encourages her students to communicate their science via social media, and has been involved in many large public events and school holiday programs. Liz is also a much-sought after guest speaker who enthusiastically communicates her wealth of knowledge and experience.