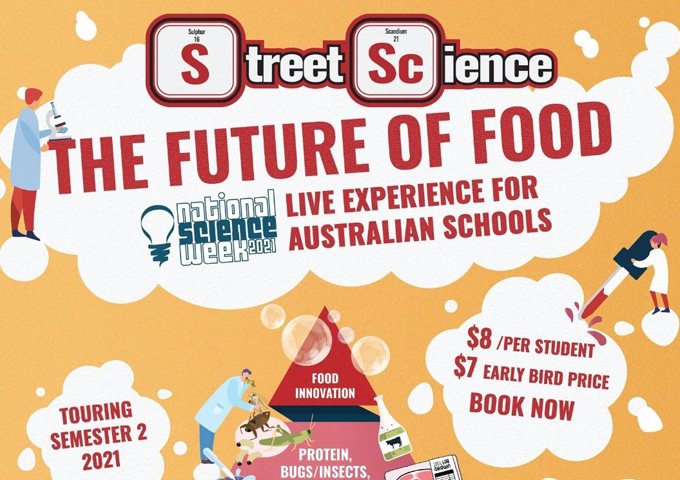 Street Science celebrates National Science Week 2021 'Food: Different by Design' this year with our action-packed stage show 'The Future of Foods', touring across Queensland in Semester Two.
Join us for this gourmet event as we investigate what's actually in the food we eat, and explore some of the delightful delicacies you might encounter in the restaurants of the future. Audiences will be amazed as your presenter shows you how to launch flying potatoes, use mushroom spores to create fireballs, and plate up some future foods designed in the lab!
Your students will walk away with a greater understanding of how the food industry has evolved over the years, from its humble beginnings in farms right into the realms of science fiction.
This gastronomic extravaganza has been designed and specifically tailored so it aligns with Science Week schools theme. Your students will gain valuable insights about healthy eating habits and how they can meet their nutritional needs in a variety of ways. Bring this exclusive tour to your school and we will inspire your students, invigorate your teachers and have everyone in your school community celebrating science.
For more information or bookings contact Street Science via email or call 1300 150 481.