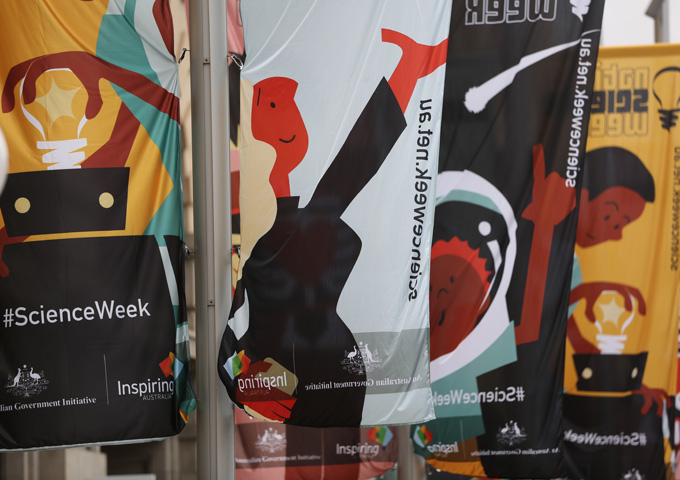 Each year, the Tasmanian National Science Week Coordinating Committee and Inspiring Australia award seed grants to Tasmanian based events held during National Science Week. We are pleased to announce that ten events are being supported this year to bring science to people in all corners of the state. Dates and times will be announced in the coming weeks.
Open Day at Inala and Waterbug Blitz
Inala Foundation
The Jurassic Gardens on Bruny Island will have an Open Day with activities including creating artwork based on natural processes. Inala will also host a Waterbug Blitz citizen science activity.
Bright Ideas Pitch Night
The Van Diemen Project
Marrying science and technology with start-ups, the Bright Ideas Pitch Night will invite those with related business ideas to pitch their projects.
Cool Science: Engines
Bridgewater LINC
There's nothing like a cool vintage car right? Have you ever wondered how their engines work? Families will investigate vintage cars and have a go at building components of electromagnetic motors.
Health Box Stories
University of Tasmania Research
Tasmanians will have the opportunity to share their health stories in a phone box style booth. The data will be used in a research project but the stories will feature in a documentary podcast series. Users will have the option of sharing their stories only with researchers or publicly.
Observing our Oceans: High Tech Solutions for a Hostile Environment
Australian Meteorological And Oceanographic Society (AMOS)
Two public events will be held, one in Hobart (Tuesday 14 August) and one in Launceston (Wednesday 15 August) during National Science Week. Three experts from diverse backgrounds will each present for 15-20 minutes on the topic of how we measure the ocean, the technologies used, and what those measurements are revealing.
Science Comedy Tour
Ta Daa! Professional Entertainment (Jokers Comedy Club)
Comedians will tour the state with a science-themed comedy show unlike any other. Get ready for a fantastic night out!
Kitchen Science – Amazing Chocolate Creations
Latrobe Council
Part of the Chocolate Winterfest, this event will focus on science in everyday living, specifically the science of food reactions and of course, chocolate!
Sustainability talks and activities
Woodbridge High School
Plastic, not so fantastic! We all know that plastic is taking a toll on the environment and cluttering up our communities. But what can we do to help? Join expert speakers, take part in a waste survey, and even make your own beeswax wraps. See what other measures the school is taking to reduce plastic, and how this impacts the local community.
The 'STEM' of Wildlife Conservation
Bonorong Wildlife Sanctuary
Bonorong will host an exhibition of art related to threatened species. The artworks will consider the underpinning science in conservation strategies, and will involve the community in the importance of protecting Tasmanian native wildlife.
The Greatest Climate Show on Earth
Lotron Enterprises
This show will demonstrate five amazingly simple, yet powerful experiments that will show before the audience's very own eyes, how greenhouse gases currently being released into the atmosphere by humans are changing our climate in numerous ways.
Join the conversation online!
#scienceweek #FOBI2018
scienceweek.net.au
twitter.com/sciencetasmania
www.facebook.com/natsciwktas
Festival of Bright Ideas Facebook
Festival of Bright Ideas Instagram