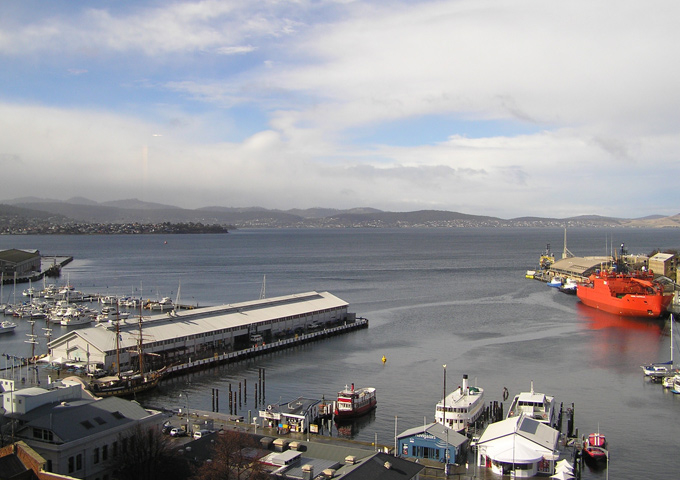 National Science Week will look a little different this year as it heads fully online for the first time since it started in 1997. With thanks to local seed grants, at least 23 organisations and individuals will be supported to convert their hands-on brand of science engagement to an online format.
To combat the difficulties posed by the COVID-19 pandemic, the Tasmanian National Science Week Coordinating Committee and Inspiring Australia offered grants of up to $2000 to support organisations to deliver an event or activity. The grants were increased from $500 in the hopes this would cover the resources needed for event organisers to take their educational and fun science communications online, now and into the future.
Committee Chair, Dr Ben Arthur (CSIRO) hopes this will help increase the capacity for online science communications in Tasmania. "It's been a tough year but one where science has come to the fore of our daily lives. It's so important that the public have direct access to scientists, to hear what the outcomes are of local science which is happening all around us in Tassie. We're happy to be able to offer these funds to ensure Science Week goes ahead in a more accessible way not just to Tasmanians, but to all of Australia."
Twenty-three organisations and individuals received a seed grant to run events during National Science Week (15-23 August) that cover all areas of science, technology, engineering, and maths, some with an arts focus. Funds awarded totaled $37 000.
Here's a sample of what the grant recipients will be presenting this August:
Local software company Secret Lab will teach the audience How to Train an AI (artificial Intelligence). Comprised of PhD researchers and best-selling authors, as well as award-winning software and games, Secret Lab is a Tassie success story with a solid global reputation.
Science Made Beerable has worked with local breweries to create a taste-at-home 4-pack. A panel of scientists and beer experts will explain what is really behind your favourite brews. beerablescience.com
Ferment-Home-Station looks at the sourdough we've all been making in isolation and talks to international experts including Karl de Smedt, Puratos Baking, Director of Sourdough Library, Belgium; and Dr. Anne A. Madden, Founder and President of The Microbe Institute and Chief Scientific Officer of Lachancea – Award-winning scientist, TED speaker, and entrepreneur. https://bit.ly/fermenthome
Fighting Fake News and Phonies sees award-winning, nationally syndicated radio program That's What I Call Science tackling one of today's hottest topics: misinformation. They'll present a panel, in addition to a suite of podcasts, featuring:

Dr Jess Melbourne-Thomas, Knowledge Broker and marine scientist at CSIRO, 2020 TAS Australian of the Year.
Dr Darren Saunders Associate Professor in Medicine at UNSW and regular science communicator on ABC, 2019 Eureka Prize Winner for Promoting Understanding of Science.
Other organisations such as CSIRO and the University of Tasmania are also participating in the festival online in addition to seed grant winners.  
The festival will be launched online on 14 August 2020 at facebook.com/natsciwktas/. All events and activities can be found on the Facebook page or at scienceweek.net.au
The full list of winners is:
UTAS Burnie
UTAS Derby: Ready…Set…Race!
UTAS Hunter Street Art School
Too Many Cooks: exploring Aboriginal canoe making
Science Made Beerable (featuring Young Tassie Scientists)
Science Made Beerable
Science in the Pub
Beauty from the Ashes: artistic and scientific responses to fire-affected landscapes
MSP Research Student Committee
Neural Knitwork
Dipon Sarkar, UTAS PhD Candidate
Ferment-Home-Station: The science of sourdough and fermentation (multiple events)
UTAS ICT students
Augment Your Life: Make your own Instagram filter
Inala Nature Tours (Bruny Island)
A Quiz About Quolls
Beginners guide to birdwatching
Blueprints of Nature (at home pack – create your own "blueprint")
Peter Underwood Centre (UTAS)
Daily Zoom workshops for young people
Andrea Hay, Survey Scientist
Three Feet in Your Gumboots – measuring sea level rise (film)
Georgetown Library
Explore and Learn at Home
Kingston Library
Young Einsteins – Science Week Adventure @ Kingston Library
Child and Family Centre Beaconsfield
Learning Packs 
Glenorchy Library
Move it! A 3D design challenge
Applied Conservation Science
Science of Tasmanian Cultural Heritage (note: this is a unique opportunity to view Thylacine hair + preserving family heritage)
Secret Lab
Let's Train an AI! (Artificial Intelligence)
Swingmania
The Physics of Dance
Bridgewater Library
Science at Home kits
QVMAG
Daily Live Streams – various topics
Royal Society of Tasmania (RST)
The Magic of Marine Life (special podcast series)
Edge Radio/That's What I Call Science
Fighting Fake News and Phonies! (special podcast series and panel discussion event)
Circular Head Council
2020 Big Science Gig Online
The Crawford Fund
Science for Food Security: Making a Global, Professional and Personal Difference
Two additional initiatives were funded through the Inspiring Tasmania Connections Program:
Huonville High School's Huon Energy Tour and the Tasmanian Museum and Art Gallery's Science of the Black Box program, both benefitting young people across Tasmania during and after National Science Week.
For more information contact the National Science Week Tasmania Communications and Events Manager.
GET SOCIAL:
#scienceweek
twitter.com/sciencetasmania
facebook.com/natsciwktas