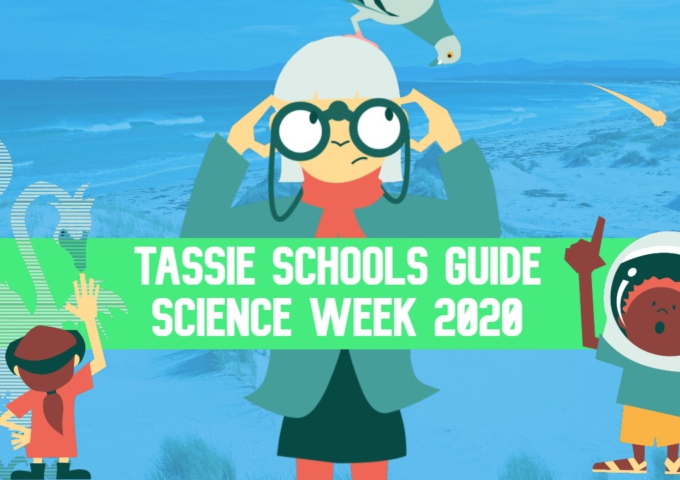 Attention teachers, parents, and students: What's on offer in Tassie for schools in 2020? LOTS! Check out our guide and get excited for #scienceweek! 
Welcome to National Science Week 2020 – online! This is a breakdown of online activity available for younger people in Tasmania, and across Australia, this August.
Educators should visit the National Science Week website for a free, curriculum linked booklet, a poster, and more. There's also an early childhood booklet for the smallest of scientists.
School libraries can check out the library guide (6MB, pdf)
If you're still looking for more, there are some fun DIY science activities. 
View most of the videos in your classroom from our YouTube channel: Science Week Tas TV. 
Where to find events
You can find events on Facebook, the National Science Week website, and the downloadable Tasmanian event booklet titled Science at Home (17MB, pdf).
The booklet also has activities you can do in classrooms or at home.
Watch the Tasmanian launch of Science Week
The Tassie launch of Science Week will be on Facebook and YouTube on Friday 14 August – stream it at any time.
Watch the national Launch of Science Week
Classrooms can watch the National Launch forum, Science Saving Lives, on Friday 14 Aug
eventbrite.com.au/e/2020-national-science-week-launch-science-saving-lives-event-registration-115673052213
This guide will break down specific events aimed at schools and families. Please read through to find information on:
Live streamed events (most available afterwards in video format)
Library activities
A list of resources including videos and activities available at any time
Competitions specifically aimed at students
Events and Activities
All events are online unless indicated with an *
What's happening above the waterline by CSIRO
Monday 10 August, 1.00-1.45 pm. For all ages.
What's happening below the waterline by CSIRO
Tuesday 11 August, 1.oo-1.45 pm. For all ages.
Saving Energy @ Home by Greening Australia
*Sat 15 Aug, 11.00 am – 12.00 pm. For families.
Solar Cooking – Hot Stuff y Greening Australia
*Saturay 15 August, 11.00 am – 12.00 pm. For families. 
Daily talks by QVMAG
Saturday 15 – Friday 21 August, 10.00 – 10.45 am. For all ages.
Weekend fun @ QVMAG
*Saturday 15 – Sunday 16 August, 10.30 am – 3.30 pm. For families.
Peter Underwood Centre live streams by UTAS
Monday 17 – Friday 21 August, 4.00 – 5.00 pm. For primary students.
Science for Food Security: Making a Global, Professional and Personal Difference by The Crawford Fund
Monday 17 August, 11.00 am – 12.00 pm. For hgh school students (anyone welcome).
2020 Science Gig 'Deep Blue' Online by Circular Head Council
Monday 17 August, 6.30 – 8.00 pm. For young people.
The Science of the Black Box: exploring science behind Aboriginal artefacts by TMAG
Thursday 20 August, 11.00 am – 12.00 pm.For students in Years 5 – 8.
Virtual Renewable Energy Tour by Huon Energy Futures
Thursday 20 August, 4.00 – 5.00 pm. For secondary students.
TasNetworks Powerful Connections Mentoring Program Online Info Session
Thursday 20 August, Thursday 20 August, 4.00 – 5.00 pm. Female and female identifying students, years 11-12.
SciVR: a virtual reality trip around the solar system by Kingston Library
Friday 21 August, 7.45 pm. For all ages.
Palawa Science and Sustainable Futures – A Virtual Trail
Wed 26 Aug, grades 4+
Indigenous sustainability event.
Libraries
Kingston, Glenorchy, Bridgewater, Burnie and George Town are all holding events or giving away packs for science week. Please visit their Facebook pages for info. The Beaconsfield Child and Family Centre (CFC) is also providing packs for locals.
Libraries are a great place to access tons of books and other resources, including internet, so that anyone can celebrate National Science Week in their own way.
Available at any time during Science Week
Young Tassie Scientist videos
Meet some real scientists online! Tassie's very own science tour goes virtual. If your school missed out on booking a virtual visit, you can still 'meet' the scientists by watching their videos and discussing their profiles in your classroom. Students can also ask questions on Twitter using #askYTS
youngtassiescientists.com/the-scientists
UTAS Derby: Ready…Set…Race!
Learn to build a model car and test track using easy to find materials. This series of short videos will draw on expertise from local STEAM gurus – straight to your loungeroom (or classroom). We'd love for you to share your speed machine invention with us through the MakerX Facebook page!
https://www.utas.edu.au/makerx/burnie-derby
Three Feet in Your Gumboots – measuring sea level rise (Video)
You've heard about sea level rise, but have you ever wondered how it's measured? Dive into the wonderful world of sea level science. Learn about tide gauges, explore satellites, and find out how Burnie – yes, our Burnie! – is doing its bit to set the global record straight.
Available on Science Week Tasmania's Facebook and YouTube during and after Science Week. https://tinyurl.com/sciwktasTV
TastroFest Online! Explorers Edition
The popular Ulverstone Astronomy festival heads online with astro-tourism videos, bedtime stories, and more!
The Magic of Marine Life (primary schools)
The Royal Society of Tasmania in collaboration with That's What I Call Science at Edge Radio will be delivering podcasts, videos and worksheets on what it's like working in marine science.
facebook.com/RoyalSocietyTas/
Fighting Fake News and Phonies (years 9+) – podcasts and more
Science provides enormous value to our community, but, this message is often drowned out by #misinformation and negative press. Check out our National Science Week event, with a live discussion tackling the issue of fake science head-on!
Related event 12 Aug 7.30pm: https://www.facebook.com/events/316633542792311/
Programming and Space for young people with Swift Rockets! (Apple device needed)
A free book and app for children, faimilies and the young at hear to learn a little programming and some fabulous facts about space and space debris. 
National Citizen Science Project: Carbon Counter—online
Join the fight for Planet A, by making one change to the way you use energy, transport and food. 'Carbon Counter', the ABC's National Science Week project, aims to show how carbon dioxide emissions can be reduced by simple, small, individual actions.
Visit the ABC website for more.
Virtual Tour of the RV Investigator, CSIRO's research vessel
Hobart-docked floating lab, the RV Investigator, can be toured online, any time. It's a wonderful look inside a ship the average person won't have access to!  
mnf.csiro.au/Investigator/rv_investigator.html
The Great Aussie BioQuest: help scientists map where the wild things are
Grab your chance to discover a new species by joining in the Great Aussie BioQuest – a gigantic, nationwide citizen science project to discover how climate change is affecting Australia's wildlife. All sightings are expert-verified and given a "remarkability score".
Information is uploaded to the open-access Atlas of Living Australia to help researchers make decisions about protecting the environment.
UTAS Virtual Open Day 28-30 Aug: utas.edu.au/openday
Competitions
UTAS Science and Engineering Investigation Awards (SEIA)
The Science and Engineering Investigation Awards are a state-wide competition for Year 5 to 12 students who investigate a topic of their choice. Students then present their findings to judges from research and industry for feedback.
Entries open 14 August
Tasmanian Science Talent Search (TSTS)
View website for description.
stat.org.au/tsts/tsts-2020-deep-blue
Entries close 25 September
ANSTO Hackathon – Environmental theme
Take STEM and business start-up incubators into the classroom with this unique event.
Years 7-11
ansto.gov.au/national-science-week-hackathon
Set it Off state-wide sourdough competition
Make bread and learn about science!
facebook.com/events/326386668497222/
More is added daily so check facebook.com/natsciwktas for the latest info.
Social media
Use #scienceweek in social media to join the conversation.
TWITTER: twitter.com/sciencetasmania
FACEBOOK: facebook.com/natsciwktas
All things Tas! https://linktr.ee/scienceweektas
Questions?
Contact jenni.klaus@utas.edu.au.