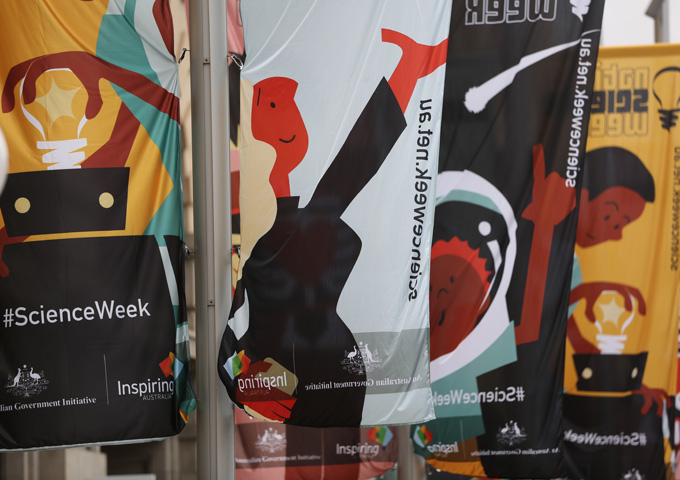 Here is everything you need to know to hold an event in 2019.
National Science Week is 10‐18 of August this year but events usually go all month! Holding an event is a great way to grow your networks, community, or brand. As part of the largest festival in Australia, you'll have access to a promotional network unlike any other.
Here are some useful websites and dates to get you moving. Please email Sarah.Bayne@utas.edu.au up until 30 April when you can email jennl.klaus@utas.edu.au  if you need support making your event idea a reality for National Science Week. Sarah is also your year-round contact for Inspiring Australia and is keen on supporting STEM events in your community.
How to get started
EXPLORE the 2018 program [PDF] for ideas and inspiration.
PLAN your event. Put together a small planning committee if you need and assign tasks and deadlines. Use the Science Week website for guidance and download the Guide to Running a Public Event [PDF].
FOBI. Consider being an exhibitor at the Festival of Bright Ideas (9-10 August). The venue and dates are set, so all you need to do is come up with an activity for your stall and some staff to run it.
APPLY FOR A GRANT. Available for school events or public events. Up to $500 each. Schools close 5 April. Public close 29 April.
UPLOAD YOUR EVENT. Make sure your event is uploaded to the Science Week website. It will also magically appear in the popular mobile app available on Android or Apple devices.
ADD IT TO THE PROGRAM. This is super important. Your event will be promoted in nearly 80k newspapers state-wide, online, and in cafes and libraries in our full colour, printed program. You must fill out the form by 5 June to be eligible.
JUST ASK! If you need any advice, connections, ideas, or support, let us know.
More resources and information
LOGOS & TEMPLATES: Check out the event holder's toolkit which includes media release templates, logos, and cute characters you can use in all your promotion! Plus more!
SCHOOLS. Everything you need is located at the ASTA website including a free, curriculum linked workbook and access to the grant application.
CANCELLATIONS AND CHANGES TO YOUR EVENT: Visit our quick checklist to make sure you cover all the bases when changing or cancelling your event.
SOCIAL MEDIA: We can share your posts! Will you share ours? Here are just some of our social media accounts for you to check out. Please use #scienceweek in your posts so we can find you.
https://twitter.com/sciencetasmania
https://www.facebook.com/natsciwktas/
Festival of Bright Ideas
https://www.facebook.com/fobitas/
https://www.instagram.com/festivalofbrightideas/
If you need any support in promoting your event, please get in touch.
I wish you the best of luck in planning your events in 2019!
Jenni Klaus
Communications and Events Manager – National Science Week Tasmania
jenni.klaus@utas.edu.au
scienceweek.net.au
twitter.com/ciencetasmania
facebook.com/natsciwktas