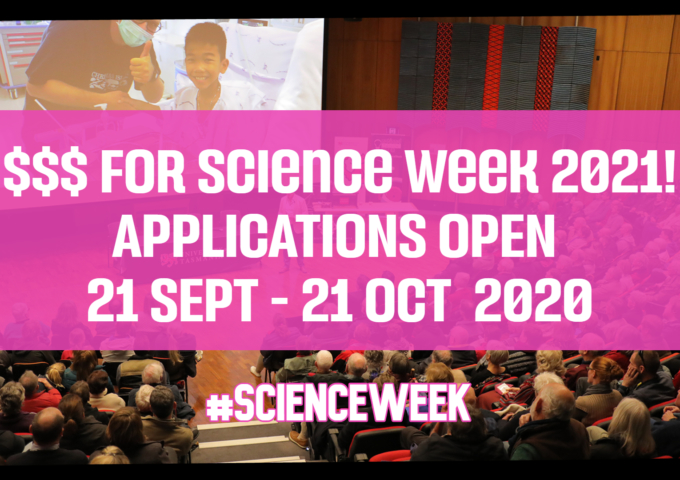 The Tasmanian National Science Week Coordinating Committee is excited to announce that grants of up to $2000 will soon be available for events and activities in National Science Week 2021.
If you have a great idea for an event or activity in Tassie for next year's National Science Week or have always wanted to host an event but haven't been sure where to start, this grant is for you. Applications are open from Monday 21 September to Wednesday 21 October 2020.
RSVP now to an online information session on Monday 21 September, 4.00-5.00 pm, and meet the Committee Chair, CSIRO scientist Dr Ben Arthur, the Inspiring Australia – Tasmania Manager Sarah Bayne, and members of the Science Week Committee. Learn how events take many forms, creatively communicating how science is a vital part of our everyday lives by engaging an interest in the areas of science, technology, engineering and innovation.
Grant Details
To be eligible for the grant, your event needs to be open to the general public, produced in Tasmania (regional participation is encouraged) and made available between 14-22 August 2021. The event can be online, in person, or a combination of both.
If you're approved for the grant you'll also get support from the Tasmanian Science Week Committee (TSWC) with event planning, promotion and more.
How to Apply

The application will go live at 0800 on 21 September 2020 on the Inspiring Tasmania website.
If you are a school, please do not apply unless your event is open to the wider Tasmanian public (e.g. not just your school's community). There may be funding for your events through the Australian Science Teachers Association to be released early next year.
Applications will need to include:
Your name and a few details of the proposed event;
An overview of the project aims and expected outcomes;
COVID-19 planning: please consider how you will be able to adapt the event to comply with safety and what your plan is to take the event online if necessary;
Details of how the project will be delivered;
A brief budget detailing proposed expenditure of the grant and any in-kind contributions (eg. staffing from the venue or organisation).
Key Dates

 National Science Week 2021 will be held from 14 – 22 August
 Applications for $2000 seed grants will close at 11.59pm on Wednesday 21 October 2020.
Next Steps

If your application is successful, we'll send you an email with all the information including how to receive your grant money.
Questions
For enquiries about seed grants, please email sarah.bayne@utas.edu.au
More Information

Visit linktr.ee/scienceweektas for links to Science Week Tas TV and more.