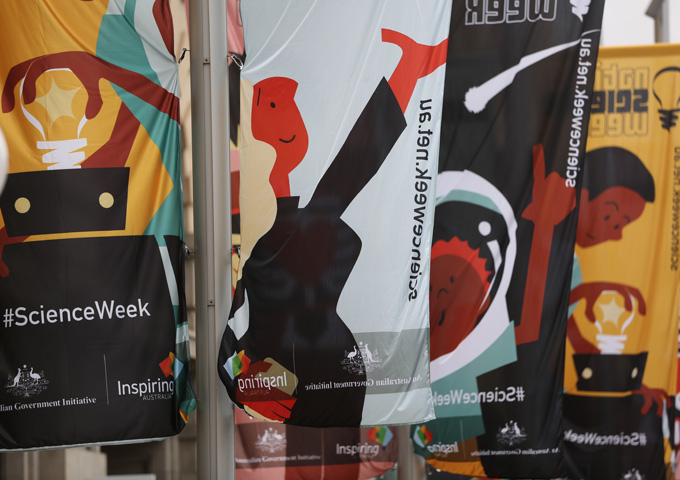 Scoresby Secondary College seriously value National Science Week: Australia's annual celebration of science and technology. We are in partnership with the Knox Innovation and Opportunity Centre (KIOSC) at Swinburne University, we are a listed Monash University Chemistry Extension Centre and every year we run exciting activities with help from Carly Siebentritt from CSIRO.
This year we will be collaborating with the inspirational likes of the Australian National University, The Astronomical Society of Victoria, Guinness World Book of Records, The Melbourne Aquarium, The Royal Australian Chemistry Institute (RACI), KIOSC and Chris Humfrey's Wild Action Zoo (as seen on ABC) to offer our students and our school community the very best in science innovation and education.
We invite all to be involved in our World Record Stargazing event on Friday 21August, 7:30- 8:40 pm on our school oval, we will have high-tech telescopes and expert astronomers present to familiarise visitors with the night sky and special features of our moon, we are working towards a Guinness World Record: 'Most people stargazing across multiple sites in one country, Australia', the current record is held by Mexico.
Our other exciting Science Week events include: a VCE Chemistry and Biology SAC excursion to the Melbourne Aquarium, a visit by Wild Action Zoo with various Australian animals including koalas, snakes and crocodiles, TEDx student talks about light and a Brain Break National Science Week morning tea where science teachers will share 'spacey' like foods and members of staff will compete to answer the Brain Break quizzes to their best abilities to win an array of prizes.
For information, please feel free to contact us at Scoresby Secondary College on 03 9765 4100.