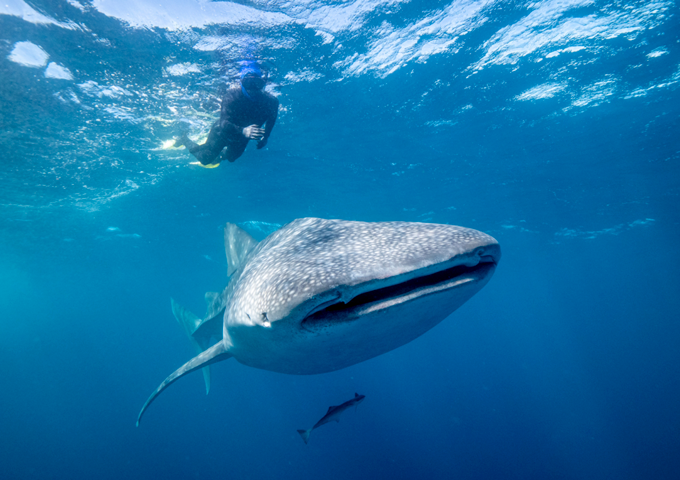 Into the Deep Blue
We've put together a list of Deep Blue ocean-themed events for you to check out for the rest of the week. There's some stars in here, so fish around until you sea one to reel in.
Make sure to tag us @Aus_ScienceWeek on Twitter or @NationalScienceWeek on FB, and use #scienceweek to let us know what you're attending.
Week-long
Swim with the Giant Australian Cuttlefish – Virtual Tour | Saturday 1 August – Wednesday 30 September
An internationally unique marine phenomena occurs from May to August each year, in the cold water of Upper Spencer Gulf Marine Park near Whyalla. This amazing annual event is the aggregation of the Giant Australian Cuttlefish, who migrate to the rocky coastline with one thing on their mind, to breed.
Actually, it's Phytoplankton! | Saturday 15 August – Saturday 26 September
Go2Qurious presents a new science and oceanography podcast designed especially for middle schoolers. Join host Dr Jamie Coull, and oceanographer co-hosts Dr Lachlan McKinna and Dr Ivona Cetinić from 15 August to explore ocean ecology and NASA's PACE Mission.
Tuesday 18 August
Phasing Out Plastics From Schools | 1:30 – 2:15 pm
Join Plastic Oceans Australasia (POA) and the John Monash Science School (JMSS) for an interactive and inspirational webinar. The JMSS Plastic Oceans team will be showcasing activities they have run at their school to encourage students and staff to reduce their single use plastic consumption.
Virtually Marine Mammals – Marvellous Marine Mammals | 2:30 – 3:30pm
In this exciting online presentation by Marine Mammal Foundation, discover the wonders of Victoria's incredible marine mammal diversity, including seals, whales, orcas and the newly discovered Burrunan dolphin.
Gold Coast Libraries – Scinema: Screening of Blue | 6:30 – 8:30 pm
Join us for a virtual screening of the marine conservation documentary, BLUE. This fascinating documentary highlights how half of all marine life has been lost in the last 40 years. Watch the film and find out how you can make a difference to help protect our oceans and marine life.
Wednesday 19 August
Why Do Whale Sharks Get So Big? | 11:00 am – 12:00 pm
Whale sharks are the world's largest fish, growing to a length of 18 m long, about the same size as an articulated bus on a city street. AIMS fish biologist Dr Mark Meekan will take you into the exciting world of whale shark research in this webinar to discover how new tagging techniques are giving insights into the behaviour, ecology and evolution of these ocean giants.
Deep sea diving in Western Australia – come take the plunge | 4.00 – 5.00 pm
The #NingalooCanyons expedition team has now returned to land. Take a look back at this amazing expedition and hear what the scientists experienced on R/V.
Thursday 20 August
How and why we monitor water quality on the Great Barrier Reef | 11:00 am – 12:00 pm
Join biological-chemical oceanographer Dr Renee Gruber for a webinar about AIMS' water quality monitoring science in the Great Barrier Reef Marine Park. Discover why we collect water quality information and learn about the tools and methods scientists use to collect ocean data.
Science and Sustainability of the Sea | 7:00 am – 8:00 pm
Join Professor Tim Flannery as he discusses the impact of climate change on our oceans and marine life, with ABC Gold Coast's Nicole Dyer, as part of the Gold Coast Libraries 'Science of the Sea' program.
Friday 21 August
Marine Scientist Webinar – Life onboard a research vessel | 9:30 – 10:00 am
Ever wanted to know more about life on a marine research vessel or the real facts about rays and sharks or perhaps awesome info about coral? Join Dr Power during National Science Week as she shares stories and answers your questions on what it's like to work at sea.
Dive with marine scientists without getting wet! | –
Plastic Oceans Australasia and The Abyss Project (Sydney) are taking you on an underwater adventure, all from the comfort of your own classroom.
They will explore the deep blue of Sydney's coast as 'Diver Carl' and 'Scientist Nat' take students underwater to discover the illusive Weedy Sea Dragon and collect valuable data about the effects of micro-plastics.
Explore careers in Science – Deep Blue Live Panel | 7:30 – 8:15 pm
Hear from marine biologists, a drone engineer and a seaweed scientist about what inspired them to pursue their career and some career highlights along the way. Also hear about their connection to the Deep Blue and their ideas for the future of our oceans.
Saturday 22 August
Gold Coast Libraries – Marine Biologist Field Day | 10:30 – 11:30 am
Have you ever thought about being a marine biologist when you grow up? What are some of the things that you would do as part of this job? Join us in this interactive workshop when we dive underwater and talk about some of the creatures we will find.
Science Behind the Scenes Online: Helping to Keep Our Harbour Clean | 2:00 – 3:15 pm
Have you wondered what the pollution is and how it got there? Join us online with marine biologist Will Jones as he explores the hidden creeks, drains and waterways. We'll learn how scientists measure water pollution and whether pollution is linked to birds, dogs or humans.
Fight for the Great Australian Bight | 2:00 – 3:00 pm
Peter Owen, Director of Wilderness Society South Australia will teach you about this environment, the risks posed by deep sea oil mining, and what the Great Australian Bight Alliance is doing to protect the Bight.
Sunday 23 August
Gold Coast Libraries – Explore Marine Science with Sea World | 10:30 – 11:00 am
Join the Sea World Marine Education team to explore how the ocean positively impacts our lives, the ways we impact the ocean and what we can all do to help the marine animals that live there.
Past events
There's already been some sea-sational ocean-themed events this week. Check them out:
Get the Gold Coast Reef Lowdown happened last Saturday and Reef Check Australia gave everyone the lowdown on the health of our beautiful and important reefs, and explained how you can play your part in understanding and appreciating our local reef habitats.
Innovations to Save Our Oceans was held on Monday night by the Academy of Science and Future Earth Australia. They dove in with their expert panels to find out the impact of the biggest problems our oceans are facing, and how science can solve them.
SEA LIFE Sunshine Coast Live Stream was yesterday and took participants virtually to the Sunshine Coast in Queensland to introduce one of Sea Life's newest members, a baby wobbygong and discover how these bottom-dwelling sharks survive on the ocean floor. But don't worry because it was only part two of a four part series, catch the other two later this week.