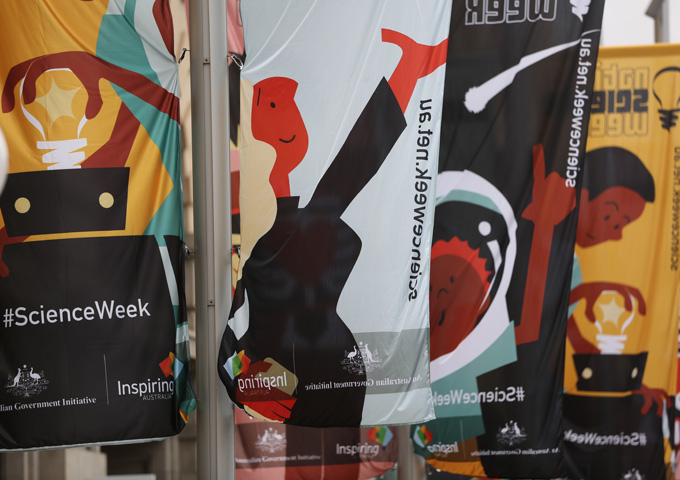 Are you a high school or university student in Canberra considering a career in science, technology or engineering? Do you wonder what scientists actually do? Then come along to the Science in ACTion Careers Day at ANU on 15 August.
Representatives from a variety of science-related industries in Canberra will be at Melville Hall in Acton from 9:30-3:30 to discuss science and technology career options and pathways. They can answer any questions about what the life of a scientist is like, the types of work different organisations are doing and the skills and qualifications they are looking for in potential employees.
Over 15 science and technology organisations will be represented, including:
Lockheed Martin
IP Australia
Telstra
The National Dinosaur Museum
Questacon Technology Learning Centre (QTLC)
Australian Society for Parasitology
National Youth Science Forum (NYSF)
ACT Allied Health
Defence Intelligence
The Murray Darling Basin Authority
Alzheimers Australia.
Don't miss this chance to meet industry experts and representatives, network with potential employers, and gain an inside perspective of what working for a science organisation is like. Discover the diversity a career in science and technology can offer and how you can make significant real-world advances in your field of study.
There will also be fun-filled interactive displays and demonstrations about current research projects in the Canberra region. Visitors will be able to explore the science behind 3D printing technology, aircraft design, fossils, parasites and cutting edge IT systems, plus much more.
Merryn McKinnon (the event organiser and chair of the ACT National Science Week Co-ordinating Committee) believes the careers day "is an opportunity for students either thinking about, or already, studying science to come and have a chat to potential employers. They can get an idea of the kinds of work opportunities that are out there, which can help them plan for any potential career choices they might make".
So get down to Melville Hall this Friday, and discover what a science career could do for you!
For more information on the Careers day or other national Science Week events, check out the Science Week website. Or follow ACT Science week on Facebook or on Twitter for updates on activities in the Canberra region.
Guest blog post by Caroline Faulder.