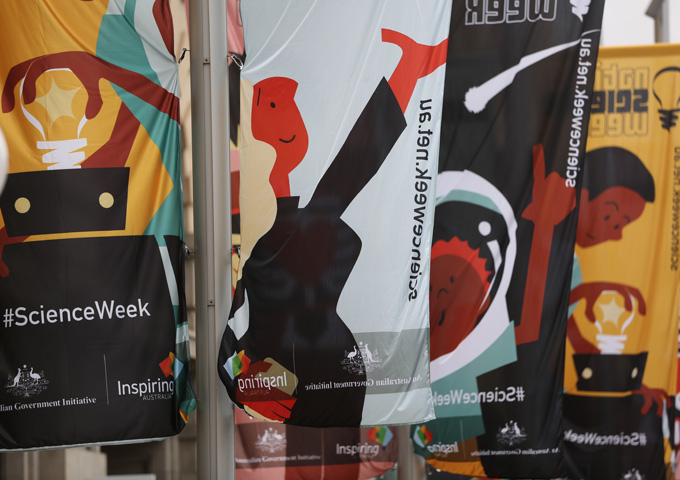 Balmoral State High School, Villanova College, Marshall Road State School and Miles State School are among 22 Queensland schools which have received National Science Week school grants in 2013.
More than 190 schools around the country have received grants from the Australian Science Teachers Association to conduct fantastic science events during National Science Week, 10-18 August 2013.
Balmoral State High School
Balmoral State High School students will visit local primary schools to perform Harry Potter is a Scientist! presentations, showing how some of the special effects in the Harry Potter movies were made, such as the bubbling cauldron, the potions changing colour, and creating gases and explosions. The students presenting these demonstrations have completed Bronze awards (student-developed, open-ended projects in science and technology) from CSIRO's CREST program, and this visit will give them the opportunity to discuss their project and results with the primary students and encourage them to get involved with the CREST project too.
Villanova College
Villanova College will create an interactive learning experience for students, giving them a space to grow and maintain a College vegie garden. Covering biological changes and growth cycles, this activity will teach students the importance of nutrition and healthy eating habits along with providing an excellent platform for experiments. All produce from the garden will be freely given to the College tuckshop to provide healthy alternatives to traditional lunch time meals.
Marshall Road State School
During Term 3 students from Prep to Year 7 were encouraged to conduct a personal investigation based on the scientific skills taught by their class teacher.  These individual investigations will be showcased at the biennial Science Fair held at the school. The extraordinary culminating event is held during the evening so the school community may view the students' investigations and enjoy a BBQ community event. Special guests from the Science community are invited to present the prizes to the students.
Miles State School
In conjunction with Columboola Environmental Education Centre staff Miles State School will run a Scientist in Residence week with a variety of activities being undertaken during National Science Week. These include astronomy, water catchment quality tests, GPS navigation, propagation techniques and a school ground biodiversity audit.