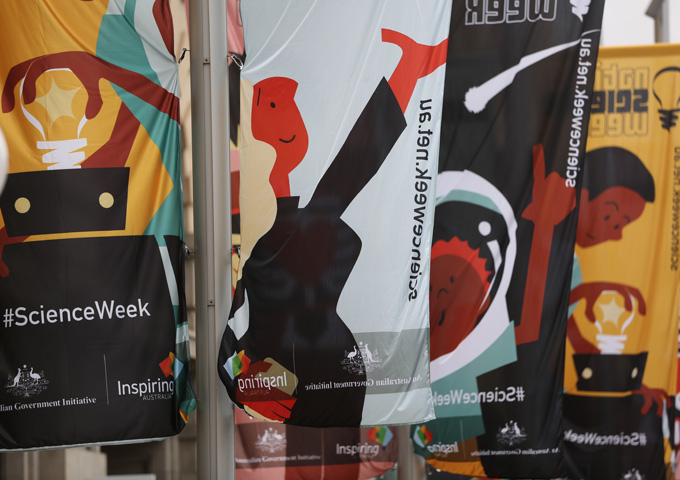 Calamvale Community College, Sunnybank State High School and Acacia Ridge State School are among 22 Queensland schools which have received National Science Week school grants in 2013.
More than 190 schools around the country have received grants from the Australian Science Teachers Association to conduct fantastic science events during National Science Week.
Calamvale Community College
Students from Prep and Years 1, 2, 7, 8 and 9 will produce a Science Expo for their parents, other students and members of the College Community to visit.  The expo will contain hands on experiments for the students to experience, a walk of fame featuring famous Australian scientists and their accomplishments, and a display of P-2 scientific investigations produced by the students in terms 2 and 3 through student-centred co-operative group work and inquiry based learning activities (skills and processes).
Sunnybank State High School
Competitions will be run in the lunch hour to increase the participation and visibility of Science at Sunnybank State High School. These will include making a chair from newspaper and sticky tape which can support 500g of rice, the longest flight of a paper plane, and the fastest tarp turning. Displays include a history of the development of the mobile phone and a visit from the Brisbane rocket club for a lunchtime rocket launch.
Year 5 and 6 students have been attending Wednesday afternoon sessions to prepare their Science fair projects which will be on display during National Science Week and local businesses will be invited to set up displays of their goods and provide scientific explanations of their services. UQ and Griffith university will be invited to set up a science careers booth.
Acacia Ridge State School
Students will be extending their existing science research by designing elaborate tasks that they will then test during the Science Fair. Parents, partner high schools and community members will be invited to participate.