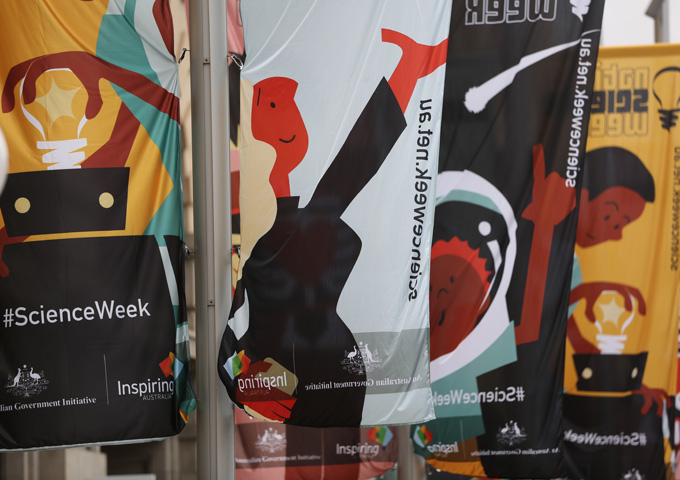 Volunteers have been extra busy on the Far South Coast lately, pulling together a great set of activities for people in the area interested in or wanting to have a taste of science during National Science Week 2014.
It all kicks off with three experts from the ANU speaking about climate, water and fire at Bega Library on 13 August and ends on 23 August at the Sapphire Coast Marine Discovery Centres grand Open Day in Eden.
But there is no rest in between these dates with the official launch, including the event's Welcome to Country and Smoking Ceremony, on 16 August at Bournda Environmental Education Centre. After the official welcome and opening, participants are spoiled for choice with a selection of 12 workshops on offer ranging from a fish dissection to a spotlight walk in search of yellow-bellied gliders.
Doug Reckord, the Principal at the Centre said, "So many great scientists and naturalists participate in these events because they love to be able to share their passion for science. This is the second year the Centre has been involved and we expect it to be even bigger and better than last year."
On 19 August participants will gather at a special place in the area, Eden Aboriginal Land Council's Aboriginal Cultural Centre – The Keeping Place, at Jigamy Farm, is a site of great significance to the local Aboriginal peoples. There will be a fascinating talk on some of the science of the Bundian Way, a traditional pathway of over 300km from the coast at Eden to Mt Kosciuszko, and Dr Duane Hamacher an astrophysicist from UNSW will speak on his topic area of passion, Aboriginal Astronomy.
Thursday 21 August sees some outdoor and indoor science with walks through the local Panboola Wetlands and then a Science Café where local food producers will present on the science of their products. Jillian Reithmuller of the Sapphire Coast Marine Discovery Centre said, "I can't wait for this one. I just love to learn about food especially when I also get a chance to taste it!"
The follow up to this will be the Trivia Quiz on Friday night where there will be a challenge out to answer predominantly food-related science questions. The major prize is of course, a hamper of products from the area and we expect this to be hotly contested.
Fortunately for all the exhausted volunteers but no doubt sadly for participants, the week will have to end and there is no better way to do this than on the shores of beautiful Twofold Bay in Eden at the Sapphire Coast Marine Discovery Centre. This event will feature workshops and of course, the opportunity to walk through and experience the many displays and activities at the Centre. Kerryn Wood, Operations Manager at the Centre, said, "We love this sort of event because we have children and their parents and often grandparents, all coming in and enjoying and experiencing marine science up close and personal. I really love to see their eyes light up at the touch tank and during feeding time in the tanks."
The Sapphire Coast Regional Science Hub is funded by the Inspiring Australia Regional Grants Program, and led by the Atlas of Life in the Coastal Wilderness Organisation.
Bookings are necessary for most activities and can be made online.
For more information please contact:
Angelika Erpic, Coordinator (volunteer), Sapphire Coast Regional Science Hub
Phone: 6496 3540
Email: a.erpic@yahoo.com.au        
Details are also available from National Science Week event diary and the Sapphire Coast Regional Science Hub Facebook Page.
Guest blog post by Angelika Erpic.