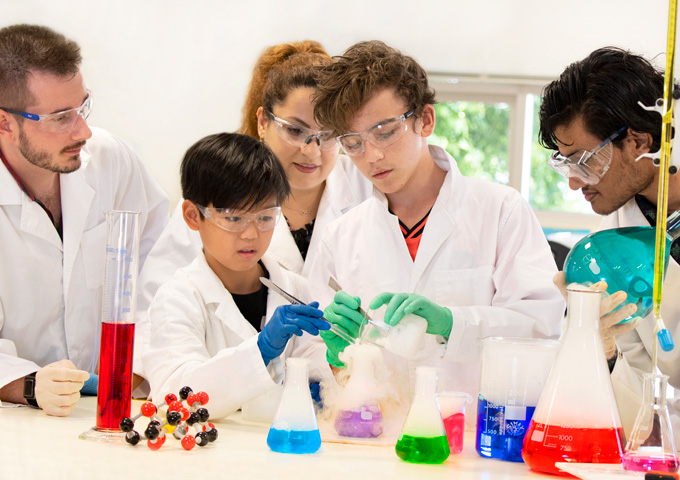 Congratulations to all of the event holders who received support from the NT Coordinating Committee for National Science Week.
Large event grants
National Science Week NT Launch: Comedy + Science – an unexcepted chemistry
Parliament House
Date: Sunday 15 August
Comedy and science… there's an unexpected chemistry in this partnership. To launch National Science Week in the NT we're putting on a stand up comedy spectacular with a science twist. Local comedians and scientists will be sharing their funniest science-based stories. Hosted by award winning comedian Amy Hetherington.
Darwin Festival: Science & Sequins: A Steamy Cabaret
Railway Club
Date: Sunday 15 August
When three female scientists, a band and a group of burlesque performers come together at The Railway Club the result is STEAMy – that's Science, Technology, Engineering, Art and Mathematics kind of STEAM! Three magnificent women share eye-opening stories about their work in science interspersed with some raunchy cabaret and backed by music from The Epi©phannies in an inspiring night of all feminist, all liberating entertainment celebrating mind and body.
Darwin Festival: Counterpilot Truthmachine
Supreme Court of the Northern Territory
Date: Thursday 12 – Sunday 15 August
Would you take a lie detector test with a room full of strangers? After delighting competitive Festival Park audiences last year with Avoidable Perils, techno-trouble makers, Counterpilot, are back with a new social experiment. Truthmachine seeks out truth in a world of fake news and alternative facts using real biometric sensors and live voting systems. Blurring the line between cutting edge technology and live performance, this is an intimate, playful and intriguing theatre experience for adventurous audiences.
Special event: The Science of Beer – Malt
Charles Darwin University
Date: Saturday 21 August
After last year's hit "At yeast there'll be beer", our favourite beer specialists return! Follow their adventures on their new challenge trying to make a "Darwin malt". Learn the history and science of Malt as they showcase their beer making process and provide the resulting beer to taste.
Science Week Fair NT
Charles Darwin University, Casuarina Campus
Date: Saturday 21 August
A full day of STEM workshops, talks and activities to celebrate National Science Week.
Workshops confirmed:
Water Testing for Acidity and Alkalinity: We drink it, swim in it, and live because of it.  Come explore the pH of water and how it impacts some of the many ways we use it today.
Peculiar plant parts: Domatia, glands, stipules, oil dots, nectaries, latex, lenticels, colleters and tendrils – this workshop will look at some of the less obvious features of native plants. Using microscopes, magnifiers and light tables we will investigate unusual anatomical features of native plants.
Citrus and cumin essential oil and liquid soap: The essential oil (Eos) fraction obtained from the peel of Citrus or cumin are rich in chemical compounds of interest for the perfume, food, and beverage industries, and have also enjoyed use as aromatherapy and medicinal agents. Hence, these Eos can be used as an aroma to prepare a liquid soap.
Water Filtration experiment: Water filtration is the process of removing or reducing the concentration of particulate matter, including suspended particles and other undesirable biological contaminants. By showing this simple experiment will help and motivate the children and families to the importance of drinking pure water and their interest towards science how they can use different tools and methods to use to filter and purify water.
A quick guide to shark insides: Have you ever wondered what the inside of a shark looks like? Is it different from humans? We have a shark so come down and find out!
Solar Power Bank Workshop
Spaghetti Tower Marshmallow Challenge
Light up the night! Glow-in-the-dark fun (and the nuclear physics behind it)
Northern Territory Science Week Awards Ceremony
Museum and Art Gallery of the Northern Territory
Date: Sunday 22 August
On the last night of National Science Week, we will celebrate our STEM heroes. Our nine award categories will promote individuals and organizations which are dedicated to build an innovative STEAM enabled Territory with a technologically skilled workforce, a scientifically literate community and scientifically well-informed decision-makers. Awards categories:
Schools;
Outreach Provider;
Scientist;
Postgraduate;
Remote Community;
Artist;
STEM hero of the year;
Promoting Women and Girls in STEM;
Best Science Week Event.
Major Centers Science Week Grants
Scinema Under the Stars
Casuarina Senior College
Date: Friday 20 August
Scinema is an international Science short film competition who makes their winning films available for community screening each year. Scinema Under the Stars will be screenplayed during an outdoor movie night on the Casuarina Senior College oval to present the short films on the local Solar Cinema screen as well as making available the Top End Star Gazers telescopes for astronomy.
Microbiology for Kids
Casuarina, Karama, Nightcliff and Darwin Libraries
Date: After school hours, during National Science Week
City of Darwin Libraries would like to present a fun and interactive session to introduce children to microorganisms. COVID-19 has increased awareness and interest in the largely unseen world of microbes and we would like to explore it with them. City of Darwin Libraries will provide a variety of activities that children can move between to learn about the microorganisms that surround. The activity stations will include digital microscopes with slides of various microbes, for example scale, push microbes, bacteria growing on petri dishes, viewing live examples of microbes.
Night Sky: Indigenous Knowledge Systems in the STEM Curriculum
Milkwood Steiner School
Date: Friday 20 August
A winter solstice lantern festival, and astronomy night led by Top End Star Gazers are scheduled, with participants from the whole school community and public participating in this learning. This event seeks to incorporate Traditional Knowledge about astronomy, from Larrakia Elder, Duwun Lee. Duwun will use traditional Indigenous teaching paradigms of storytelling, art and songlines, to present traditional knowledge about the Night Sky to our community at these events.
Bush to Beach Nature Based Program
Knuckey's Lagoon Recreation Reserve
Date: Tuesday 17 August
A fun and interactive science-based nature play session for families with young explorers aged 2-5 years. This event is all about getting families outside in nature to stop, look and learn more about natural environments. Children will examine and investigate science in a range of play-based activities and learn more about local wildlife through an up close and personal animal encounter.
PCR in your hands
Menzies School of Health Research
The Menzies-Ramaciotti Centre activity "PCR in your hands" will provide an opportunity for people to tour a laboratory, meet scientists and do some hands-on DNA detection, and other science activities.
Remote Communities Grants
Top End Star Gazers Two-way Astronomy Roadshow
Mataranka school and other five rural towns and remote communities
Date: Thursday 12 – Tuesday 17 August
Top End Stargazers will be partnering with rural and remote schools to deliver a two-way astronomy show. The community will be invited to look at the sky via Top End Stargazers' telescopes and share their knowledge about both traditional and western astronomy.
Two-way Science Day
Shepherdson College, Elcho Island
Date: Wednesday 18 August
Description: A whole school two-way Science Day where students rotate between different traditional technology and STEM activities throughout the day. Activities will involve community stakeholders including Marthakal Gumurr Rangers; Miwatj Health Clinic; and Yalu Aboriginal Corporation to provide culturally responsive two-way science experiences for our students. 
As traditional dyes are being prepared in one area of the school, students will be examining the properties of light and colour through Western scientific interpretations in another. As traditional yidaki music is played, students will explore the varying pitches achieved through differing shapes and sizes of hollowed out eucalyptus wood with tuning forks and demonstrations of sound waves and their properties.
All of this and more will be showcased and captured on the day using polaroid cameras for instant memories as well as audio and video to add to our ShepTV program. Community stakeholders such as the Rangers will showcase the combination of traditional ecological knowledge and contemporary environmental monitoring methods employed in their daily activities. Miwatj Health services will share important health messages as explained through both traditional and contemporary lenses.
Ramingining Science Week
Ramingining School
ASRAC rangers partner again this year with Ramingining School Learning on Country Program to deliver a Two-Way Science Week event about nutrition and the importance of bushfood.
Coomalie Science Festival
Bruce Jones Community Centre, Batchelor 
Date: Thursday 19 August
Coomalie Council will be providing a market type activity with various stalls, or stations, of science related activities. These activities will include: Waste recycling, Weeds management, Parks & Wildlife, Territory Wildlife Park, Bushfires, Rum Jungle Mine Rehabilitation Project & Native Plants NT.
One Health in Remote Communities
Daly River and Gunbalanya
Date: Monday 16 and Tuesday 17 August (St Francis Xavier Catholic School – Daly River); Thursday 19 and Friday 20 August (Gunbalanya School)
AMRRIC will run an education program at two remote schools in the NT during National Science Week to introduce the principles of one Health and demonstrate its importance within remote communities. This will be demonstrated with lessons and activities focusing on the topics of vaccinations and zoonoses, equipping students with an understanding of the critical role of science in protecting community and environmental health, through animal health and management practices.
Rolling Science
Katherine Library
Katherine Library will provide a space open to the community (e.g.: physics students, youth groups, seniors etc) to collaborate in the construction of a working LEGO rollercoaster over the course of Science Week. This will be a whole community affair! Whilst the project is being completed, the library will host a range of age-appropriate activities during its regular library programs (e.g. Storytime) to explore the concept of movement and motion.
The Art and Science of the Spear
Roper River and Katherine Schools 
Date: Sunday 15 – 17 August
The project will engage children in STEM through the analysis of traditional spear throwing using STEM tools. Children will see the relevance of technologies like motion capture, filming, force plates and anatomical explanation of how they move. The analysis of children, experienced and young adults will help them understand differences in physical and mental maturation and understand how STEM, sport and their favourite activities can all help each other. This activity will also include the development of a short film that children can speak to in their own schools and schools in the region as a part of an educational experience.