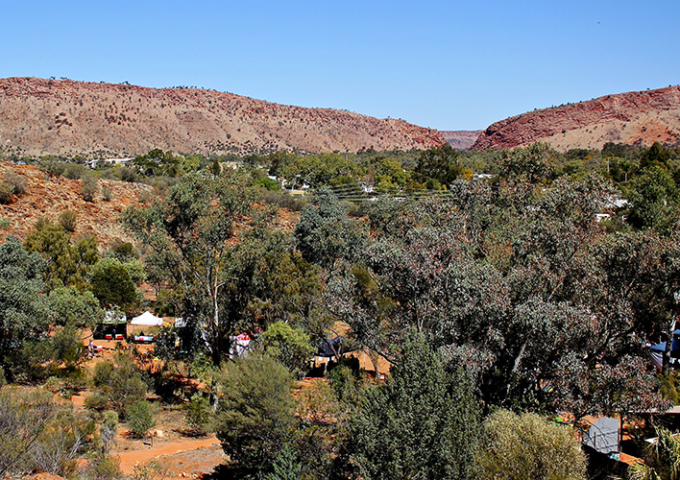 The National Science Week NT Coordination Committee receives funding from the Northern Territory and the Australian governments to coordinate National Science Week in the NT. The Committee allocates some of these funds to supporting events in 3 categories:
Large Community Grants ($5,000 to $10,000)
Remote Community Grants ($250 to $3,000)
Major Centers Community Grants ($250 to $2,000).
Large grants

Erth's Prehistoric Picnic
Darwin Festival, MAGNT
Location: Museum & Art Gallery of the Northern Territory
Dates: 11-14 August
It's been a while – 65 million years, actually – since Darwin echoed to the calls and footsteps of Dromornis. Now, thanks to Erth, Sydney's world-famous dino-recreationists, it's like they never left. The event showcases the beautiful interface where art, performance and science create inspiring experiences to launch generations of curious thinkers and scientists.
STEMfit Roadshow
STEMfit
Locations: Darwin and Katherine
Dates: 13-16 August
The roadshow will expose children to maths by using physical activity. Using sports science technology, children will learn about their body and the relationships with breathing and heart rate. A professional videographer will accompany the visits and a short film about the program will be launched in social media on 16 August.
Bite of Science
National Science Week NT Committee
Location: Charles Darwin University, Casuarina
Date: 20 August
Bite of Science will be a family-fun day of workshops and activities for all, where the exciting world of science in the NT will be showcased by schools, researchers and practitioners alike.
Sew for Science: 1,000 glowing teddy bears marathon
Science Week NT Committee

Locations: Various, including Charles Darwin University Casuarina Campus, Katherine Public Library, Alice Springs Public Library, Dundee Primary School, Mataranka Primary School, Elliott School, Pine Creek School.
Dates: 7-28 August
The Sew for Science: 1,000 glow-in-the-dark teddy bears marathon will distribute glow-in-the-dark teddy bears science kits to NT communities and schools. The kit will include all the material needed for this activity and step by step instructions, as well as explanations on how this activity relates to science concepts. The manual will also include a session introducing Power and Water staff who work on the STEM areas. This project is co-sponsored by Power and Water Corporation NT.
Sipping on Science – National Science Week NT Pre-Launch
Science Week NT Committee
Location: Don's Bar, Nightcliff
Date: 11 August
Kicking off National Science Week this year, Science Week has teamed up with Dom and his team of marvellous mixologists at Dom's Bar in Nightcliff to create a menu of cocktails inspired by local scientists and researchers.
Science Week NT launch @ Barunga Festival
Science Week NT Committee
Location: Barunga
Date: 13 August
This year National Science Week NT pairs with Sunny Science and it will launch at the iconic Barunga Festival. The Festival boasts a long and proud tradition of celebrating the best of remote Indigenous Australia. This much-loved Territory event attracts a 4,000-strong audience of Indigenous and non-Indigenous people from all over the world, who descend upon the small remote community to camp and take part in a program of music, sport, traditional arts and cultural activities, welcomed by the Traditional Owners.
Northern Territory Science Week Awards Ceremony
Science Week NT committee
Location: Crocosaurus Cove
Date: 21 August
On the last night of National Science Week, we will celebrate our STEM heroes. Our nine award categories will promote individuals and organizations which are dedicated to build an innovative STEAM enabled Territory with a technologically skilled workforce, a scientifically literate community and scientifically well-informed decision-makers. Awards categories:
Schools
Outreach Provider
Scientist
Postgraduate
Remote Community
Artis
STEM Hero of the Year
Promoting Women and Girls in STEM
Best Science Week Event.
Major Centers Grants
Communicating Environmental Sustainability through Botanical Art
Let Plants Be
Location: Charles Darwin University, Casuarina
Date: 20 August
This workshop is a merge of environment and arts education includes a talk about the mangroves ecosystem and hands on techniques on scientific illustration drawings. The purpose is to raise awareness on plant biodiversity and environmental sustainability, understand how to research and sketch species scientifically correct. It also enhances observation and drawing skills.
Florilegium Craft for Kids
Let Plants Be
Location: Charles Darwin University, Casuarina
Date: 20 August
Children will create ornaments, painting NT native plants on circle postcards. The images will be created with masking fluid markers and granulated watercolour. The children learn native plants, while observing, drawing and painting them. They also find out important information and memorise the most interesting facts, by writing them on the postcards. The kids also enhance their art and craft skills.
The Science of Beer – Hops
Darwin and NT Homebrewers
Location: Charles Darwin University, Casuarina
Date: 20 August
This activity will carry on from the "At yeast there'll be beer" and "What's the malternative" presentation from the past two years. This will follow the same format with a one hour talk followed by a beer tasting to illustrate the concepts covered in the talk and general conversation. This talk will provide an overview of the history and science of hops, including a basic overview of hop farming, hop antibacterial and chemical properties, different malt flavours and the impacts isomerisation can have on flavour. We will also try to source a local Darwin hop substitute and document the process and provide the resulting beer to taste.
Nature Detectives: Go Wild with Science!
Bush to Beach Nature-Based Programs
Location: McMinns Lagoon Recreation Reserve
Date: 16 August
An interactive science-based nature play event for families with young explorers aged 2-5 years. Children will examine and investigate science through a range of play based activities, story time and animal encounters.  
SunSmart Science Packs
CCNT
Locations: Primary, middle and secondary schools in the Darwin region
Dates: 13-21 August
This project will teach students about sun safety, UV ratings and the use of sunscreen, through Science and Art. Is is a SunSmart activity pack of 3 easy to conduct science experiments that will teach students about the benefits of sunscreen and the impact sunscreen has on our skin's exposure to UVA and UVB rays. Teachers will find this project pack easy to implement in their classrooms during National Science Week.
The Sound of Science STEAM Zone
City of Darwin Libraries
Locations: Karama, Nightcliff, and Casuarina Libraries
Dates: 17, 19 and 20 August
STEM Zone is a fun, engaging session that explores different educational themes and activities each week. Discover the science behind sound with our play-based learning activities. It is suitable for people of all ages.
Choc Science
Darwin Chocolate Factory
Location: CW Darwin Chocolate Factory, Berrimah
Dates: 13-20 August
CW Darwin Chocolate Factory will run four science experiments using chocolate with groups of up to 16 children per session. Each experiment will involve chocolate, science, maths and innovation with the kids working hands on to work through each experience then moving to the next experience.
Immerse Yourself with Drones
Charles Darwin University

Location: Charles Darwin University, Casuarina
Date: 20 August
Immerse Yourself with Drones will include various workshops that will consist of interactive drone-based activities. The main emphasis will be to provide interactive concrete activities in a fun way that inspires young Australians to create their interest in STEM disciplines. Interactive talks and discussions will create an opportunity for a diverse range of audiences to learn and understand the fundamental STEM concepts formally or informally. The target audience will be students, teachers, STEM experts, scientists, and the general public.
Material World – Henbury Science Fair
Henbury School
Location: Henbury School, Darwin
Date: 18 August
Material World Henbury Science Fair is a series of hands-on science investigations and activities run by students and visiting guests. It will promote the UN International Year of Glass and other materials. It caters for a range of student abilities and needs.
Laboratory time!
Menzies School of Health Research

Location: The Ramaciotti Regional and Remote Health Sciences Training Centre, Darwin
Date: 17 August
Students will then participate in hands on Laboratory time! activities, including the most common microbiology and molecular biology techniques performed in modern laboratories without the need to be in a laboratory.
Journey to Discovery
Menzies School of Health Research

Location: Charles Darwin University, Casuarina
Date: 20 August
Description: This activity is a mix of Art meets Science and will present the process researchers have used to discover and name new species. Using various activities both visual (fluorescent microscopy, artwork, and digital photography) as well as hands on activities (artwork, digital microscope, agar plating) we will engage the students.
Traditional Knowledge in the Primary School Curriculum: Fish Traps
Milkwood Steiner School
Location: Milkwood Steiner School, Berrimah
Dates: 13-21 August
This project brings a whole school STEM focus on Traditional Knowledge on the technology and engineering of Yolngu fish traps, led by Yolngu elder, Rose Laynbalaynba and the commissioning of a functional fish trap by Rose on site. This commissioned artwork will involve the participation of 100 students in harvesting and processing fibres to make string and rope, and to support the construction of the artefact. The artwork will be launched by the whole school at the school Lantern Festival, as the centrepiece and heart of our lantern walk, surrounded by 100 small lanterns created by our students.
Marvellous Moil Science Fair
Moil Primary School
Location: Moil Primary School
Dates: 15-18 August
Students in Years 4, 5 and 6 will be performing a demonstration of a science experiment and asking questions to get younger students thinking and being curious about some familiar consumables. Other classes are encouraged to have a display of STEM projects around the school.
Glowy the Glowing Lady Bug
Nakara Primary School
Location: Nakara Primary School
Dates: 15-19 August
Glowy the glowing ladybug – and book reading. The activity will involve preschool kids getting a mini glowy ladybug pet rock and there will also be a book reading of "What an Angel" by Susie Linn.
Top End Research Spotlight
NLWild
Locations: Online and at Charles Darwin University Casuarina
Date: 17 August
A mini documentary highlighting a selected NT natural science research projects in the NT. Important environmental research is being conducted across the Top End, this project is aimed to go hand-in-hand with on-going or completed projects by highlighting the efforts of individuals in local STEM as well as their projects and how they affect the Top End. The communication of which is geared to encourage the support and further interest of activities in the field of environmental conservation.
Sky is the Limit
United Muslims of Northern Territory
Locations: Lyons Community Hall and Malak Community Hall
Date: 21 August
A large community event including different stalls educating people through entertainment and creative activities – igniting imagination to the possibilities. This program will involve doctor, allied health professionals, engineer, and environmental scientist. Majority of the professionals in the listed fields below are currently dedicated volunteers of United Muslims of Northern Territory.
Let it Glow Workshop
Sunny Science
Location: Charles Darwin University, Casuarina
Date: 20 August
The Sunny Science STEM experience returns to CDU during National Science Week. Make your own glow in the dark resin jewellery, DIY shrinkies, sun colour change resin beads and having a blast with the airzooka vortex cannons and smoke machines.
Remote Communities Grants
Glass, Animals, and Remote Communities
Animal Management in Rural and Remote Indigenous Communities
Location: St Xavier Francis Catholic School, Nauiyi
Date: 15 August
An education program at a school in a remote community of the NT. Targeted at primary and secondary school students, the program will introduce the role of glass in veterinary medicine (drug vials, microscopes, slides etc.), and how this equipment plays a vital role in the detection, treatment, and management of diseases, parasites, and germs that affect the well being of communities, animals, and people.
Soils Across The NT
AusEarthEd
Locations: Thirty remote communies, including Adelaide River, Neutral Junction/Tara, Bickerton Island, Burray Downs, Katherine, Tipperary Station, Middle Point, Mataranka, Nugukurr, Pine Creek, Dundee Beach, Tennant Creek, Alpurrurulam, and Willowra.
Dates: 13-21 August
Remote schools from all over the NT are creating soil science teaching kits. Soils submitted by the schools will be split 30 ways so that each school receives a full set. The sets will showcase the variety of NT soils and be accompanied by instructions for soil science activities.
The Teeny Tiny World of Heebie Jeebies
Roper Gulf Regional Council
Locations: Booolola School and Robison River Public School
Dates: 16-17 August
A fun interactive way to learn about the tiny world of microscopic critters.
Science in the Park
Berry Springs Primary School
Location: Territory Wildlife Park, with Berry Springs Primary School
Dates: 15-21 August
Science in the Park will celebrate the many roles that science plays in our lives as well as being a part of our sustainable future. A week long expo at the Territory Wildlife Park providing opportunities for students and community members to develop their interest in science through different activities, displays and events to suit a wide range of abilities and interests will be held, with many focussing on this years theme of glass.
Women in STEM
Women's Museum of Australia and Old Gaol
Locations: The Women's Museum of Australia and Old Gaol, Alice Springs 
Dates: 13-21 August
The Women's Museum of Australia's aim is to tell and celebrate the stories of women and the successes achieved despite the barriers faced particularly in STEM disciplines. The resources produced will adhere to the principles of gender equality to help ensure that both girls and boys have equal opportunities to participate and learn in STEM subjects.
Garak – Yolnu knowledge of the universe
Yirrkala School – Yirrkala Bulpul FaFT
Location: Yirrkala School, Yirrkala
Dates: 15-19 August
During National Science Week Yirrkala FaFT (Families and First Teachers), Pre-school and T/1 classes will enjoy a week of learning about Garak (the night sky). This will include launching an early childhood focused educational book that includes Maniakay and Dhawu.