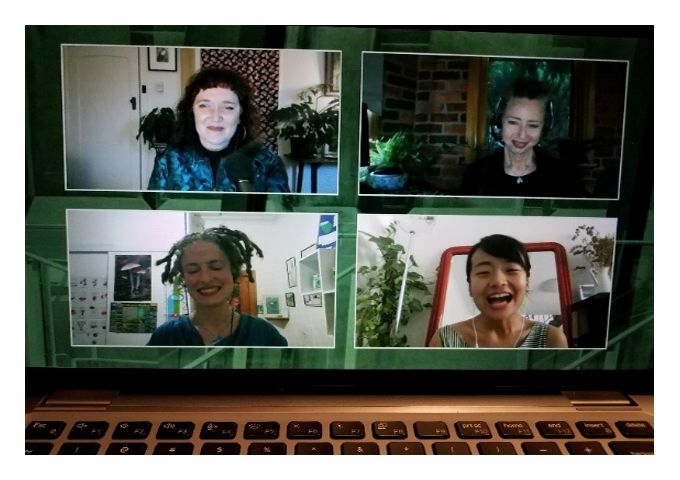 This year has been a little bit different for everyone – in Australia we have gone through a lot and no-one could have predicted when the first National Science Week grant round was open for applications in October 2019, what the world would look like in August 2020. It has required a lot of creativity and ingenuity for all the event holders to be able to make their events COVID safe while still keeping them engaging and accessible to their audiences.
National Science Week would like to thank everyone who has supported the events this year, from the coordinating committees to the event organisers to the thousands of attendees. Though it looks a bit different, we love that people are still committed to sharing their science with Australia and the world, and that people are still willing and excited to learn about science in research, in the ocean and in their everyday lives.
We too are experiencing Science Week in a different way, but still couldn't wait to start attending events this weekend. Being able to join in events while eating breakfast (or writing a blog post) has been fantastic and being able to attend events that we wouldn't normally have access to has been a really positive outcome of the way the Week has changed this year.
We attended a number of events over this weekend…
Coffee in the Studio
The first on our agenda was Coffee in the Studio hosted by Steven Durbach. They have three more events over the week, examining the intersection and connection between science and art by talking to scientists and artists.
Their first event featured Dr Laura Parker and Dr Sarah Jane Moore who have been working together on a project with oysters. At this Q&A panel, it was so amazing to see their passion for a vital part of nature's ecosystem. We got to learn more about the amazing oyster, how important it is for the world we live in and how, even though it is greatly affected by climate change, scientists are working on ways to make sure that oysters will be around for decades to come. Dr Sarah Jane also shared with us some of her artistic pieces, inspired by oysters, including a poem and her newest song, using oysters as accompaniment. 
Be sure to attend their other events over the week, for more conversations between artists and scientists (and some people who are both) including on Wednesday at 8 featuring Annelies Jahn and Beric Henderson, Friday at 2 featuring Laura Jade and Michael Gillings, and Saturday at 8 featuring Sven Rogge and Paul Thomas. 
Brisbane Science Festival
Saturday was the first day of Brisbane Science Festival. They are having fun events on every day this week at 10am for a Slice of Science – showcasing scientists, researchers and DIY science – and 4pm for Deep Blue Dilemmas – with science puzzles and mysteries and your chance to win prizes.
They opened the Brisbane Science Festival with a LIVE science show from Science Steve from Street Science featuring three of his favourite elements – hydrogen, helium and nitrogen. It was a lot of fun seeing the cool experiments with Science Steve – especially as the Brisbane Science Festival isn't one that we'd normally get to attend while in Canberra.
Using Facebook live as a platform, Steve was able to do experiments with liquid nitrogen and water (resulting in a massive fog cloud), with helium balloons and make a giant fireball when he blew up a hydrogen balloon – and more. It was so fantastic to be able to see a live science show, while still sitting on our couches at home, and we even had to turn the volume down during the hydrogen balloon explosion <BOOM>.
Stories from The Leadership: Women in STEM
Our last event for the weekend (but DEFINITELY not the week) was the MIFF talk – Stories from The Leadership: Women in STEM.
The movie The Leadership is about a dream of Fabian Dattner, an Australian CEO. She hoped to transform society, starting with the women who could create that change and in 2016 took 76 female scientists to Antarctica for the first all-women Homeward Bound voyage. Over this 20-day trip the women were able to discover common challenges that they had faced in their STEM fields, learn about themselves and explore the amazing continent of Antarctica.
The MIFF talk featured three of the scientists who took part in the Homeward Bound experience – Dr Samantha Grover, Fern Hames and Songqiao Yao. The conversation was facilitated by multi-award-winning journalist, presenter, producer and podcaster Natasha Mitchell.
Over the course of the conversation, viewers are able to learn about how these extraordinary women became involved in Homeward Bound, what they gained from the adventure and also what they have now been able to achieve thanks to their experience. It was a fascinating talk and we were left with many questions afterwards, though the most pressing one – how can we go on the next Homeward Bound?
The MIFF talk is available to download until this Sunday (23 August) and the film, The Leadership is available through the Melbourne International Film Festival. 
Stay tuned for more

We hope you are also enjoying National Science Week and have been able to attend some events. If you haven't yet, don't worry, there are a tonne more on over the course of the week and continuing through August.
Look on this site for a full list of the events and make sure to tag us on Twitter @Aus_scienceWeek, Facebook @NationalScienceWeek, and use #scienceweek to let us know what you're attending.