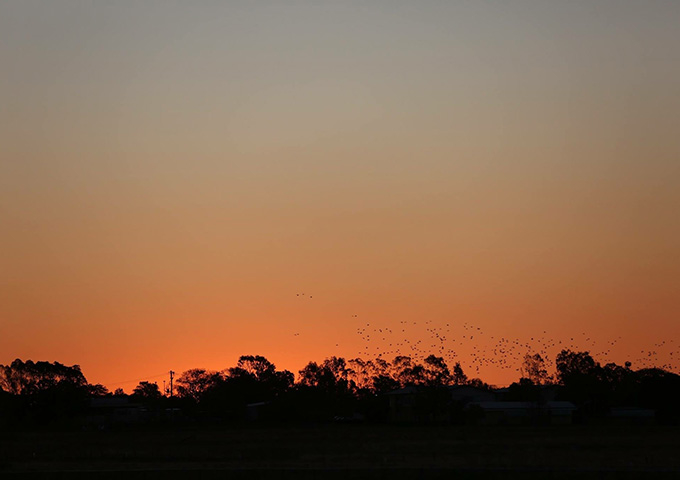 As National Science Week draws to a close, we're reflecting on the huge range of different types of events that took place across the country.
We've especially enjoyed seeing all of the local events coming out of regional, rural and remote areas across Australia. The events listed below deserve a special mention because of how they were able to connect locals with the science that's happening in their community. In many cases, we were impressed by the way event organisers applied a local lens to the schools theme.
Outback Exploratorium
At Emerald in Queensland's central highlands, the 2022 theme Glass: more than meets the eye inspired a series of activities – with 6 events at the Outback Exploratorium.
Activities included learning from a local glass artist to do basic glass fusing in a microwave kiln; glass cutting and repurposing glass bottles; making glass vessels – while enjoying wine & cheese; and glass flower sculpting. A local Councillor led a walk through the nature reserve to collect botanicals before heading back to the science centre to show an ice-pressing process in glass. Academic and artist Dr Aaron Micallef also showed glass engraving and his creative process in an online event.
Hopetoun of the Future
In a unique series of activities thinking about their town and its future place in the world, students at Hopetoun Primary School on the remote southern coastline of Western Australia, embarked on a journey to design and create their Hopetoun of the future.
The students collaborated, shared, innovated, inquired, imagined and constructed how to bring the future into the present through activities such as:
constructing the town and its new infrastructure out of Lego;
using a range of code-able robots to model the transport of the future; and
using green screens to create a news broadcast presenting the town.
Every year group from Kindy to Year Six took part, inspiring innovation in today's students, and acknowledging that they have an important hand in shaping the future of their town.
VR Exploration Hits Sea Lake
In a little town in north-west Victoria, Sea Lake residents had an unforgettable, high-impact VR incursion day for local students, teachers and community members. Experiencing cutting-edge technology, instructors demonstrated ways to use VR-experience in the classroom to transform traditional learning into an interactive and out-of-this-world immersive environment.
The event left a lasting impression that helped raise student engagement and increase student knowledge retention. After all, why just look at pictures when, it's possible to feel like you're walking on the surface of the moon and interacting with what you see in real time?
Through the Looking Glass – Bringing some STEM sparkle to the red sand desert
Did you know that a type of grass called spinifex can be made into a type of glass-type material known as resin? Spinifex resin is a sticky gum coating which First Nation cultures traditionally used to make or repair glass-like objects such as beads, figurines, vessels, spears or axes.
Students at Haasts Bluff School, west of Alice Springs in the Northern Territory, investigated a variety of activities around spinifex resin and glass. They invited schools from nearby communities to work together to create posters and interactive displays of their learning, as well as making a short movie. At the end of the week, students invited their families for a community-sharing and learning day where students lead some of the activities and explained what they had learned.
Warrakan ga baḻ'yun Galiwink'ŋur (Animals hiding around Galiwin'ku)
At Galiwin'ku on Elcho Island (off the coast of Arnhem Land) in the Northern Territory, students learnt about local fauna on Country. Local Gumurr Marthakal Rangers ran daily field trips for classes across the school which visited 3 different cultural homelands that provide habitats (billabongs, coastal dunes, and open forest) for a range of local and feral animals. They set camera traps at each of the sites, and compared the different species observed at each site.
The field trips were supported in school with daily sessions about conserving local fauna as well as controlling invasive species such as cane toads and water buffalo and feral animals including cats, dogs and pigs and the damage they can do to Country. Traditional Owners were invited to share Indigenous ecological knowledge for each site and about the species observed and how the students are connected to the site and its fauna. 
The week culminated in a whole school assembly where classes present their conservation action plans for their chosen local fauna or invasive/feral species.
Junior Keeper Experience
This event was created with a vision to encourage local children to improve their knowledge in wildlife conservation and awareness – or even consider a career in animal management, care or captive wildlife without the need to leave their beloved home on the north-west coast of Tasmania.
The Junior Keeper Experience at Wings Wildlife Park gave a glimpse into the day-to-day duties of a wildlife keeper, and included opportunities such as food preparation and enrichment, animal feeding and cleaning. Inspiring, informative sessions on some of Australia's most interesting wildlife, as well as exploring the lifestyle of the humble bee, gave plenty of fodder for questions from inquiring minds.
Quandong Bush Tucker Festival
This was just one of a number of events held in Quorn, South Australia, this year. The inaugural Quandong Bush Tucker Festival is a celebration of native foods on Nukunu and Adnyamathanha land in the heart of the Flinders Ranges.
This year's event featured educational workshops, food stalls and culinary experiences, alongside Australian native food growers, harvesters, cooks, educators and enthusiasts including renowned native food expert, author and educator Bruce Pascoe, ABC's Gardening Australia's Costa Georgiadis, and River Cottage Australia's Paul West.
There were children's craft and activities that captured the fun of bush food flavours, food preparation experiences and sustainability, a working bee at the Quorn Bush Food Garden, a quandong-themed lunch and dinner, a gin bar, and more.
Jervis Bay Maritime Museum and Gallery
Many regional areas are home to niche museums that are definitely worth celebrating. The Jervis Bay Maritime Museum and Gallery in Huskisson hosted quite a few events, including where:
This is just a small collection of a huge number of regional, rural and remote activities that took place in National Science Week in 2022. We look forward to sharing more unique workshops, shows and other events with you again next year.