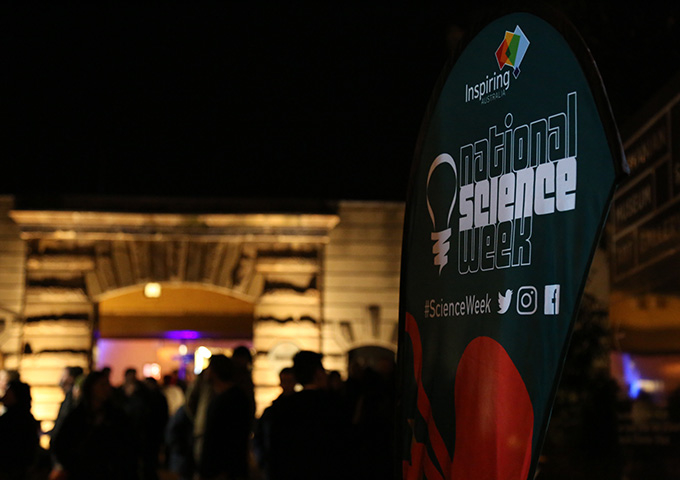 Congratulations to the 35 recipients of National Science Week grants for 2022.
Minister for Science and Technology The Hon Melissa Price MP said "Science plays a huge part in our daily life, even if we don't always realise. The great events and activities in National Science Week are not only fun and interactive, but they can show us just how much we use science in our everyday life.
"This year, we've got a huge range of events and there's something for everyone, whether it's learning about the science of bush tucker, quantum physics, robotics or even how our bodies work."
Read the Minister's press release.
More than $500,000 was allocated to projects from across Australia. The grant round was conducted by AusIndustry.
Skip to a state or territory*:
*grants are listed in the jurisdiction where the recipient is based, not necessarily where the activity will take place.
Australian Capital Territory
Scouts Physics STE(A)M Challenge
Scout Association of ACT
Can you explain gravity waves with interpretive dance?
Youth members will ponder physics questions like this with creative depictions of waves in art pieces, interpretive dance, TikTok videos and science reports. This challenge will encourage Scouts to think outside the box with creative exploration into science, technology, engineering, arts and mathematics. A virtual SciFair will showcase their science projects, nominate a winner, and show that scouts are more than just knots and badges.
Project/event locations: ACT NSW QLD VIC WA & online
Good bugs/Bad bugs – preserving and fermenting food safely in glass
Food Safety Information Council
There's good bacteria in a bottle of kombucha. But there's bad bacteria behind the estimated 4.1 million cases of food poisoning each year in Australia. Find out the difference from the experts.
People have been preserving and fermenting their own food in glass containers for centuries. It requires a biological balance in the process which aims to put the good bugs to work fermenting food while avoiding the growth of dangerous micro-organisms (bad bugs) that cause food poisoning. Learn from microbiologists as they explain the science behind food safety and the professionals that make this happen. Engaging online seminars in schools and for families will demonstrate how to safely ferment and preserve food such as apples, pears and stone fruit in glass containers, and using beneficial bacteria to allow milk to thicken into yoghurt.
This event series includes sessions for primary school teachers, secondary school teachers, an online event and a First Nations event.
Project/event locations: ACT & online
The National STEM Communicators Challenge: Hidden mathematics at work
Australian National University
Google's search tool, credit cards, and even card games – modern lives have mathematics hidden everywhere. The Mathematical Sciences Institute at ANU are unravelling the mysteries behind the maths in our day-to-day lives, with an interactive public lecture and a short film competition exploring the "Hidden Mathematics at Work." The faculty will engage participants with surprising, accessible and compelling examples of everyday mathematics that often go unnoticed.
Project/event locations: ACT & online
New South Wales
Science in the Scrub
Western Sydney Parklands Trust
Why do we need to recycle? Where does my food come from? Why is it dangerous for us if coral dies? Who restores habitats and why is it important?
In a series of workshops and activities presented by Sydney's science community, Science in the Scrub will answer these questions through hands-on experiments, stimulating curiosity in a new generation of scientists. It's a free, outdoor family and community event, held in the midst of the nature of the Cumberland Plain Woodlands of Western Sydney.
Project/event locations: NSW & online
Indigenous Science Experience @ Redfern
Macquarie University
What can Aboriginal astronomy tell us about the night sky? How is our native flora used in bush medicine and soap making? How do Indigenous Australians make axes from stone and other artefacts? What can deadly science tell us about seaweed, birdlife, engineering, textiles, and more? What can we learn about sustainable living from 60,000+ years of Indigenous culture?
The Indigenous Science Experience at Redfern is a celebration of Indigenous and Western science, and Indigenous youth and Elder achievements. This four-day event at the Redfern Community Centre will demonstrate the value of traditional and contemporary Indigenous knowledge in science and technology, and the relevance of science to our everyday lives. Indigenous students from National Indigenous Science Education Program (NISEP) partner schools will assist in demonstrating activities.
Project/event location: NSW
Science in the Swamp – Dinosaurs and Superpowers
Centennial Park & Moore Park Trust
Which animals are the fastest, the strongest, have the best vision, or the best hearing? Learn the science of nature's superpowers, wander the wetlands, try daytime astronomy, ID a frog, meet Centennial Park's bats, and learn about Indigenous knowledge from Deadly Ed. Science in the Swamp returns to Centennial Parklands for a free, outdoor family and community event celebrating science and providing a range of diverse and exciting hands–on science activities accessible for all ages.
Science in the Swamp is a partnership between Centennial Parklands and a series of science exhibition providers.
Project/event location: NSW
Sea Country Stories
A Farr & J Woodriff
Discover local Sea Country Stories by visual experiences such as sitting in a bark canoe, spearfishing flounder by Moon phases, and using Indigenous astronomy to understand the seasons. Guests will be immersed in virtual experiences (360 videos, drone and virtual reality) that celebrate Australian Indigenous marine science with stories from around the country. Cultural icon and Ngarrindjeri elder Uncle Major Moogy will guide participants in their ocean literacy journey and inspire the next generation of Sea Country custodians.
Project/event location: SA
The Mobile Poo Palace – An inside look at the digestive system
Hunter Medical Research Institute
Follow the food and take a tour of the digestive system in the oversized, inflatable Mobile Poo Palace. Interactive food experiments will inspire and engage students as they learn about digestion, gut health, medical research, the human body, and water treatment.
Touring schools, farmer's markets and community centres in the Hunter region, this portable giant installation is a series of rooms and tunnels that mimic the journey food takes along the digestive tract, with hands-on experiments and educational experiences along the way.
Project/event location: NSW
Sustainable Fishing for a Big Blue Future
Marine Stewardship Council
Many Australians love seafood or love fishing – how do we make sure we're not having too much of a good thing? Four Marine Stewardship Council-certified fisheries are drawing on marine science and innovation to play their part in combatting overfishing, reducing bycatch and maintaining healthy aquatic ecosystems. Shoppers can play their part by learning what to look for when buying seafood.
Find out about sustainable fishing from the fishers and marine conservation experts involved with:
The Northern Prawn Fishery in Darwin, Northern Territory
Goolwa Pipis Fishery in Adelaide, South Australia
Geraldton Fishermen's Co-operative Ltd in Geraldton, Western Australia
Mures Tasmania in Hobart, Tasmania
Project/event locations: NSW & online
Gardening below the surface: restoring seagrass with Operation Posidonia
Sydney Institute of Marine Science
The NSW coastline has endangered underwater seagrass meadows badly in need of restoration. Posidonia australis seagrass meadows provide habitat for native aquatic species, improve water quality, help stabilise the seabed, and can capture carbon up to 35 times faster than tropical rainforests.
Experts from Operation Posidonia share the science behind the restoration of these habitats in NSW estuaries through workshops, a field trip and collaborative art projects. Focusing on underwater seagrass meadows found in two of NSW's most developed coastal areas, the project equips participants with the knowledge and skills to become active citizen scientists in their own communities.
Project/event locations: NSW & online
Pocket Astronomy in Pocket-Sized Towns
Macquarie University
What do towns have that the city lacks? Darker skies and a better view of the Milky Way!
Bright young Macquarie University astronomy and astrophysics students will tour four towns in four days, equipped with a portable planetarium, telescopes and astronomical expertise. Students and university staff will deliver planetarium shows, science outreach talks and evening telescope viewings to these regional communities. Participants will also learn about light pollution, preserving the night sky, and Warrumbungle National Park – Australia's first 'Dark Sky Park'.
Each town will receive a telescope as a gift, along with training on their use so that communities can continue to explore the stars.
Project/event location: NSW
Inspiring the MidCoast with eDNA Science
Manning Valley Neighbourhood Services
What and who is lurking in the waters of the Manning River? Community DNA detectives will help scientists find DNA fragments in water samples to help detect fish, crayfish, eels, riverine frogs, rakali, platypus and the threatened Manning River turtle.
Expert university researchers will demonstrate the techniques of eDNA metabarcoding and involve community members in sampling waterways to survey their wildlife. The project will conclude with an interactive webinar and Q&A, where the participants will discuss the results of their surveys with university researchers and environmental practitioners, gaining a hands-on understanding of the natural environment.
Project/event locations: NSW & online
Girl Guides Science Camp
Girl Guides Association of NSW
Girls aged 10 to 17 from the ACT and surrounding area will get together for a Science Camp with researcher role models for fun demonstrations, hands-on workshops, nighttime astronomy, and even a bit of personalised lab-coat decorating.  
Greenlight for Girls (g4g) is an international initiative to inspire girls to pursue their studies in science, technology, engineering and mathematics. The girls who take part in the g4g workshops will do activities that demonstrate the links between science and everyday life. In the process, they'll meet fellow science-enthusiasts their own age from different schools and backgrounds, build their confidence, and hear stories from women in science role models. 
Project/event location: ACT
Another Antarctica: Envisaging Antarctic Futures
University of Wollongong
Antarctica affects the global climate and climate change is affecting Antarctica. For most people, it's an alien landscape, but it's also full of life and a vital barometer for climate change.
Another Antarctica: Envisaging Antarctic Futures is an interactive exhibition that presents Antarctic science, policy and different perspectives in a gallery space. It brings researchers and artists together to imagine potential futures for this important ecosystem. Guests will learn about Antarctic research with a series of interactive presentations and workshops within the gallery. Children and teenagers can also discover Antarctica on their own with hands–on scientific and artistic activities run by scientists and artists.
Project/event location: NSW
Northern Territory
HealthLAB: Darwin to Northeast Arnhem Land
Menzies School of Health Research
Chronic diseases – such as diabetes and heart disease – cause suffering for thousands of Australians, both Indigenous and non-Indigenous.
The Menzies School of Health Research is letting people experience the effects of long-term diseases before they get sick. HealthLAB – a clinic on wheels – lets people see heart and kidney ultrasounds, hear their heart beating, and try on 'alcohol goggles' that mimic raised blood alcohol levels. An award-winning interactive Time Machine app completes the picture – literally – by showing how those choices affect appearance.
HealthLAB will travel to locations around Darwin and Northeast Arnhem Land, giving locals the opportunity to talk to a range of scientists and health professionals about the science behind the inner workings of the human body, the technology behind the equipment we use, and exciting future careers in science.
Project/event location: NT
Queensland
Australia BLASTS into National Science Week
Kim Liddell
Be part of Australia's largest cooperative rocket launch to celebrate the start of National Science Week 2022. Registered groups across the country will simultaneously blast their own rocket from their yard, street, or local park. The event will involve a 60-minute online broadcast where participants will learn about the science behind launching rockets, the establishment of the Australian Space Agency and our emerging aerospace industry. Rocket kits can be purchased for a low fee in the months leading up to the event. They will contain everything needed to build and launch the CO2-powered rocket, including a pair of safety glasses and National Science Week goodies. Learn the science, build your rocket, and watch it fly.
Project/event locations: QLD & online
The Science of Bush Tucker
Rainforestation
Have you ever thought about living off the land? With tens of thousands of years of experience, the Aboriginal people of Australia have vast knowledge of local flora and fauna.
Learn about the science of bush tucker from Rainforestation Nature Park and Pamagirri Indigenous Group experts as they explore topics such as where to find rainforest food, how seeds spread, and how bush tucker is part of Indigenous culture. Talks will include samples of various edible fruits, cuttings from plants and signage boards. To expand on these talks, participants will partake on guided tours through the rainforest to locate real bush tucker in the wild. Audiences across Australia will also be able to join the event with Facebook live presentations, a radio competition and science experiments posted on social media.
Project/event locations: QLD & online
Butterfly Botany: The science of butterfly food
Australian Butterfly Sanctuary
What botany is needed to feed very hungry caterpillars so they can grow into big, beautiful butterflies?
The Australian Butterfly Sanctuary in Kuranda has the largest butterfly aviary and exhibit in Australia, gardens containing a variety of critical butterfly food, and a collection of native butterfly species, including the red lacewing, the mountain blue or 'Ulysses', and Australia's largest butterfly, the Cairns birdwing, with a wingspan of about 18 centimetres.
Scientific talks, guided tours and interactive activities will be hosted in person and online by butterfly experts as they educate participants on the lives of butterflies. Visitors can examine butterflies under a microscope, make art with plants, and take seedlings home to plant. There will also be a radio and social media competition, providing students with more butterfly botany knowledge.
Project/event locations: QLD & online
Glass Botanicals of the Outback
Outback Exploratorium
The science and history of glass making comes meets the inspiration and study of native plants at the Outback Exploratorium Science Museum in Queensland's Central Highlands.
Glass-making workshops for all ages will be hosted by sci-artists with a passion for showcasing the many uses and intrinsic nature of glass in science. Children will explore topics such as stained-glass windows and glass blowing, and make botanical sculptures, inspired by Harvard University's acclaimed Ware Collection of Blaschka Glass Models of Plants. Older participants can try glass blowing to make a wine glass, as well as glass fusing, cutting and sandblasting, bead making and botanical glass sculptures and mosaics. There will also be workshops held in partnership with local Indigenous people to collect native botanicals along the Nogoa River to use in ice-pressed glass experiments. Four online demonstrations and virtual tours will share the science of glass beyond the in-person audience.
Project/event locations: QLD & online
Cancer ARt Gallery
Excite Science
Cancer is a complex disease and one of society's largest medical challenges. But how do you engage a broader or younger audience with the science of cancer and the need to reduce the risk of developing the disease?
The Cancer ARt Gallery is a new cancer biology-themed art gallery overlaid with augmented reality (AR), adaptive soundtracks and videography. It presents a series of AR artworks using pop-culture and nostalgic themes to explain cancer biology. Each artwork is the result of a collaboration between a cancer researcher and an artist, mutually exploring creative expression to form an immersive and memorable experience. Addtionally, a series of interactive webinars will detail the biology and creative process behind each artwork.
Project/event locations: QLD & online
Sound & Vision: Sci-Art on Ocean and Ice
GO2Q
What would colour sound like? What does the world under the ice-caps look like? Science communication and podcasting outfit Go2Curious presents two online opportunities to view the natural world through the lens of science and art.
In 'The Sound of Colour', NASA Oceanographer Ryan Vandermeulen takes satellite data from space-borne sensors that detect the colour variations in the oceans. Instead of turing these into a picture, he translates the colour variations into audio wavelengths to create an aural experience – a unique spectrum of musical notes.
In 'Fathom Antarctica', journey to Antarctica with scientific illustrator Kirsten Carlson on a guided one-hour virtual field sketching adventure above and below the ice. Dive, sketch, explore, quiz and question with science, sound and vision expert presenters.
Project/event location: Online
South Australia
Breaking Glass Barriers – Deploy the Robots!
Student Robotics Club of SA
Who can design, build, and operate the ultimate obstacle-dodging, fast-driving robot?
The SA Student Robotics Club will run a Robot Scrimmage in National Science Week – a program of robotics education, workshops, fun and learning. More than 15 Scrimmage Teams will take on the challenge to design, manufacture, assemble and program robots. Participants will be able to remote control robots in a driving competition with targets and obstacles. This day-long public event will inspire interest in STEM through robot competitions, workshops and interactive robot driving in an expo setting.
Project/event location: SA
SCINEMA International Science Film Festival Community Program
Royal Institution of Australia
The hunt for the best science on screen began in late 2021. Following a judging process in autumn, the selection of finalists will premiere in major cities across Australia at the SCINEMA International Science Film Festival. It showcases a selection of features, shorts, documentaries, animated and experimental films from around the world.
SCINEMA culminates in a community screening program during National Science Week, where schools, councils, and community groups anywhere – from a school gym in Geraldton to a library in Lismore – can register to host their own free screening of a curated SCINEMA film playlist.
Project/event locations: All states and territories
Constellation (Navigation by the Stars)
illuminart Australia
Constellation takes audiences on a self-guided tour of regional South Australia to see six science stories as large-scale projections onto six iconic landmarks.
A team of writers, artists, scientists and community leaders are producing works that show how each region's challenges and future can be shaped by science and innovation. The landmarks – Quorn Silo, Karoonda Silo, Victa Cinema, Bonney Theatre, Wallaroo Silo and Mount Gambier cultural centre – star as a constellation of science-informed storytelling.
Project/event location: SA
Seeing Things Differently: Uses of glass in X-ray technology and Innovation
Micro-X
How does X-ray imaging work? How is it different to photography? And how will it change in the future? Find out about X-rays and see the high-tech equipment involved, without breaking an arm or leg.
This series of events will give people the opportunity to see inside Adelaide's Micro-X factory, which develops and produces new generation X-ray imaging equipment incorporating innovative design and carbon nanotube technology. There will also be a family day with science-based workshops, high-voltage demonstrations, an augmented reailty treasure hunt, and walking tours of the surrounding Tonsley Innovation Precinct.
Project/event location: SA
What is the value of urban forest?
University of Adelaide
Help make Adelaide a greener space and learn how trees benefit your community.
Through a series of workshops, participants will discover how to measure scientific tree values and monitor the growth of a tree from seedling. The plan is to significantly revegetate Greater Adelaide which will reduce carbon pollution, improve the local climate and increase the biodiversity within our cities. This project will teach participants the many ways trees can benefit urban settings and what it means to be a citizen scientist.
Project/event location: SA
Tasmania
Beaker Street Festival
Dr Margo Adler
Meet an Antarctic scientist, learn about fermentation from a local winemaker, or follow in Darwin's footsteps along kunanyi/Mount Wellington.
Beaker Street Festival is an annual celebration of science and art in lutruwita/Tasmania, introducing audiences to today's most exciting scientific minds and ideas. With a hub at the Tasmanian Museum and Art Gallery, the week-long Festival features fascinating talks and hands–on workshops by world- leading scientists, interactive science/art installations, the Beaker Street Science Photography Prize, live music in the Speakeasy Bar, Tassie food and drink, and 150+ roving scientists to chat with. The 2022 program features a line-up of offerings across the state, including the Sci Art Crawl around Hobart, the Tassie Science Road Trip, and a dark sky party on the east coast.
Project/event location: TAS
Young Tassie Scientists: Sharing local research across our island
University of Tasmania
An animal sexpert, a cheesy microbiologist studying food-making microbes, a treasure-hunting chemist, and an 'insectologist' who can tell you all about bugs and why we should eat them.
These are just a few of last year's Young Tassie Scientists — early career researchers who bring STEM presentations and activities to schools and public events state-wide during August. Young Tassie Scientists are Tasmanian science ambassadors who make serious, local research accessible and entertaining for everyone. With a focus on reaching regional, rural and island communities state-wide, the group aim to inform Tasmanians about the wonderful work happening in STEM research across Tasmania.
This year, another group of 20 to 25 early-career researchers will volunteer their time to share their passion for science with audiences across Tasmania through engaging interactive presentations and hands-on activities covering a wide range of science topics.
Project/event location: TAS
ExBEERimental Science
Matthew Fielding
Four breweries, four brews, two thirsty scientists, and a live audience.
ExBEERimental Science is a beer tasting event sampling the science behind brewing and beer. Four local breweries from across Tasmania will craft an experimental beer to be explored in depth during the live-tasting panel event. Each of these beers will feature in the exBEERimental four-pack, which science and beer nerds from across Australia can pre-order to enjoy at home while watching the live stream of the event.
There will also be limited live audience tickets to attend the in-person event or at several watch parties at venues across regional Tasmania and Australia. This event is organised by Science Made Beerable, the brainchild of plant scientist Kelsey Picard and ornithologist (bird scientist) Matthew Fielding.
Project/event locations: All states and territories & online
Victoria
Shirty Science
Madison Hartill-Law
Which artist-researcher duo will win the battle to design the top Shirty Science t-shirt, wearing their hearts, plants, or planets on their sleeves?
Artists and scientists team up to design t-shirts that illustrate Australian research. To win the title of Australia's Favourite Science Shirt and a cash prize, the teams must impress a live-stream audience and a panel of judges, including reknowned scientists such as Dr Cathy Foley and creative experts like artist Beci Orpin.
The winning design will be purchasable online, with profits donated to organisations that make it their mission to promote STEM diversity and inclusion. This initiative will have the help of Science and Technology Australia, the Australian Academy of Science and Science Gallery Melbourne.
Project/event locations: VIC & online
The National Quantum Road Trip
University of Melbourne
Scientists from the ARC Centre of Excellence for Engineered Quantum Systems and the ARC Centre of Excellence for Dark Matter Particle Physics will highlight the importance of fundamental scientific research taking place in Australia, with engaging and accessible talks, hands-on activities such as dark matter pom-poms, mystery boxes, 3-D virtual lab tours and art workshops using the science of light. The fortnight-long tour will visit community hubs along a route connecting their research centres in Perth, Adelaide, the Stawell Underground Physics Lab in Victoria, Sydney, and Brisbane. There will also be an interactive augmented-reality tour that will show virtual visitors the new Stawell Underground Physics Laboratory known for its dark matter experiments.
Project/event locations: NSW, QLD, SA, VIC, WA
Our blue backyard wonders: discover Nairm's Giant spider crabs
Remember the Wild
Port Phillip (Nairm) is home to spectacular giant spider crab (Leptomithrax gaimardii) aggregations. Each winter, the crabs seek safety in numbers in the shallows to moult. Remember The Wild will create a virtual tour to showcase this natural phenomenon and engage budding scientists with the ecology and the Great Southern Reef's amazing biodiversity. After watching the tour, participants will have an opportunity to become citizen scientists and help researchers gather information on this understudied species. Participants will be encouraged to complete a survey aimed at capturing the impact of virtual nature experiences on people's knowledge of and appreciation for this iconic species.
Project/event location: Online
Southern Otway Science Outdoors
Southern Landcare Network
Discover the Otways by growing native plants, searching for dinosaur footprints, surveying sea shells and more, with a different activity for each of nine days.
Daily workshops will cover a range of topics including local fossils and geology, lichen and moss identification, the diversity of eucalyptus trees, burrowing crayfish, and reading the weather forecast written in clouds. Visitors will have an enriching experience that will help them understand and appreciate the unique natural environment of the Otway Ranges.
Project/event location: VIC
National Science Week at Gippsland Heritage Park
Gippstown Reserve Committee of Management
See the wonders of science at your local park. From quirky bug shops to engaging scientific demonstrations – there will be a huge array of activities for adults and children. Indoor and outdoor exhibits will host activities that will inspire curiosity and engagement in science. Scientist volunteers will also be onsite to share visual displays and to present cool tech such as drones and robots.
Project/event location: VIC
Western Australia
Supersized Chemistry – Live from the ECU SuperLabs
Edith Cowan University
How good is your sense of smell? How do water beads work? What are baby nappies made of?
Discover the chemistry in daily life with a scientific journey into chemistry. A series of interactive demonstrations and experiments will be held at Edith Cowan University's new state-of-the-art SuperLabs. There will be hands–on science kits, fun experiments and engaging workshops for primary and secondary school students. Interactive live and online events will also provide an opportunity for participants to hear about the latest research from scientists and university students and ask their own questions.
Project/event locations: WA & online