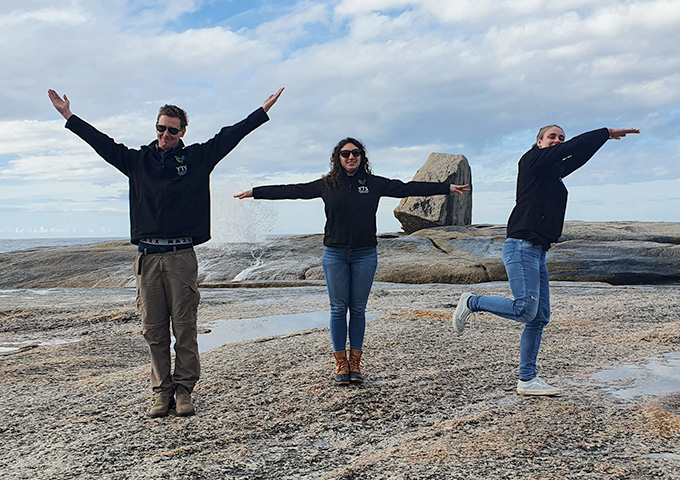 The Young Tassie Scientists (YTS) program trains and deploys PhD candidates into 80+ schools and hundreds of classrooms during National Science Week. The program has been running for 20 years, long enough to have recruited two generations of one research family. These motivated scientists spend weeks preparing a presentation flexible enough to share from kinder to grade 12, but classrooms are not the only place you can find them in August.
You will have the opportunity to see the YTS after-hours at Beaker Street on 4 and 5 August, where they will be sharing their classroom presentations for adults. They say, "grab a drink, put on your listening hat and join us on the mat!" With 41 scientists in 2023 the YTS will also contribute many 'Roving Scientists' to the Beaker Street festival Hub at TMAG. If Hobart is your base, YTS will be at the Festival of Bright Ideas in Hobart on 18 and 19 August, sharing fun activities for the whole family.
If you're based in the Northwest, the Circular Head Big Science Gig is happening on the evening of 14 August. YTS are going on the road with specialists in zoology, allergies, plant chemistry and astrophysics to join the community of Smithton and surrounds. Similarly, YTS will be teaching science and answering questions at the HIVE Family Day in Ulverstone on 12 August.
Fans of Dr Karl might also become a fan of YTS during the UTAS and Dr. Karl School's experience at Inveresk on 11 August, or perhaps at Dr. Karl's late night science comedy in Launceston the night before (10 August).
The YTS also host extra-school activities. These include contributing to the Children's University after-school program and meeting several regional schools at the George Town Community Hub on 9 August.
Some of the scientists will get the opportunity to dress up this year for Science Meets Parliament in Hobart on 16 August, where the YTS will have the opportunity to exchange ideas with Tasmanian politicians. They will also hear the Governor of Tasmania's address at a National Science Week reception at Government House on 14 August.
With so many events across the state in August, there might just be a Young Tassie Scientist near you this Science Week.