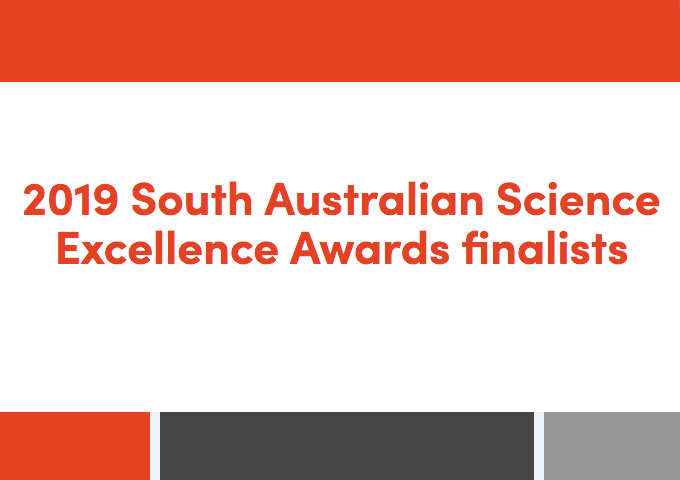 Congratulations to the finalists for the Unsung Hero of South Australian Science and of Science Communication for 2019. Best of luck at the awards ceremony in National Science Week.
Unsung Hero of South Australian Science
Katja Hogendoorn
Dr Katja Hogendoorn is a senior researcher at the School of Agriculture, Food and Wine at the University of Adelaide.
Her research focuses on the maintenance and enhancement of bees as pollinators of crops and native plants, and she has a particular interest in ecology and evolution of bee behaviour and diversity. She aims to advance management decisions for the improvement of bee health, biodiversity and crop pollination services.
Known as "The Bee Lady", Katya has worked tirelessly to understand and solve the crises facing bees in SA and around the world. Bee declines are a challenge both economically and environmentally. Katya's work is not focused solely on honey bees. She has helped save the Kangaroo Island Carpenter bee and works to save native bees in the Mt Lofty ranges and throughout the state.
Peter Traynor
Mr Peter Traynor is the Chair of the SA/NT Branch of the Australian Society for Microbiology (ASM).
Peter has played an active role in the Society and its various functions since 1982, shaping  the impact and direction of ASM. His contributions and engagements for microbiology reach far beyond state levels, having an impact on a national and even international scale. One of his many achievements is as principal author of the major guidelines that are intrinsic to the quality control of microbiological media in clinical, food and water laboratories nationally.
Peter is actively involved in the preparation of Australian Standards and adoption of International Standards for use in food microbiology. Through engagement with Federal politicians in both the House and the Senate, Peter has been actively raising the profile of the discipline of microbiology amongst the national decision-makers.
Zoos SA Research Lab
Brian Rich (honorary researcher), Peter McCarthy (retired medical scientist), Wayne Rohrig (retired pharmacist), Jenny McInerney (ex CSIRO), David Morris (retired obstetrician) and Rebecca Probert (senior veterinarian nurse) are the volunteers running the Zoos SA Research Laboratory which was established in 2000.
Over the years this group of dedicated volunteers has performed countless tests on the animals held in the zoos' collection. Given their expertise, the lab has also partnered with a diverse range of researchers working on projects ranging from native species like Koalas and Corroboree Frogs to exotic carnivores such as the African Wild Dog.
The outcomes of this volunteer run laboratory include invaluable nutritional developments for captive animals and rehabilitating wildlife, support and mentorship of students, and clinically relevant diagnostic services.
Unsung Hero of South Australian Science Communication
Lee Harrison
Mr Lee Harrison runs his own science education incursion business, Mobile Science Education.
Lee has worked in the field of science education and communication for over 15 years, teaching scientific thinking and writing education programs to communicate key science concepts to South Australian school students and the broader community.
Lee has seen his passions spread to over 25 000 students and teachers a year, in addition to engaging the public at a wide range of community events. His guiding principles of encouraging curiosity and developing critical thinking skills in people of all levels – and from children to adults – will continue to further his contribution to science communication in South Australia.
Philip Roetman
Dr Philip Roetman is the Environment and Sustainability Officer with the City of Burnside.
Philip had been involved in running innovative citizen science projects and events at UniSA for many years. These projects involved thousands of citizens in activities such as counting koalas, tracking cats, spotlighting in rockpools and recording bat calls. The data collected has helped in understanding the distribution of species, the home-ranges of domestic cats, the management of abundant species and the locations of threatened species.
Philip was the founder of Discovery Circle, a major citizen science initiative which delivered such projects as Corella management engagement, the Great Koala Count and Cat-Tracker. He is now delivering urban engagement actions through the Australian Citizen Science Society and the City of Burnside.
Andrea Smith
Ms Andrea Smith is an Education Officer with Cleland Wildlife Park.
Cleland Wildlife Park, as well as being an iconic tourist destination, offers a diverse and extensive range of education programs and school holiday programs. All activity is developed and delivered by one person – Andrea Smith. She has also initiated special programs for such groups as home schoolers and disadvantaged children, and has developed a host of other on-site and off-site educational activities.
For over 18 years Andrea has been creating and designing programs and then presenting them,  working with supervisors and teachers to tailor materials specifically to their requirements. Her knowledge of biology is prodigious and her enthusiasm is infectious, single-handedly reaching over 8000 students per year.