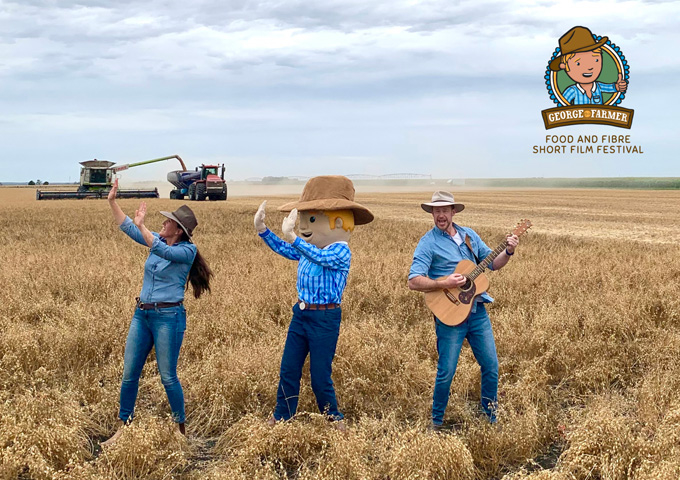 Teachers – if you're looking for a fabulous online event to do with your class remotely — or in the classroom — consider sitting the kids down to watch our brand new series of George the Farmer films where we investigate apples, chickpeas, dairy, forestry and wool.
The 6-7 minute fun musical videos are accessible on YouTube and ABC iView and are complemented by our FREE curriculum-aligned educators guides for Foundation – Year 4 levels covering STEAM subjects.
Get the kids up boogying with George, Ben and Simone and then give them a task such as designing a robotic dairy, creating art from seeds or making butter from scratch. Each topic's guide is over 60 pages and is jam-packed full of exciting activities. You choose how long you would like the Festival to go for — 7 minutes or 45 minutes.
Why not make a full food day out of it and read one of our fun picture storybooks? We have books on apples, dairy, pulses, vegetables and more.
George the Farmer's vision is a world where kids connect to the earth, food and farm. Will you join us on our mission?
All videos can be played directly from our YouTube channel – just click on Farming for Kids playlist.
The curriculum-aligned resources can be downloaded from our website.
George the Farmer is an educational brand teaching kids about farming and where their food and fibre comes from. We produce fun picture storybooks, videos, performance, music and teaching resources that are making a tangible difference to kids knowledge about agriculture.
The apple, dairy, chickpea and forestry resources were produced by George the Farmer Pty Ltd for Primary Producers SA (PPSA).
This project is supported by the Department of Agriculture, Water and the Environment, through funding from the Australian Government's Educating Kids about Agriculture initiative.