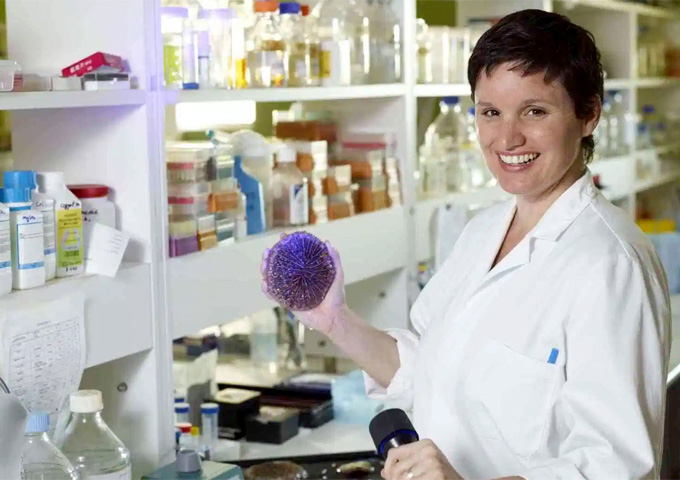 Congratulations to this year's NSW National Science Week online event grant recipients who will deliver an exciting range of online programs and activities developed by partners from across the state this August.
As National Science Week 2020 will be delivered virtually due to COVID-19 restrictions, applicants were invited to propose engaging online events.
Among the 21 successful programs selected from an impressive range of proposals are hands on learning opportunities, microscopy and botanical illustration, research talks and panel discussions, film screenings and podcasts, early learning experiences for pre-schoolers and their carers, STEM career forums, a design challenge and citizen science opportunities.
Saving our oceans
The Deep Blue: On My Doorstep
Led by UNSW and Sydney Institute of Marine Science coral researcher Prof Tracy Ainsworth, The Deep Blue: On My Doorstep comprises a podcast featuring world leaders in coral reef rehabilitation; an online panel discussion with international podcast participants allowing students and community members to listen and watch the podcast and video content and then join the discussion on coral reef rehabilitation; the creation of a set of Keeping Kids in SuperPower cartoon caricatures and super-science-short cartoons summarising the main issues of each podcast; and The Deep Blue On My Doorstep book. Each podcast will be translated into an individual book chapter, with select questions and answers from the Q and A sessions included as the chapter final page.
Innovation at Sea
Audio producers Idea Evolution will present a new Innovation at Sea podcast series released as a special one week 'season'. Five ocean-themed podcasts will delve into the innovation of our seas and explore future challenges.
Inspiring action!
Macquarie University and Sydney Institute of Marine Science will present a webinar series to inspire personal action to help the environment. A highlight will be a panel discussion on the topic: How much can I as an individual impact climate change?
Citizen science
E$$ENTIAL MEDICINE$
Presented by the Breaking Good project at the University of Sydney, E$$ENTIAL MEDICINE$ comprises: a livestreamed public talk on open source drug discovery; a series of social media videos to promote and engage the public with the issue of open source drugs and an online crowdsourced hackathon that engages members of the public in authentic research of essential medicines. Participants will help build an open database of essential medicines in Australia, and provide crucial information on approved medicines, manufacturers, pricing, chemical structure and more. This database will identify overpriced medicines and be used to inform Breaking Goods' future innovations in improving access to essential medicines.
Inspired by science
Live From The Lab
FBi Radio, the Nanosonic Stories project and the University of Sydney Faculty of Science will team up to present Live From The Lab, a series of online events featuring six Australian artists performing newly commissioned songs or compositions inspired by Australian science. The first iteration of Live from the Lab will focus on diverse aspects of Australian Nanoscience. Tracks will be released in an EP with artwork designed by FBi Radio affiliated freelancers. All proceeds from sales/downloads will go directly to the artists. There will also be a live performances and radio appearances.
Young Henrys X Deep Green Biotech Hub
Boutique brewery Young Henrys will partner with the UTS Deep Green Biotech Hub to present a Science in Focus online event that will offer an expert panel discussion about the potential of algae and its application in food and beverages, a tour of the Young Henry's Brewery site and a number of interactive aspects to engage younger audiences including through gamification.
Meet the researchers
Women in Nuclear
Women in Nuclear Australia will deliver a webinar series on topics such as: understanding radiation; nuclear and radiological applications; radioactive waste; and nuclear energy. Each conversation will detail what it is like for researchers pursuing careers in nuclear and radiological sciences to encourage more young people into the field.
Praxical
UNSW will join forces with ANSTO and the NSW Department of Primary Industries to present Praxical, a new learning initiative to create online workshops where participants can actively engage in the scientific process. In Praxical workshops, rather than just passively consuming information, participants will get the opportunity to engage in the scientific skills used by NSW's leading research organisations to understand the world around us.
Northern Sydney's researchers
The Northern Sydney Science Hub will again bring together scientists from Australian research agencies like CSIRO and the Measurement Institute with local libraries and councils to deliver a series of online events and programs documenting the breadth of scientific research in progress on Sydney's North side. From film screenings, book readings and Q&As to microscopic adventures, scientific drawing classes and citizen science activities, a longer-term objective is to create Communities of Practice around each event, building local connections and sharing research knowledge.
Get to Know Your Friendly Neighbourhood Microbiologist
A new podcast series will explore the critical work of microbiologists, experts that society places its trust in to understand the new coronavirus and hope for vaccine and antivirals during this global pandemic. Get to Know Your Friendly Neighbourhood Microbiologist will invite audience questions and introduce listeners to some of the researchers behind the microscopes.
Forum on the Moon – Newcastle and Beyond
The Space Junk Podcast presents a Forum on the Moon – Newcastle and Beyond, an online discussion for space professionals and the public to debate the viability and sustainability of any future human lunar presence.                                                           
Coffee in the Studio
Join artist Sid Sledge for Coffee in the Studio as he pairs up a range of scientists and artists to discover their passions and what drives them through engaging conversations.
From the regions
Riverina Science Festival
Riverina Science Festival will offer a mix of pre-recorded and interactive live stream events to audiences of all ages via digital platforms. Among sessions on offer will be live science demonstrations drawn from the National Indigenous Science Experience Program that will work well for online audiences to participate in. First Nations knowledge and technology content will include weaving, traditional stone tools and string making, Indigenous astronomy and bush foods.
Bushfire animation
The Blue Mountains Regional Science Hub led by Science at the Local will create an animated video on the topic of bushfire and climate change. Informed by cutting edge science, the animation will be clear, engaging, suitable for all ages and made available to communities statewide through social media. It follows on from a successful existing video on the basics of bushfire, the Four Friends of Fire, informed by the latest science and developed in collaboration with design and animation experts.
Plant X
The Orange Cowra Cabonne Science Hub will again team up with the NSW Dept Primary Industries, artists and videographers to present Plant X, a series of engaging online workshops and new videos. Audiences will be invited to participate in hands on microscopy activities to investigate the health of plant systems including pest diseases and beneficial insects. Instructional videos will explain how scientists monitor plant health and biosecurity, and scientific illustration workshops will also be on offer. Participants will receive activity kits by mail that include a phone microscope lens, a biosecurity activity book, fridge magnets promoting the plant biosecurity hotline and a bandana.
Hunter Valley Science Festival
The Hunter Valley Innovation and Science Hub will deliver a set of interactive activities and competitions for families to do at home, including a workshop and a series of online seminars. Highlights will include a poster comp, a mini EV Fest, a live science show, a workshop on marine debris and a short course encouraging kids to make films in their backyards.
Central Coast Science
The Central Coast Science Hub will present five activities including a STEM careers forum, a Symbiosis Art Competition to highlight the symbiotic relationships formed by animals, plants and microbes in the ocean, online science research presentations and 3D maker activities. A guided creative session will allow people to design and build, paint or draw 'super symbiosis' artworks and then submit them online for judging. The project will also design online learning resources will to cover the topics: Coral Reef Restoration in Vanuatu and When does a sunken naval vessel become a reef?, bringing to life the historic naval vessel the HMAS Adelaide that sunk off Avoca Beach.
Early learning in STEM
Little Scientists in partnership with the Smith Family, will present Early learning in STEM, a three-part live webinar series covering early STEM opportunities and the Little Scientists' educational approach in inquiry-based learning. This will include hands on practical STEM elements and an opportunity to network, collaborate and reflect on implementation in practice. Additionally, a virtual STEM incursion will be made available for up to 10 Early Learning Centres across the state. This NESA-accredited training will also be made available to local libraries and interested participants from the Regional Science Hub network.
Promoting STEM careers
Science for Food Security: Making a Global, Professional and Personal Difference
The Crawford Fund will present a lively panel featuring young researchers and moderated by a well-known presenter on the theme: Science for Food Security: Making a Global, Professional and Personal Difference. The objective is to shine a light on the diverse global opportunities offered by a degree in Ag Science.
STEM in your community!
UTS Women in Engineering and IT, in partnership with Tech Girls Movement Foundation and Engineers Without Borders will create a series of entertaining and informative social media videos targeting parents of school-aged children with the aim of helping them to encourage their children, particularly girls, to study STEM. The videos will highlight the relevance of STEM to local communities and economies with a focus on the regions. A highlight will be a 2-day online STEM Design Challenge for girls to solve a local community problem and prototype solutions using STEM skills.
Just for fun
Virtual trivia
Young Scientists Australia will host a number of online trivia nights via Zoom and YouTube, including a series of interactive activities to boost audience engagement with STEM. Each trivia night will address a theme: Hot and Shaky (Earth Science), Kitchen Chemistry, Reach for the Stars (astronomy), The Digital Revolution (computer science), Things that Go (physics), The Variety of Life (biology) and Environmental Resources (environmental science).
Feature image shows Professor Tracy Ainsorth who has been awarded a NSW National Science Week grant for her project The Deep Blue: On My Doorstep.
Image credit: L'Oréal Australia/sdpmedia.com.au.