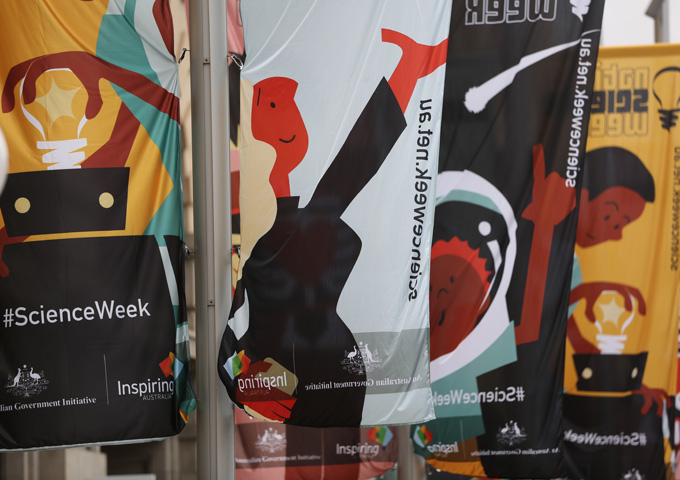 On Saturday 23 August, when our Everyday Einstein program for National Science Week was winding down, students from Years 7-9 were cranking up!
The Make your Museum student challenge was a (mutual) learning experience generated in partnership with Queensland Academies as part of their Young Scholars workshop program.
Their challenge? A day of 'professional duties' at Qld Museum, executing projects that usually take months or even years.
At random, teams were selected, then assigned a staff role (most teams comprised of a Curator, Exhibition Designer, Programming Co-ordinator and Marketing Co-ordinator) and small collection of authentic museum specimens and objects. Their task was to develop plans for an exhibition and associated visitor experiences inspired by their collection.
As the day progressed, teams were actively problem-solving and working collaboratively to devise and negotiate exhibition content, key messages, titles, slogans, spaces, resources and experiences.
Recognising that the 'exhibition experience' extends well beyond viewing, plans included creative or play zones, iPod programs, QR codes, touch screens, green screens, soundscapes, theatres, billboards, merchandise, gift shops, cafes and sponsorship.
After presentations to a panel of staff judges and deliberations over very close scores, team BeacH2Ocean werepronounced winners (congratulations Brayden, Loren, Sara and Robert).
Five fabulous teams presented a range of concepts including:
Insect Kingdom:  An insect diversity exhibition suspended within a canopy of trees.
Hello Possums: Follow the footprints and use tracks and traces as clues to identify possums.
What Lurks in the Dark – shining a light into the night: An immersive, multi-sensory exhibition using soundscapes of a nocturnal environment.
BeacH2Ocean:  A journey through marine habitats with a touring module for outreach.
Eggheads – everything you need to know about eggs: An interactive domed exhibition with crack-shaped doorways.
This workshop called for "future keepers of our past and present stories". We definitely met our dynamic "future keepers" in all five teams. Queensland Museum would like to thank the twenty one Creative communicators; Biology boffins; Artistic arrangers; Planners and Promoters for sharing their amazing ideas with our National Science Week audiences.
Guest blog post by Maryanne Venables, Learning Officer Queensland Museum.