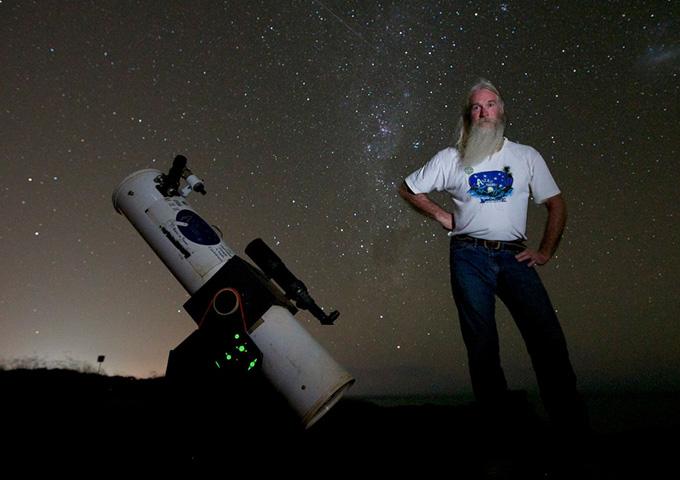 Greg Quicke – Astronomer and Author
Broome Public Library
Date: 2 August
Location: Broome Public Library
Why are the stars over Broome so spectacular and the tides so dramatic? How do the sun and moon govern tidal movements and how is this tied to seasons? How can we communicate fascinating scientific concepts like these to wide audiences?
Discover all this and more, as celebrity astronomer and author Greg Quicke heads to Broome Public Library to discuss all things astronomy this National Science Week. Greg Quicke, a contributor to the ABC and BBC, will give direct insights into Broome-based astronomic and weather-based phenomenon within a framework of scientific and non-fiction writing. The event will form a part of the finale to the three-day Broome-based Corrugated Lines Writers Festival and will provide a launching pad for Broome's National Science Week celebrations across the month of August.
Community STEM Project
Dandaragan Primary School
Date: 18 August
Location: Dandaragan Primary School
Dandaragan, centrepiece of the Turquoise Coast, is developing a STEM expo for the ages this National Science Week.
Dandaragan Primary School has joined forces with Dandaragan Playgroup, Dandaragan Library and Dandaragan Community Resource Centre to develop an interactive and educational quartet of hands-on STEM activities for families, pre-schoolers, and wider community members.
The Creation Station challenges participants in building activities, including creating their own kites, puppets and marble mazes
The Robotic Exploration Station will see participants use a wide variety of digital and hands-on invention kits and computer science to bring robotic ideas and technological inventions to life.
The Challenge Area tasks participants to work individually or in groups to solve a science problem – like building a structurally-sound tall tower, a boat that floats, a catapult and more.
The Nature Area will exhibit life in science, including a chicken egg incubator with hatching chicks, a bee display and a Carnaby cockatoo display.
Dawul RCS STEM Showcase for Parents and Community
Dawul Remote Community School
Date: 20 August
Location: Dawul Remote Community School
How good are you at using technology? Good enough to teach your community?
That's exactly what students at Dawul Remote Community School, in WA's far north-east have been challenged to do. This year, the indigenous student body at Dawul RCS will become familiar with new technologies and STEM activities – including Blue-Bot, user-friendly robots; 3D printing activities; Merge Cubes for learning about augmented reality; and Maker's Empire technological literacy programs – with the aim of becoming the region's resident STEM and technology experts.
Students will then be further challenged to educate the wider community on their exciting new learnings. For their formal National Science Week celebration, students will teach their parents, a neighbouring Doon Doon remote school, and wider community what they have learnt and how their skills can be used, during the Dawul Community STEM Showcase Day.
The initiative is an active application of the National Training Library's Learning Pyramid, which states students retain up to 90% of new knowledge through teaching others their learned concepts and skills.
Tiny Scientists
Geraldton Community Toy Library Inc
Date: 20 August
Location: The Rocks Laneway, Geraldton
Lifelong learning is a foundation of STEM education, and when is a better time to build a love of these subjects than early childhood?
Tiny Scientists, a Science Exploration and Discovery event, is a curriculum-linked activity world aimed at inspiring and cultivating STEM enjoyment in Geraldton's youngest generation. Zero to eight year olds and their families are invited to join with Geraldton Community Toy Library for National Science Week, to explore foundational science concepts through eight play-based discovery stations, and an interactive Children's Science Show.
Experiment with buoyancy in Sink or Float Water Play; explore fundamentals of microscopic matter through Microscope Discovery; discover all the colours of the rainbow in Light & Colour Exploration; warp sound and vibrations in Playing with Sound and much, much more!
Participants will also explore chemistry in practice in the Children's Science Show, including observing some mind-blowing chemical changes, how material properties can be altered though exposure to different chemicals, and how different substances can be combined for a particular purpose.
Food for Thought: Paddock, Patch, Plate
Hopetoun Community Resource Centre
Date: 14 – 22 August
Location: Hopetoun Community Resource Centre
Ever wanted to grow your own organic veggie patch? How can composting impact landfill? How will West Australians sustainably produce food in a warming environment?
Hopetoun CRC's weeklong Paddock, Patch, Plate comprises big activities to inspire and educate on food production, uprising food innovations, awareness of the environmental impacts of food choices, and ultimately empower audiences grow their own produce at home.
Hopetoun's Something from Nothing Workshop will be presented to both adult and young audiences, through a series of events at the CRC and local primary school. Delivered by conservationist and horticulturalist Donna Higgins, Something from Nothing will explore the world of composting, how to reduce the amount of food entering landfill, and how veggie offcuts can be used to grow fresh produce.
Participants will also gain insight into local farming operations though a two-hour workshop of Mystwood Harvest, a family-owned farm in Esperance. This workshop will teach about using regenerative agriculture techniques to grow and share vegetables with their local community.
Special STEM Storytime events will cater to the early childhood audience and will include children's stories about growing fruit and vegetables, and sensory play exploring planting produce. 
Who's Singing Underwater?
Katanning Landcare
Date: 19 – 21 August
Location: Police Pools Reserve, Katanning
As a small, inland town with annual rainfall of less than 400mm, Katanning is not a town normally associated with water habitats. But its unique environment does allow for the development of ephemeral (aka temporary) waterbodies, which in turn, provide space to some fascinating aquatic life.
Katanning Landcare will take on this subject matter in their two Who's Singing Underwater events – the first targeting people of cultural and linguistic diversity, and another focussed on families with children.
Participants will use a hydrophone (underwater microphone) to listen to the cacophony of sounds occurring underwater, and then use macroinvertebrate sampling techniques to identify the range of species present – hopefully working out whose "voice" is adding which sound to the "chorus".
Life without constant water? Prepare to be very surprised by just how many creatures lurk below the surface!
Fervor- Food Experience
Mukinbudin District High School
Date: 14 – 20 August
Location: Mukinbudin District High School
This National Science Week, embark on an Australian gastronomic journey exploring the local, indigenous, and sustainable food sources available right at our fingertips.
Mukinbudin District High School is proud to host the culinary masterminds behind the homegrown recipe book Fervor; a publication that uses native Australian produce at the heart of its ingredients list, from ocean to forest to desert. Led by head chef and author Paul Iskov, the workshop series will provide the Mukinbudin community with a depth of understanding and experience in tasting amazing foods we have never thought of eating.
Explore various food sources from around Australia, learn about their origins and history, and delicious ways to prepare and eat them. Dine on local foraged foods, as well as sustainable native foods like emu, crocodile and barramundi swim bladder. Learn why sustainable eating is important while nourishing your body at the same time – a delicious and enriching experience for all.
Science Night at the Museum
Museum of the Goldfields
Date: 19 August
Location: Museum of the Goldfields
Chemistry in the kitchen? How can we use food to create cool and colourful experiments?
Museum of the Goldfields is expanding its annual Science Night at the Museum event beyond the usual local industry showcase, to innovate and inspire the community into the wider world of STEM. In line with the 2021 theme Food: Different by Design, Museum of the Goldfields will turn up the flavour for this year's event, exploring how different chemical compositions impact taste and behaviour. These chemical foundations have an impact on how we use these foods, how they're stored and even how they're produced in the first place.
Get hands-on to create surprising colour changes using vegetables; create and capture gassy mixtures from gas-producing foods; use chemistry to write secret messages using food substances; explore and taste the rainbow with candy chromatography, and so much more! It's a smorgasbord of science and fun at Science Night at the Museum.
Nyabing Paddock to Plate
Nyabing Primary School
Date: 17 August
Location: Nyabing Primary School
How does food get from a farm paddock to our plate?
Learn about all the processes our food goes through before it hits our digestive system in this hands-on event. Grind wheat grains into flour, then turn it into bread or pizza dough; bake cookies and savoury muffins using locally produced lupins; explore local bushtucker and native ingredients to use in everyday cooking, then put it into practice with some delicious lemon myrtle scones!
Beyond local produce, how can kitchen chemistry be used to create new and delicious dishes? Make your own butter, ice cream and popcorn; explore why marshmallows expand, bubble and liquify when heated; make a take-home garden kit to grow your own herbs; and even create your own solar oven! Nyabing Primary School's Paddock to Plate is the yummiest science you'll ever do.
Quantum Road Trip
QDM Lab, University of Western Australia
Date: 14 – 22 August
Location: Southwest Western Australia
Dark matter: one of the greatest mysteries of the universe today. Expand your mind and your sense of wonder with the University of Western Australia's QDM Lab as they tour WA's Wheatbelt and Southwest, discussing the fundamentals of dark matter, particle physics and our quantum world. 
Hitting a combination of communities and schools across National Science Week, Quantum Road Trip will entertain, engage, and enlighten regional audiences on the world class research happening in WA's own backyard.
Targeted schools will receive curriculum-aligned teaching resources and information on the physics-focussed career paths youths may wish to follow. Communities and the wider general public will be entertained and inspired through demonstrations and displays that make concepts explored accessible to the masses.
The depths of dark matter have never been so easy to access, or so much fun!
Grow Esperance Green Seed Library
Shire of Esperance
Date: Thoughout August
Location: Esperance Public Library
We all know of book libraries, but have you ever heard of a seed library? This National Science Week, the Shire of Esperance is teaming with Esperance Public Library to create a community-driven seed collection for use in the exchange of different varieties of seeds – particularly those used for food production. Seeds of particular interest are those adapted to, or that will become adapted to, the particular climate and soil conditions of the local community.
The whole month of August will be dedicated to the development of the seed exchange, and to educate Esperance residents about local soil types, seed germination, climate, and how this can be pieced together in residential gardens. The project will include a Grow Esperance Green Seed Library launch encouraging networking with community groups like the local grower's market, arts centre, and indigenous groups.
The Seed Library project will also feature a series of hands-on workshops including topics exploring making a worm farm, making pots from recycled paper, micro garden creation and more.
Under the Milky Way at Wave Rock
Shire of Kondinin
Date: 14 August
Location: Wave Rock, Hyden
Have you experienced the mastery of one of Australia's most recognisable rock structures? Have you experienced it while surrounded by the dazzling Milky Way Highway?
Hyden is a town that not only boasts the iconic, surf-shaped Wave Rock, but its regional location allows for perfect dark night skies and magical astronomy. The Shire of Kondinin will place these two effects together in their National Science Week celebrations this year, enabling participants to experience our galaxy, indigenous culture and the Dream Time, and how stargazing can bring people together.
Under the Milky Way at Wave Rock will present the community with astronomical astrophotography from WA talent, literally immersed in and amongst the Wave Rock landscape. The event will particularly celebrate and showcase results from Hyden's 2019 National Science Week celebration, "Capturing the heart of our Milky Way galaxy directly overhead", which recorded a full dome of 360 degree images of our galaxy.
Blending Science and Gardening
Shire of Nannup
Date: 14/15 & 21/22 August
Location: Nannup Town Hall
Spread the love of gardening, share in the wonder of science, and get hands-on practise in botanical-based activities all in one event: Shire of Nannup is proud to present Blending Science and Gardening this National Science Week, as a centrepiece of the Nannup Flower and Garden Festival 2021.
A series of science workshops will be held across two weekends of the Nannup festival, exploring science concepts that promote native flora in residential gardens. Increase your awareness of local insect life and why they're important while creating a comfortable living space for them with your own bug hotel; create your own 'floral focaccia' while learning the science behind bread-baking and native edible blooms; or take a journey from flower, to beehive, to honey, while whipping up delicious honey meringues. Blending Science and Gardening is a practical and fun learning experience for the whole family.
Star Gazing at the Junction
Shire of Upper Gascoyne
Date: 14 August
Location: Town Amphitheatre and Pavilion
Take advantage of velvety black skies and a very special visit from Perth Observatory this National Science Week, as the Shire of Upper Gascoyne brings the beginnings of possible Astrotourism Town status to the Gascoyne Junction township.
Star Gazing at the Junction will bring the mastery of the Moon, Venus, Jupiter, Saturn, nebulas and star clusters to life, with telescopes set to the most wonderous and impressive celestial bodies in the sky.
In an event bringing together a geographically separated community, participants will receive explanations from Perth Observatory speakers and local Inggara indigenous representatives on various constellations and astro-phenomena, to bring awareness and appreciation about the same sky we all live under.
Camp ovens will also be set across the event site, allowing attending children to prepare a dinner of delicious, bush tucker-based dishes for their families.
Environment and Sustainability Science Expo
South West Science Council
Date: 20 August
Location: Dolphin Discovery Centre, Bunbury
Some of Bunbury's most impactful, environmentally focused research projects will be on display this National Science Week, when South West Science Council brings Environment and Sustainability Science Expo to the dolphin-filled shores of Koombana Bay, Bunbury.
A range of local scientific experts will deliver a presentation showcase on wide ranging environmental topics. Find out how and why edible mushrooms may be grown and harvested from seaweed; learn about indigenous Australian fire management techniques and practices; get excited and inspired by local STEM based careers; and jump on board a huge range of citizen science opportunities like turtle monitoring.
While learning about Bunbury's abundant and fascinating wildlife, participants can further enjoy the sunset over the beautiful Indian Ocean, alongside canapes and networking at the Dolphin Discovery Centre restaurant.
Scitech to the Wheatbelt
Westonia Community Resource Centre
Date: 14 August
Location: Westonia Complex
Get into hands-on science fun in the WA Wheatbelt, as Westonia CRC brings a little Scitech glamour to their National Science Week celebrations.
Scitech's amazing Science Wonderland is a unique collection of interactive exhibits, specially designed to ignite curiosity in the world of science, technology, engineering, and mathematics.
Put your thinking cap on to research, investigate, experiment, and solve interesting and quirky everyday questions and challenges, with 'I've Got a Problem'; the first of two science shows provided by Scitech.
Burning Melting Saving, the second science show, then explores the science behind plastics recycling, water conservation and fuels, as participants melt, burn, and explode their way through a series of spectacular experiments.
Also featured are bespoke activities for early childhood audiences, enabling developing young minds to learn through play. There's something for the whole family at National Science Week Westonia this year!
Nature is a Fowl Play(ground)
Yongergnow-Ongerup Community Resource Centre
Date: 9 – 15 August
Location: Yongergnow-Ongerup CRC
Have you ever heard of a malleefowl? What about a turtle-frog?
Yongergnow-Ongerup CRC is putting these lesser-known critters in the spotlight for a very special National Science Week.
These mysterious but important creatures work in disguise as they harness the land, creating interesting and unusual land mounds and compost piles. For this event, local zoological and environmental science professionals will give these creatures a voice, exploring their nature and food supplies, how they 'work' the land, and how changes and reductions to their environment are making an impact.
Then, get hands-on on around ecological systems with games and activities including creating a mound in a jar, a scat quiz and a real life meet and greet with the event special guests – a malleefowl and turtle-frog.
Nature really can be a fowl playground.