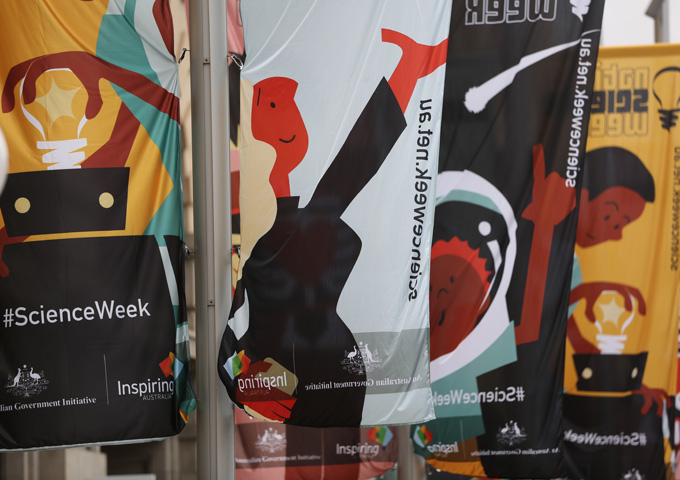 The WA National Science Week Coordinating Committee was thrilled at the number and quality of applications they received in 2014.
The events selected to receive funding in 2014 include:
Perth Metropolitan events
Being Martian
Josh Richards and Launch Pad Speaking
Explore space science and the mystery of the red planet through a variety of events presented by science enthusiast and Mars One candidate Josh Richards.
Magnolia's Science Talk Show
Matt Aitken and Magnolia's Collective
Science takes centre stage as the focus of the August edition of Magnolia's Late Night Live. Somewhere between QI and Dr Steve Brule, this will be the cheekiest pop science forum this side of the Nullarbor; real Talk meets Science.
Making Waves: Investigating Properties of Water and Implications
One World Centre
Part of the 'Science and Sustainability Expo' at the Canning River Eco Education Centre, the Making Waves workshop will engage participants in hands-on water investigations and to think critically about environmental implications including food production, water pollution and disease.
Five Events in Five Days
The University of Western Australia Science Union
National Science Week will be celebrated through a series of events including science in the pub, science fairs, a speaker night and a huge National Science Week party. The events will invite all members of the community to be involved from young people and their families to community elders.
Science Mini-Cookbook
Culinary Science
Connecting people to science through the context of food, Culinary Science will develop and distribute Mini-Cookbooks that highlight the science behind favourite recipes including science hints, tips and facts.
Regional events:
Science Meets Lego (Geraldton)
Geraldton Public Library
Hands-on engineering and robotic workshops for young people and their families. Events will also include an engaging talk by a local engineer.
The Science of Cooking (Albany)
The University of Western Australia, Albany
The Science Laboratory at the UWA Albany Centre will be the setting for workshops focussed on science everyone can relate to – cooking! Participants will be led through demonstrations and hands-on activities by a scientist and a chef in three separate workshops exploring the science involved in cooking.
Invasive Species Interrogation (Geraldton)
City of Greater Geraldton
An interactive display for the general public focussed on invasive species at the Goodness Festival.  The City of Greater Geraldton will also run a community forum to discuss the science of invasive species.
Night at the Museum (Esperance)
Esperance Public Library
Science meets history at this family event at the Esperance Public Library. What is the science behind prospecting for gold? Piracy? And Farming? The people of Esperance will have the chance to explore these questions and more at this community event.
A Family Night with the Crazy Scientist (Wyndham)
The Scientific Creativity Initiative
Learn how to turn wine into fashion and your DNA into music at this fun family night at the Wyndham Community Hall. Guided by Gary Cass, aka the Crazy Scientist, families will discover why creativity is just as important as numeracy or literacy.
Be a Citizen Scientist: Wetland Monitoring (Tenterden)
Greenskills Inc.
Community members will be citizen scientists exploring Balijup Farm, a bio-diverse area in the Great Southern region of Western Australia. Participants will have the chance to sweep ponds, pick out macro-invertebrates and contribute to real life research.
Inspire Culinary Science Workshop (Karratha)
Pilbara Joblink
Comprising of school workshops along with a public exhibition in a local shopping centre, the Inspire Culinary Science Workshop will have Karratha locals recognising the science behind their favourite meals. The workshops will include hands-on experiments and simple examples of how science plays an important role in the household kitchen.
Science Comes to Town (West Arthur)
West Arthur Community Resource Centre
'Subways, drug labs and heavy metals – a day at the ChemCentre' will be presented to the West Arthur Community in National Science Week when the ChemCentre travel 200km south west of Perth to share their stories of real life science.