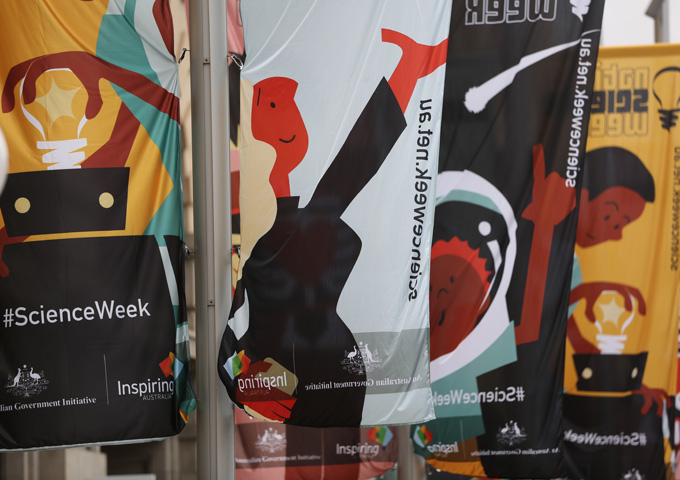 The WA National Science Week Coordinating Committee was thrilled at the number and quality of applications received in 2013. The events selected to receive funding in 2013 include:
Perth events:
Science Talk Show and BBQ&A
Matt Aitken
A live National Science Week talk show held at a local community venue. Four invited scientists will be interviewed in a 'late night talk show' followed by Q&A with the audience.
Martian Rock Band
Mighty Ginge Comedy
Newly developed interactive science-comedy stage show about the complexities of sending the first four people to colonise Mars.
SCI-POP Portraits
Miles Noel
Portrait artworks of WA and Australian scientists, past and present, dead and live, who have achieved a breakthrough in science. The portraits will be exhibited in State Theatre's Studio Underground Foyer.
Embedding Science in Little Green Steps
South East Regional Centre for Urban Landcare (SERCUL)
Trialling of frog, turtle, catchment and waste hands on activities at the Science and Sustainability Expo.
Nomadic Scientists: Unearth WA's Hidden Diversity
The University of Western Australia, School of Earth and Environment
An activity day based on encouraging older Australians to become engaged as Citizen Scientists and demystifying biotechnology.
Regional events:
Whodunnit – Discover, Decipher & Deduct! (Esperance)
Esperance Public Library
Featuring a 'Toddler Science Session' and a community evening of mystery and fun, Esperance Public Library will have a focus on science throughout August.
Celebrate the Bay (Broome)
Roebuck Bay Working Group
A community celebration of science focussed on Dinosaurs and Invertebrates and located on the shores of Roebuck Bay.
Miniscule Matters: Tiny Spaces, Hidden Places (Albany)
Western Australian Museum, Albany
The design, development, construction and display of insect habitat walls that will form part of a public garden space.
ASPIRE2013 Inaugural Science Quiz Night (Carnarvon)
Dowling Giudici & Associates
A community quiz night with a distinct science theme, including an entire round dedicated to the 'Big Bang Theory' and profiling of local science professionals based on the 'Science got me this job!' catch phrase.