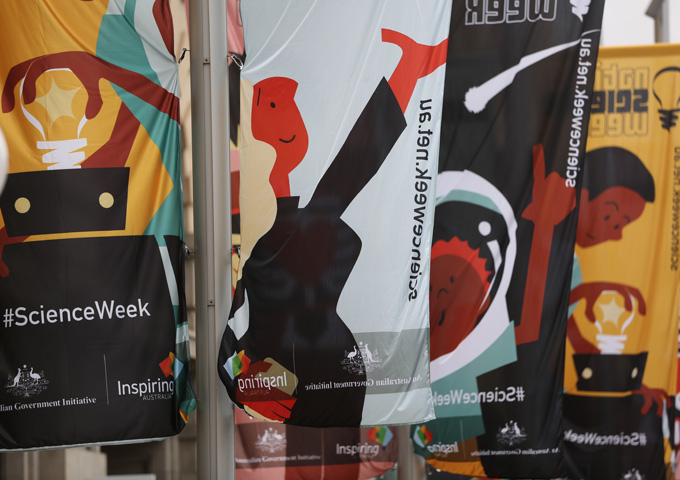 The Western Australian Coordinating Committee's (WACC) small grants program supported 13 activities in 2017 which engaged over 1000 West Australians across National Science Week.
Some activities run by successful small & micro grant applicants in 2017 included:
Malleefowl Mob (Millennium Kids)
Owl Pellet Dissections (Society for the Preservation of Raptors Inc.)
Future Earth Makers (Curtin University Library)
BEEz Inspired (Wickepin CRC)
Indigenous Engineers Film Tour (Engineers Without Borders WA)
Real Research Experience (Gravity Discovery Centre)
The WACC is once again providing seed grants in 2018 for activities to be held during National Science Week in August (activities encompass an event or project).
Small grants of up to $2000 (excl. GST) are available for organisations to run community activities.
Grants are available for individuals, community groups, universities, research institutions and other organisations to hold events for the public to engage with science. The purpose of these grants is to facilitate events or projects that add value to National Science Week in Western Australia. These grants are not intended to fund existing activities.
NEW in 2018 – past applicants are encouraged to take their learnings and expand upon them, or launch new event ideas in 2018.
Get creative with your events and projects! The 2018 science week school theme of Game Changers & Change Makers will provide platforms to get creative and celebrate Australia's STEM accomplishments and spark innovation.
Applications are required to meet the following criteria to be eligible for a grant:
the activity engages the general public with an innovative and science-based event or project.
the activity is held in August 2018, ideally during National Science Week (11 – 19 August); note events may occur anytime during the month of August and still be promoted as a National Science Week event).
the activity is free for general public to attend.
the grant covers the cost of consumables, cost of promotional material (and costs for invited speakers if required), but not event coordination or staff delivery costs.
you plan to evaluate the activity by collecting feedback from participants.*
you will be able to complete a report upon the conclusion of your activity.*
*Both feedback and reporting templates will be provided by Scitech.
Desirable criteria include:
Involves two or more organisations working in partnership to coordinate the event.
Event or project partners with, or aims to engage underrepresented or disadvantaged groups with science (e.g. minority groups, multicultural, indigenous, low socio-economic, disability, regional or remote groups).
Involve new or emerging programs that have not been part of National Science Week before.
Create an opportunity for attendees to further explore science activities in their local area after the event or project.
Uses National Science Week as a launching point for a broader program or event with lasting impacts or outcomes.
Key dates for grant applicants in 2018
Grant applications open: 23 March
Grant applications close: 26 April
Successful applicants notified: By Friday 11 May
Successful applicants send valid tax invoice via email: No later than 31 May
Invoices to be paid by: 30 June
Logos will be provided that must be used on all event/project material: After invoice has been received
Register your event/project on National Science Week website: By 1 July
Successful applicant runs event or project: August (ideally during National Science Week 11-19 August)
Successful applicants send through post-event feedback and report and receipts: 5pm Friday 14 September
Successful applicants will also be given the opportunity to promote their activities through the WA National Science Week Coordinating Committee as part of existing promotional materials. Strict deadlines will apply to any successful applicants who wish to use this opportunity.
Need some tips about organising your event? Here are some suggestions.
To assist you in crafting your application we have provided a sample application from a successful grant applicant in 2017.
To apply for support please download a copy of the application form (DOCX, 51kB).
To submit an application for a small grant please complete the application form and email this to the WA National Science Week Committee by 26 April 2018. Incomplete forms will not be eligible for funding.