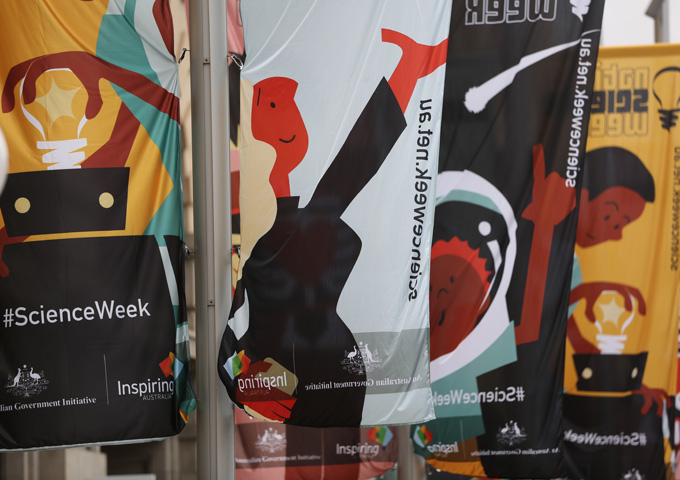 The Victorian Coordinating Committee thank all grant applicants for their enthusiasm for National Science Week and congratulate the 2018 Victorian small seed grant recipients:
Ballaarat Astronomical Society Inc – Forced Landing on Mars competition
Bricks 4 Kidz, City of Whittlesea – Community robotic and technic LEGO workshops, building robotic arms and DNA molecules from LEGO bricks
Brimbank Libraries – Planetarium and science shows, film screenings, and after school science activity sessions across 5 branches of Brimbank Libraries during National Science Week.
Daylesford Secondary College – sound and light extravaganza projecting stories of scientific discovery throughout the regional town of Daylesford.
Eastern Regional Libraries Corporation – Family STEAM evening, use Ozobots, LittleBits, float creations in wind tunnels, and participate in engineering challenges.
Eco Inquire – makerspace activities in collaboration with the Sustainable Activity Centre and Half Waste using reclaimed materials, up-cycling and tinkering to encourage community members to think and act sustainably.
Faculty of Science and Technology, Federation University – The science of parasites, activities for kids at the Art Gallery of Ballarat.
Geelong Regional Library Corporation – Science Fair at the Corio Library, including science shows by Professor Bunsen.
Golden Plains Shire Family Day Care – Science fun with Professor Brains for pre-schoolers and families.
Goldfields Libraries – hatching chicken eggs and learning about the lifecycle of chickens at Kangaroo Flat Library.
Indigo Shire Libraries – Creating a bee friendly garden, interactive talks and Beechworth honey tasting.
Let's Torque and Sisters in Science – Space exploration, a discussion about the power of collaboration.
Mornington Peninsula Astronomical Society – Stargazing evening, and Science in the Park activities exploring the elemental composition of stars.
Mornington Peninsula Libraries – Family bowling with robots, learning to code.
New and Experimental Arts Laboratory – Musical performance and workshop exploring the intersections of science and art in neuroscience and acoustic ecology.
Royal Australian Chemical Institute – inaugural public lecture presented at the Melbourne Brain Centre by a Victorian chemist.
St Margaret's and Berwick Grammar School – Sustainability and innovation weekend of public workshops and talks.
Unbound – Balloon launch to celebrate innovation and the Australian Space Agency.
Yaapeet Primary School – Guided nature walk with botanist and former park ranger Rod Newnham, and exhibition of a rediscovered well-preserved plant collection for the local community.