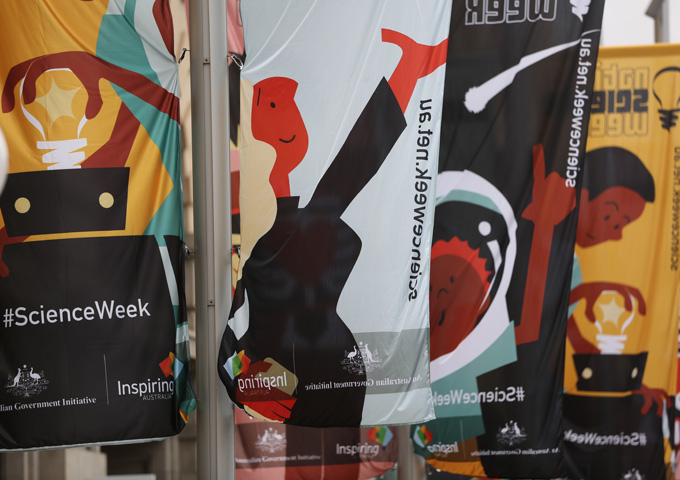 The awards were announced by Prof Don Bursill and presented by Prof David Solomon.
2012 Unsung Hero of South Australian Science Award
Dr Jeremy Austin
Jeremy is an Australian Research Council Future Fellow, Deputy Director of the internationally recognised Australian Centre for Ancient DNA at the University of Adelaide, and Director of the newly established Advanced DNA Forensic Facility in the School of Earth and Environmental Sciences. He is a world-leader in the identification of highly degraded remains through his groundbreaking work in forensics and provides a range of specialist forensic identification services and expert advice to Australian Police and defence agencies.
Over the years, Jeremy has quietly made major advancements in DNA analysis, with his early research providing him with a strong background in genetic fingerprinting and individual identification through molecular markers. Undertaking research at the Natural History Museum in London, he entered the burgeoning field of ancient DNA and continued this work at Museum Victoria where he established what was at the time the most advanced wildlife and industrial forensic labs in the country.
He was then recruited to help establish the Australian Centre for Ancient DNA in South Australia. The resulting specialised suite of laboratories is one of the top three such facilities in the world. Jeremy has made the quantum leap from using techniques for scientific research to using them for direct human benefit. He has pioneered the transfer of new methods and technology into practical applications suitable for industry, particularly the forensics community. Having this calibre of scientist in our state is of enormous importance to South Australia.
Finalists
Mike Gemmell, Manager of the SA Museum Discovery Centre, for his pivotal role in informing and educating professionals and the general public on a wide range of topics.
Michael Lardelli, a senior lecturer in Genetics at the University of Adelaide, for his efforts in spreading awareness of the contentious Peak Oil issue.
Peter Pudney, Senior Research Fellow in applied mathematics and a member of the Barbara Hardy Institute at the University of South Australia, for his work in designing, building and championing solar and electric vehicles.
Raymond Tham, founding manager of the Flinders University Centre for Marine Bioproducts Development, for his key role in promoting broad areas of scientific strength that showcase South Australia's research, education and industry.
2012 Unsung Hero of South Australian Science Communication Award
Mike Gemmell
Mike is the Manager of the SA Museum's Discovery Centre. A perpetual student, tireless educator and dedicated science communicator, Mike enjoys every opportunity to share his knowledge with young and old alike. His general knowledge is outstanding and he excels at providing information on an interpersonal level on a diverse range of subjects. He regularly speaks with groups outside the confines of the museum, including participation in local and rural community events where he makes science relevant to the general public.
Mike provides a vital public service by addressing topical media issues for local and regional newspapers, radio and television. Mike also plays a pivotal role informing and educating many professionals regarding organisms found across the region and their potential impact.
Regardless of the audience, Mike exhibits incredible patience identifying, describing and explaining the key aspects of a specimen or topic.