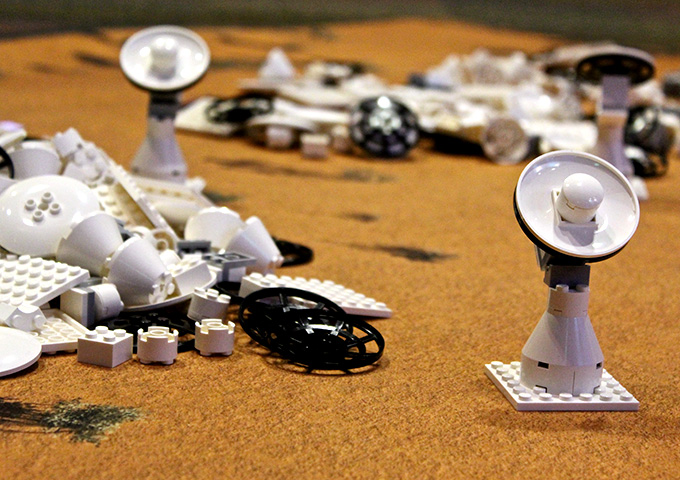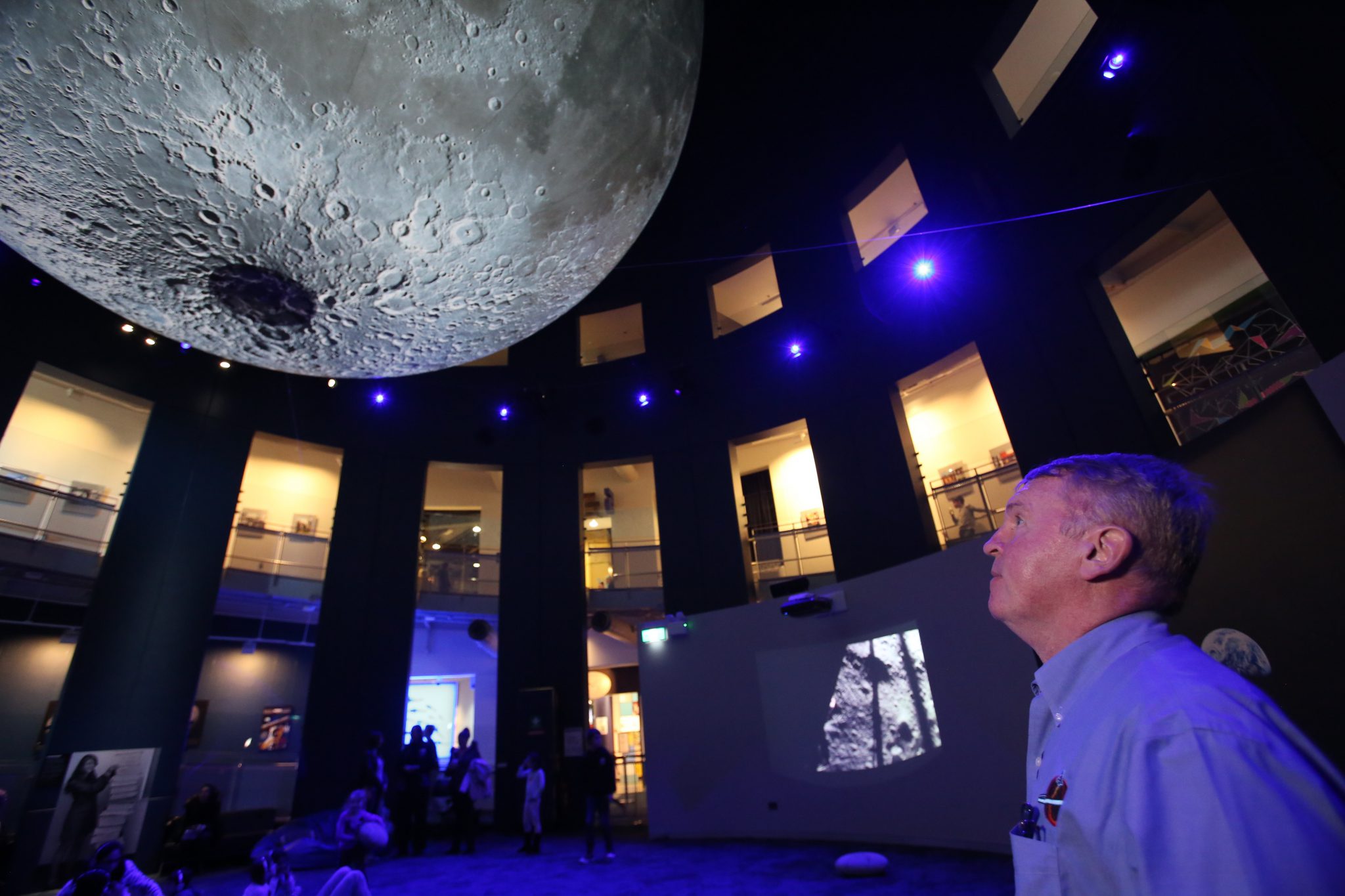 National Science Week has already been astronomical with hundreds and hundreds of events taking place all around the country. And given 2019 is the 50th anniversary of the Apollo 11 mission and the first moon landing, it is no surprise that many of these events have taken on a space theme with all things stellar, cosmos and celestial being celebrated! There's been Indigenous science to future technologies to astrobiology and more.
Space scientists of all types have participated in festivals, workshops, discussion panels, activity days, networking and interactive events all around the country. For example, A/Prof Cathryn Trott, radio astronomer, is participating in Meet the Scientists – Sign me up! and Gemma Anderson, cosmic explosives expert is having a chat at The Innovators' Tea Party.
Even more space scientists have been zooming around the place, including:
Lisa Harvey-Smith—the Essex-expatriate-turned-Australian astrophysicist, Stargazing Live TV presenter, Women in STEM Ambassador, and author of the book When Galaxies Collide
NASA exobiologist Darlene Lim who is mimicking Mars missions in the Earth's most inhospitable places, paving the way for space colonisation
Mitch Schulte—NASA Mars 2020 rover mission program scientist
Andrea Boyd—Aussie mechatronic engineer and International Space Station Flight Controller, now based at the European Astronaut Centre
Paul Davies—English physicist, author and broadcaster, and
Alan Duffy—astrophysicist, RiAus Lead Scientist and TV science presenter, and fellow Swinburne University astrophysicist Rebecca Allen lead a virtual reality tour of the Universe
The Australian Space Agency has been joining in with all sorts of activities including an Australian Space Frontiers panel, Science Alive in Adelaide and the Governor General's Design Challenge. They are also profiling some of their staff as part of the #STEMgotmehere social media campaign.
Museums, art galleries, research and community organisations have been participating with galaxy galas and cosmic celebrations. TastroFest – Tasmania's Astronomy Festival led the way with live streaming to Houston, movie screenings, VR experiences and fascinating talks covering how the moon was formed or even can we grow plants on other planets?
Playgrounds and classrooms around the country have been transformed for much of our moon-y activity, with our Australian Science Teachers Association Destination Moon: more missions, more science school theme. Teachers have got creative, using the 2019 Resource Book of Ideas (24 MB, PDF) as a launch pad for some amazing interactive and integrated learning opportunities for our future space scientists.
For example, Deanmore Primary School in Karrinyup WA discovered a Mystery Meteorite in their grounds. Luckily it was a planned meteorite landing to be the stimulus for a week's worth of cross curriculum activities across the school. This week is bound to make an impact on the students learning!
Also, the Mornington Peninsula Astronomical Society's Moon Rock Competition is still open, with primary and secondary students putting their minds to some celestial questions and having the chance to win a small piece of the Moon. Hurry though, the competition closes Sunday 18 August.
And there have been plenty of chances to get out to do some astronomical viewing firsthand with star gazing nights and talks run by astronomical societies and associations around the country, such as the Newcastle Astronomical Association's Astronomy Night, and Mukinbudin's Stars and Night Sky.
There are still lots of events and activities to come – below is just a taste – so take your chance to explore the galaxy this National Science Week!
Coding a virtual spacecraft in HappyBrackets – UNSW, Sydney and Newcastle, NSW
Join Dr Angelo Fraietta as he explores how to make studying astronomy both creative and fun. Learn how to program the virtual spacecraft and travel to various places using Stellarium planetarium software in this creative coding workshop.
Friday 16 August – Sunday 18 August, various times
Launch to the Future – Adelaide, Canberra, Perth, Brisbane
LAUNCH TO THE FUTURE is a science sketch comedy presentation focusing on how space programs and lunar science propel us into the future using STEM! In a series of comical skits, professional actor/educators use audience suggestions to create uniquely hilarious scenes educating us about space science.
10am – 5pm, Saturday 17 August (ADL and CBR)
10am – 5pm, Saturday 24 August (PER and BNE)
(Events have already been held in Melbourne and Sydney)
Immersive Science III (SCIVR): Astronomy for all Australians – around the country
Realise the power of stars, delve into the latest gravitational wave research, and explore the Universe—all without leaving town. Science communicators and researchers Associate Professor Alan Duffy and Dr Rebecca Allen return to share the latest wonders of Australian-led research in Astronomy through SciVR; an immersive astronomy experience enabled by a virtual reality (VR) smartphone app.
Various times, Friday 16 August (Queenstown, Scottsdale, Ravenswood)
Various times, Saturday 17 August (Gold Coast, Bendigo, Romsey, Wangaratta, Lilydale, Wagga Wagga, Lalor, Emerald, Canberra, Yeal, Sale, Perth, Alice Springs, West Wyalong, Burnie, Gundagai, Rosny, Longford)
(Events have already been held in Tasmania, NT, SA, and Victoria)
The Planets – Concert and Stargazing – Centennial Parklands, NSW
Where music and science meet. Listen to the beautiful "Planets" by Gustav Holst performed by the Sydney Youth Orchestra before you embark on an evening of star and planet gazing. Dr Luke Barnes from Western Sydney University will give an introduction into stargazing and astronomy and the Sydney Skywatchers will provide guidance at their amazing telescopes.
3pm – 7pm, Saturday 17 August
Mt. Stromlo Observatory site tour – Mt Stromlo, ACT
Take a walking tour of the Mount Stromlo Observatory and learn about one of Canberra's oldest sites. Mount Stromlo Observatory has been carrying out astronomical observations for over 100 years and, prior to the 2003 firestorm, had grown from a small outpost of pioneering astronomers to one of the great observatories of the world.
9:30am – 11am, Sunday 18 August
Events that have already been held during National Science Week include:
Digby's Moon Mission – Story Time Session – An interactive show incorporating theatre, song and storytelling based on a children's book about the moon. One night Digby Fixit wakes to find his room in too much darkness! Discovering the Moon in a frightful state, he plans a clever mission to bring back the light of night.
"Is Bigger Always Better?" with Astronomer Richard de Grijs – astronomer Richard de Grijs marvelled about the next-generation of extremely large telescopes and the ground-breaking discoveries they promise to deliver, at St. Ives Library, NSW.
Discover Destination Moon – Yeppoon – Yeppoon Townhall transformed into a Space Agency Control Room. People of all ages came to explore the wonders of the moon and test out their skills to see if they could become an astronaut.
Presentations around the country from Prof Alan Duffy on Australia in Space, on Apollo 11 and on the Moon, exploring the history and future of Australia in space, including the unthinkable technologies at the cutting-edge of space exploration.
It's in the Stars: Stories from Indigenous and Western Astronomy – delivered a community event in Ntaria (Hermannsburg), a remote community in the NT that made the science of astronomy fun and accessible to all ages, and also culturally relevant. It brought both Western and Indigenous perspectives of astronomy to the audience, hearing from community Elders, and Indigenous and non-Indigenous scientists.
Life on Mars – Is there life on Mars? We've been asking the question for centuries, but could clues in Western Australia's Pilbara soon give us answers? A panel of NASA scientists and astrophysicists discussed all things Mars.
Coffee in Space – explored the science behind coffee and the challenging proposition of coffee-making in space. How do you grind the coffee without coffee grounds flying everywhere? How does an astronaut drink a floating ball of hot coffee? What to do with dead coffee grounds? Is space-made coffee even drinkable?