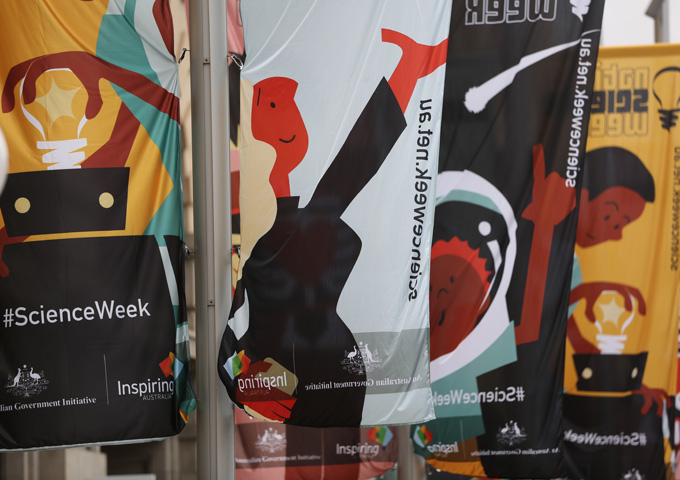 You will be asked, do you believe?
Do the Griffin Ensemble believe? Do the dancers believe?
Do you believe?
(Performance flyer)
Canberra's The Griffin Ensemble is known for their unusual collaborative performances; last Saturday's The Three Futurists, in collaboration with QL2 dancers, was no exception.
The experience began at the ticket desk where you were asked to sign a performers' opinions disclaimer, written in clearly mechanical typeface.
Entering the performance hall, each seat held a wax-sealed scroll containing three pieces of paper; Utopia Assessment #376b, Ethnographic Assessment #1201, Truth Assessment #666.
The performance itself started with an introduction by a recorded robotic voice: three futurists, three futures, three possibilities.
From there, you were taken on an epic journey from mechanical progress to ancient ritual to future disaster. Evolution, Prophecy, Armageddon.
At the end, you were left with a question. Who do you trust? Do you believe?
The performance was a combination of the Ensemble's signature classical-world fusion music and dance from QL2 members, interspersed with robotic narration. There were also several chances for audience participation, filling out the Assessment sheets, and joining one of the dances.
While the story was a little hard to follow in places, overall the music and dance were both captivating, and you were left with some thought-provoking questions.
This is particularly true of the third part of the performance during which you filled out the Truth Assessment; multiple choice questions about where your opinions and knowledge come from, and your beliefs surrounding climate change.
The Griffin Ensemble consists of Michael Solis (composer/director/guitar), Holly Downes (double bass), Susan Ellis (soprano), Meriel Owen (harp), Kiri Sollis (flute) and Chris Stone (violin). In this performance, they were joined by QL2 dancers Liz Lea, Jake Kuzma, Jessica Pearce, Alison Plevey and Janine Proost.
Past science-based Griffin collaborations include Southern Sky, held at Mount Stromlo Observatory with astronomer Fred Watson; and Cloudy With a Chance of Rain with geomorphologist and ex-weather presenter Rob Gell, part of National Science Week 2012 .
The Three Futurists is the second in a series of Griffyn performances being held throughout the year.
Do you believe? Do you believe?
Guest blog post by Louise Caldwell.