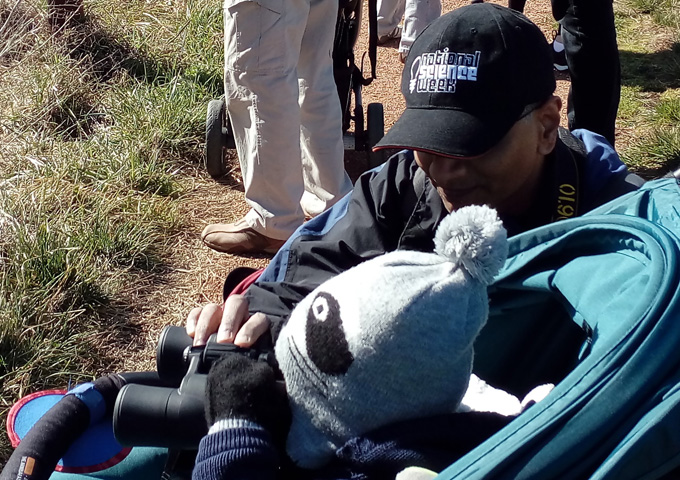 Calling all citizen scientists, mobile gamers and lovers of the outdoors!
Your quest, should you choose to accept it, is to find and identify as many wild animals, plants and other living things as you can throughout National Science Week until 20 August.
The Great Australian Biodiversity Challenge is open to players of all ages, and is free to play. This is your chance to win prizes, while helping to protect Australia's biodiversity. Choose your botanic garden team, download QuestaGame and start your adventure into nature!
Sightings can be from anywhere in Australia (and are not limited to botanic gardens).
Submit your sightings through the outdoor mobile app, QuestaGame. You'll receive expert feedback, and QuestaGame will score your sightings based on their rarity, for location and season.
To register, view live results, and see details of prizes go to the following QuestaGame web page.
Please also take time to read the following safety information while participating.
The Great Australian Biodiversity Challenge is assisted by a major National Science Week grant.
Stuck for locations to begin your quest, or not a mobile gamer? There are many events and locations all over the country to get you into the great outdoors this National Science Week.
Here are some to get you started – check out these and other events in our events calendar and get out into nature!
ACT
SciScouts 2017: Environment-Trees, Bees and Seeds, 19-20 August
Bush and Waterbug Detectives, Jerrabomberra Wetlands, 15 August
Twilight Tour, Mulligans Flat, 15 August
TAS
Emerging Entomologists, Ridgeway, 20 August
Sea Shell Science, Sandy Bay, 19 August
Zoology after Dark, Ridgeway, 18 August
Litter Bugs, South Hobart, 19 August
NSW
Gondwana Garden, Mt Tomah, 19 August
SA
Discover the Science of Saltmarshes, Middleback Arts Centre, Whyalla Norrie, until 18 August
NT
Mangrove Walk and Talk, East Point, 15 August
Wildlife Workshops with Bush Tales, Nightcliff and Yarrawonga on 19 August and The Gardens on 20 August
WA
Explore Karlkula 2017, Hannans, 20 August
Chapman River Nature Walk, Geraldton, 19 August