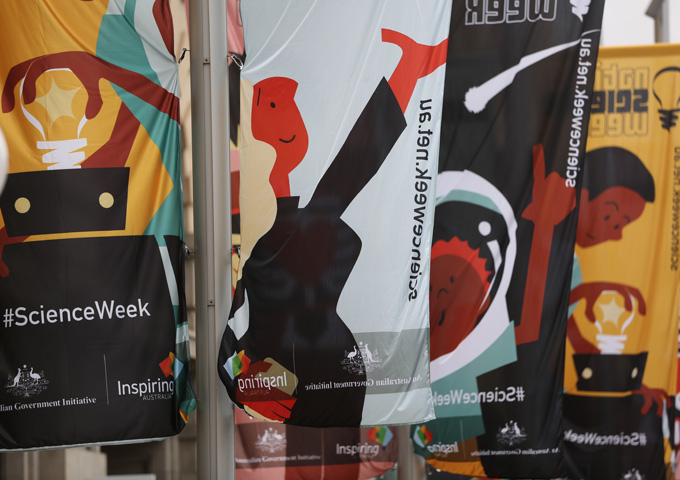 The Tasmanian National Science Week committee has awarded 10 seed grants to help launch science communication events around the state during National Science Week, 12-20 August. These fantastic outreach initiatives include:
What's the job of a marine scientist? Tasmanian Branch of the Marine Science Association This event will introduce Tasmania's young minds to marine science.
The George Town Bigger Science Expo The University of Tasmania
This community-based event co-presented by George Town Council, Bell Bay Aluminium, George Town Community Hub and the Peter Underwood Centre for Educational Attainment, University of Tasmania with local industry support. The Expo will bring together a number of hands-on age appropriate science-related activities to produce an event with broad and popular appeal for students, parents, schools and the broader community in it's second year
Challenges And Successes Of Women In Science Science in the Pub
The hugely popular Science in the Pub will be hosting a panel with inspirational local women in science. It will be held at BeakerStreet@TMAG, Australia's first pop up science bar!
Gatekeepers Of Truth Scli Coms Tasmania
This panel will open the door between scientists and the community and ask how can scientists learn to better communicate with the public? The panel was inspired by the March for Science. The organisers came to understand that public distrust of science was due to the perceptions of scientists as being elitist the 'gatekeepers of truth'. This panel discussion looks to address how these perceptions came about and what can be done to remove 'the gates'.
Tasmanian Bushfoods: Growing, Harvesting & Eating Respectfully Source Community Wholefoods Co-op
A public workshop with local indigenous woman Kris Schaffer about Tasmanian bush foods, and the creation of a Growing Respect Garden at Source Community Wholefoods.
Big Changes in Big places: Past, Present and Future Australian Meteorological And Oceanographic Society (AMOS) Tasmanian Regional Centre
This fantastic event will come to both Launceston and Hobart! Each evening will involve a diverse panel discussing how large-scale changes in the earth's oceans and icesheets will affect people in Australia. Both events will include Q&A. Hobart: August 15, Stanley Burbury Theatre, Sandy Bay Campus, University of Tasmania. Launceston: August 16, Sir Raymond Ferrall Centre, Newnham Campus, University of Tasmania.
What Makes an Insect? Resource Work Cooperative
This free hands-on inclusive family workshop will introduce participants to the characteristics of major insect groups, and teach them how to identify them on the fly. The workshop will link the impact of trash with inhabitants of the natural environment. Resource Sunday 6 August, 9.30am – 12.30pm, Education Centre, South Hobart Tip Shop site.
Pop-up Kids Dig! University of Tasmania, Cradle Coast Campus
This exciting event in the Northwest brings together culture and STEM for primary aged children. This hands out experience will be taught by archaeologist Dr Louise Zarmati, PHD Candidate Sarah Stockwin and Northwest Aboriginal community representative Associate Lecturer (UTAS) Sharon Dennis.
The Climate Experimentum Show CAN West (Climate Action North West)
The Climate Experimentum Show' is an extravaganza for the whole family that will entertain, inform, and at times surprise. If you have ever wondered how greenhouse gases change our climate, then this is a show not to be missed. Saturday 12 August 2-3pm AND Sunday 20 August 2-3pm, Cradle Coast Campus, 16-20 Mooreville Rd, Burnie, TAS, 7320
New wireless/radio technology – LoRa Hobart Makers An enthusiastic team of engineers and electronics enthusiasts have someone to introduce you to. LoRa is a new wireless radio technology that will surely impress! *** There is truly something for everyone and we look forward to seeing you during National Science Week!
Join the conversation online!
#natsciwk #FOBI2017 #BeakerTMAG
https://www.scienceweek.net.au
https://twitter.com/sciencetasmania
https://www.facebook.com/natsciwktas
Festival of Bright Ideas Facebook event
Festival of Bright Ideas Instagram
Grab The Mercury Saturday the 29 July, or the Examiner or Advocate on Monday 31 July for your free printed program or or download the free program app in the Google Play or Apple stores – just search for National Science Week!
Guest Blog post by the Tasmanian National Science Week Coordinating Committee.