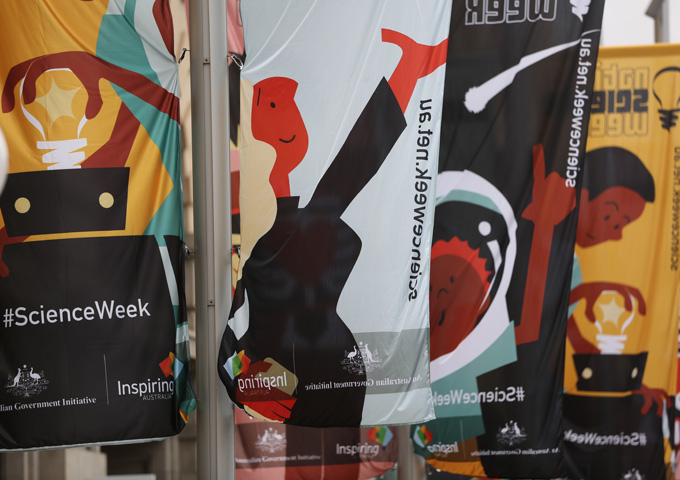 Do you have a great idea for an event in Tassie for this year's National Science Week? Have you always wanted to host an event but not been sure where to start?  Applications are now open for seed grants of up to $500 to boost your event and all you need to do is submit a brief application by April 24 this year.
National Science Week is one of Australia's biggest festivals – with hundreds of events across the country annually. Last year saw around 200 events, with thousands of attendees in Tasmania alone!
Events take many forms, creatively communicating how science is a vital part of our everyday lives by engaging an interest in the areas of science, technology, engineering and innovation.
To be eligible for the grant, your event needs to be open to the general public, and to take place in Tasmania (regional venues are encouraged!) between August 11-19 this year – though if your event is the week before or after these dates, don't worry, you can still apply!
If you're approved for the grant you'll also get support from the Tasmanian Science Week Committee (TSWC) with event planning, promotion and more.
HOW TO APPLY
For full details and to apply, just head on over to WhySci and enter your details in the required fields by 24 April 2018.
Applications will need to include:
Your name and the location of the proposed event
An overview of the project aims and expected outcomes
Details of how the project will be delivered
A brief budget detailing proposed expenditure of the grant and any in-kind contributions (eg. staffing from the venue or organisation)
KEY DATES:
 National Science Week 2018, 11-19 August
 Applications for $500 seed grants will close at 11.59pm on 24 April 2018
I'VE GOT THE GRANT, WHAT NEXT?
If your application is successful, you'll get paid upon receipt of a valid tax invoice (including your organisation's ABN).
There are also a few requirements you'll need to follow if you receive a grant*:
You'll need to list your event on the National Science Week website by 1 July 2018
Make sure to acknowledge funding support by including the National Science Week and Inspiring Australia logos on all event material
Provide images or video of your event/s to help National Science Week showcase local successful grant-supported events
Complete a brief evaluation in a specified format by 21 September 2018
*View the application and a full list of requirements at WhySci
QUESTIONS?
For enquiries about seed grants, please email jklaus@utas.edu.au
Not sure about National Science Week or how to hold an event? Come to one of the upcoming networking and info sessions which will include a bonus grant writing workshop!