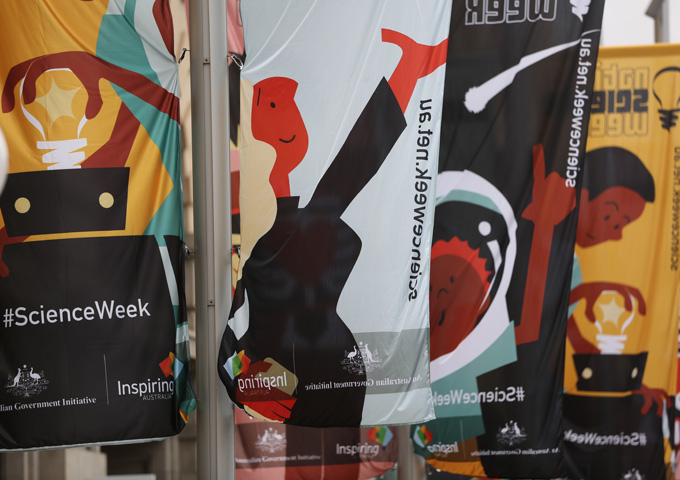 Whether you are planning an event in August specifically for National Science Week or you are hosting an event with some great science, technology, engineering, or math (STEM) angles, please complete the two steps below to register your event details to be included in our printed program, which is distributed state-wide to over 70 000 people, and on the website and event app! And feel free to forward this to anyone you feel needs this information.
Please note: Step 1 is for public events only. Schools should complete Step 2 and remember to tick the privacy box if there is no public element to the event. 
Step 1: Register for your free event listing in the Tasmanian National Science Week Printed Program
Event descriptions for public events must be submitted to the Tasmanian National Science Week printed program by midnight Sunday 10 June 2018. This date aligns with strict sponsorship deadlines and is non-negotiable. You can also submit one image with the form, so please have one prepared if you would like to do so.
This form is not appropriate for schools holding school-only events.
Step 2: You will also need to register your event on the National Science Week website to be included in the online searchable database and the National Science Week phone app.
We recommend completing both the printed program details and the National Science Week website registration concurrently. Make sure your event goes in both the printed program for Tasmania as well as the National Science Week website and app!
If you have any questions or concerns related to the event listing, please email Communications and Events Manager Jenni Klaus prior to the 10 June deadline. jenni.klaus@utas.edu.au
If you have any need for advice on promotional planning, please get in touch at any time. And if you need templates, logos, graphics, or media releases, visit the Event Organiser's Toolbox.
Get social! 
twitter.com/sciencetasmania
facebook.com/natsciwktas
Register for printed program: whysci.org.au/events/national-science-week