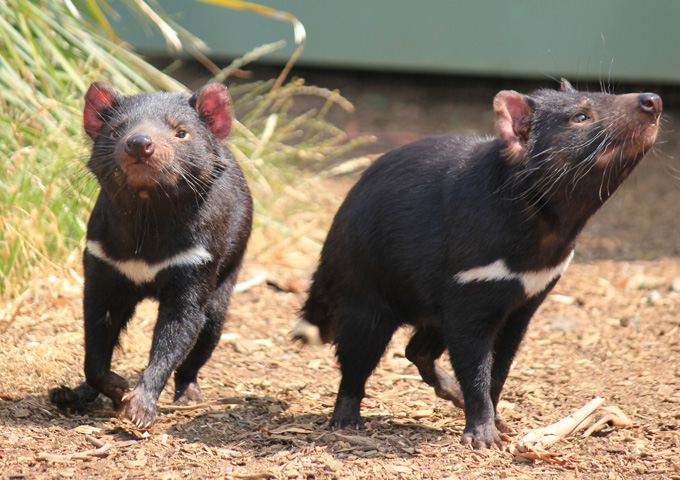 Media Release
Date: 7 May 2019
Tasmanian National Science Week gets boost from record high grants
Tasmania has secured a large portion of national funding for this year's National Science Week. Every year in August, Tasmania hosts around 200 events for the community and school students across the state including the well-attended Festival of Bright Ideas on Hobart's waterfront. With regional and rural areas front and centre in planning, the festival aims to link community with science and reach those who aren't already engaged with science, engineering, technology, and maths (STEM).
Nine Tasmanian events and projects secured $165,925 in funding, more than double the amount received in 2018. This year's recipients include museum programs, a science roadshow, a youth dance program, and the wonders of outer space. Festival favourites Beaker Street @ TMAG, QVMAG's Science Open Season, TastroFest, and Young Tassie Scientists were again funded. Elizabeth College is currently in its 19th year of conducting a large program of activities. Manager of Science and Computing at Elizabeth College, Dr Deborah Beswick, has worked to ensure the College's popular program will add value to the local community.
"This year's theme is: More Science, More Awareness at Elizabeth College. [This] has become a highly anticipated event within the southern community calendar. It has been embraced by the whole college and its students, and become embedded within the college culture, really demonstrating that Science is the core of everything! The program engages students from kindergarten to university, teachers, researchers, parents and the general public. There is a flow on of experiences to conversations with parents and the wider community. Our events have inspired other Tasmanian events."
Inspiring Australia (Tasmania) Manager, Sarah Bayne, is excited by the idea that Tasmania truly is a STEM state.
"This is recognition that we have a world class science sector, one that is willing and able to engage with the community and share their science."
Andy Baird, Chair of the Tasmanian National Science Week Coordinating Committee and Deputy Director, Engagement at the Tasmanian Museum and Art Gallery, relayed his support for the recipients.
"Great to see so many fantastic science engagement projects funded in Tasmania this year – nearly 25% of all National funding. It shows the quality and vibrancy of the science sector on the island and its standing nationally and internationally."
Tasmania makes up around 2% of the Australian population. A total of $723,000 was awarded to 53 projects nation-wide.
Details of all winners
Young Tassie Scientists: Sharing local science in our local community
University of Tasmania
A geologist who blasts rocks with lasers, a brainy researcher studying our super senses, Tasmania's own BugGirl, and an Antarctic expeditioner with a passion for Pokémon.
These are just a few of the past Young Tassie Scientists—early career researchers who become the state's ambassadors for National Science Week. The new recruits for 2019 will go through a science communication bootcamp, then go out to share their science stories through inspiring and interactive presentations at schools and events around Tasmania.
BeakerStreet@TMAG, a pop-up science bar
Dr Margo Adler
Interactive science/art installations and performances, engaging talks and hands-on workshops by world-leading scientists, the Science Photography Prize, live music in the Speakeasy Bar, Tassie food and drink, and 100+ roving scientists to chat with—these are all on the menu at BeakerStreet@TMAG, a pop-up science bar at the Tasmanian Museum and Art Gallery. BeakerStreet@TMAG is a scientific wonderland for adults, running over two nights.
Open to everyone and accessible to all, this one-of-a-kind festival returns in 2019 with an all-new line-up, an Invasive Species Cocktail Bar by Mona (Museum of Old and New Art), and much more. Come along to quench your thirst… for knowledge.
TastroFest – Tasmania's astronomy festival
Brittany Trubody
TastroFest—Tasmania's Astronomy Festival—kicks off National Science Week in the Apple Isle with planetarium shows, Aboriginal Astronomy, solar observing, telescope workshops, the latest Hubble images, droid building displays, 3D printing displays, movies, aurora, and astrophotography workshops, guest lectures, beginners astronomy, kids workshops, a photographic art gallery, live science demonstrations, night sky viewing sessions, virtual reality experiences, cosplay, Lego displays, brain-games, pop up science toy shops, author talks, a giant inflatable replica of the Space Shuttle Discovery and more.
2019 marks the 50th anniversary of the Moon landing, one of the greatest achievements in history. This year's TastroFest will feature livestreamed Q&A sessions with NASA astronauts and staff (both past and present) celebrating in Houston. Patrons will be able to ask live questions and will hear from those who were part of the space program 50 years ago. They will learn how it was then, and what it's like for today's astronauts who were inspired by these events, and what training they go through in order to be a part of the space program.
Tasmania is the only state with regular auroras and has some of the clearest skies in the world, making it a hot spot for the art and science of the night sky. TastroFest is held over three days in Ulverstone.
Science Open Season
Launceston City Council
Dinosaurs, science shows, Moon-landing memories, and make your own lunar vehicle are among the highlights of the seven days of Science Open Season at Launceston's Queen Victoria Museum & Art Gallery.
The program includes a Saturday expo-style Big Day of Science, showcasing everyday science taking place in the region; Sunday Science with a focus on feathered dinosaurs and a dinosaur themed exhibition, with activities exploring evolution, extinction and climate change; a Night at the Museum for adults, and another for young families; a schools' program; public lectures; 'PODS' (Professionals Out Demonstrating Science); and the Crazy Scientist science shows.
More Science, More Awareness at Elizabeth College
Department of Education, Tasmania
This year's program at Elizabeth College involves community science events that inspire public interest in science and celebrate the International Year of Indigenous Languages and the 50th anniversary of the Moon landing. Events will involve local scientists and scientific organisations, focusing on astronomy and Indigenous language.
Participants will be able to learn about gravity, lift, drag, thrust and aerodynamics through the science of paper aeroplanes in the Paper Pilots Flight School. The community of southern Tasmania will have the opportunity to hear from Indigenous scientists, enjoy an Indigenous film night, and learn about the Moon landing.
The program includes a Government House Reception, the 19th Annual Elizabeth College Workshops, a Mini Conference focusing on the value of independent research, and 'More Science, More Awareness', the Minister's Celebration Luncheon and Poster Competition.
Curious Climate: Asking Tasmania what it wants to know about climate
University of Tasmania
What is a polar vortex? Will there be enough rain for the Tasmanian giant freshwater crayfish? Is Melbourne's weird weather headed south? Are last summer's bushfires the new normal? If you could ask a climate change scientist anything, what would it be?
Curious Climate aims to develop public-powered scientific engagement, bridging the gap between experts and audiences with credible, relevant information about climate change. Radio segments and Facebook promotion will encourage the Tasmanian public to lodge their Curious Climate questions online. People in each of four regions can then vote for their top 10 questions about climate change (local and general), which will then be presented in a series of public Q&A sessions in each region. Local (and mostly younger) scientists from across Tasmania will answer each of the top questions in a short, sharp, and visually appealing five-minute presentation, before a panel.
Curious Climate is an IMAS, UTAS, TIA, CSIRO and ABC supported collaboration, with a team of engaging scientists across Tasmania telling people what they really want to know rather than what scientists think they want to know.
Maker Exhibition
University of Tasmania
A one-day exhibition at the Burnie Arts and Function Centre will showcase the region's STEAM (Science, Technology, Engineering, Arts and Mathematics) activities ranging from our unique and impressive local engineering and advanced manufacturing to mini drones and the virtual reality of our digital future. The event will involve local industries, schools, community groups and individuals running exhibits, workshops, activities and public lectures. Local musicians and food producers will provide a festival atmosphere for this community-based learning event.
NEON
DRILL Performance Company
Three choreographers, three composers, four Young Tassie Scientists, seven activities, and 30 local young dancers join forces to explore science through music and movement.
In 2019 Hobart's youth dance company DRILL will present NEON, a performance that fuses artistic practice and STEM engagement for audiences and young participants. Three choreographers and three composers will create contemporary dance works with a cast of 30 young local dancers, responding to the chemical elements and exploring their forms, behaviours and uses.
In partnership with the Young Tassie Scientists, audiences will first learn about the elements through hands-on experiments and activities, which all include an artistic and scientific component, encouraging creative experimenting and play while learning. They then experience the dance works in a free-roaming and interactive experience, seeing some of their experiments in action.
Celebrating Aboriginal Science in the Tasmanian Midlands Hotspot 
Greening Australia (Victoria)
What can we learn about the science and sustainability of Australia from the people of its First Nations? Environment group Greening Australia and the Tasmanian Aboriginal community are joining forces to celebrate traditional and contemporary knowledge in science and technology in the Tasmanian Midlands Biodiversity Hotspot. This initiative includes four training days, two National Science Week Expos and an exhibition, a field day, and a community symposium. The project will train 53 Aboriginal youth at Oatlands and Campbell Town Schools, empowering them to communicate to families, farmers and the wider community at the two science Expos.
These events share the learnings from more than 60 000 years of Indigenous culture and sustainable land management, including biodiversity of native flora as bush food and medicine.
Other Information
National Science Week is Australia's annual opportunity to meet scientists, discuss the hot topics, do science and celebrate its cultural and economic impact on society.
First held in 1997, National Science Week has become one of Australia's largest festivals. Last year saw a staggering 1.2 million people participate in over 2100 events and activities.
In 2019, National Science Week events will be held right throughout Australia—from Corals in the Outback in western Queensland to TAStroFest astronomy in the Apple Isle, and from the Perth Science Festival to The Innovation Games at Sydney Olympic Park—with everything from science festivals, music and comedy shows, expert panel discussions, interactive hands-on displays, open days and online activities.
The festival is proudly supported by the Australian Government; partners CSIRO, the Australian Science Teachers Association and the ABC; and media sponsors including Cosmos and Popular Science.
National Science Week 2019 will run from 10-18 August. Event details can be found at www.scienceweek.net.au.
National grant media release: https://www.scienceweek.net.au/national-grant-recipients-announced-for-2019/
ENDS
For further information or to get in touch with a recipient, please contact jenni.klaus@utas.edu.au or 03 6226 2373.
---
GET SOCIAL! 
#scienceweek
twitter.com/sciencetasmania
facebook.com/natsciwktas
Festival of Bright Ideas
facebook.com/fobitas
instagram.com/festivalofbrightideas
#fobitas19