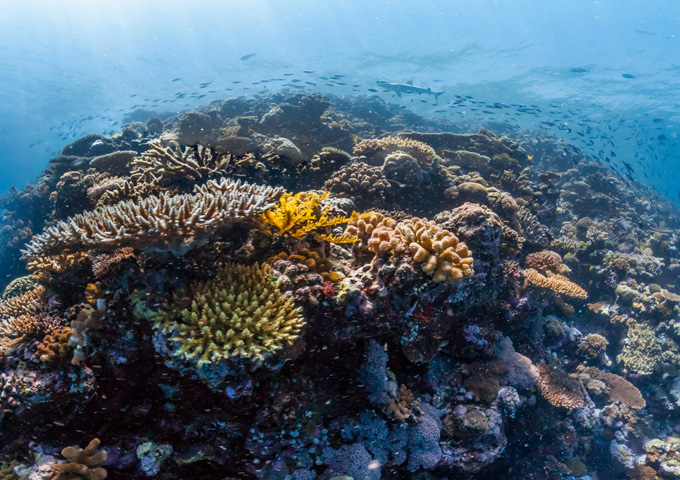 Each year National Science Week partners with the ABC and some of Australia's talented researchers to create a national project that everyone around Australia, wherever their location, can participate in. The project involves real data collection that scientists need our help to gather through citizen science.
Over the years the projects have seen Australians doing all sorts of things such as monitoring their sleep habits, analysing historical ship records to help build an understanding of our changing weather, and identifying wildlife in images from automatic cameras in the wild.
This year we are celebrating the International Year of the Reef by asking Australians all over the country to help scientists identify areas of decreasing coral cover and other problem spots on the Great Barrier Reef, through our project Virtual Reef Diver.
The project was launched last week with interviews on ABC RN Breakfast, as well as an event at Queensland University of Technology's The Cube with a discussion on the power of citizen science. At the 2018 Australian Citizen Science Conference in February Australia's Chief Scientist Dr Alan Finkel described his own three criteria of citizen science:
It has to be good science.
It has to be a door to science.
And it has to make the world a better place.
And according to these criteria, Virtual Reef Diver is the perfect citizen science catch!
It is providing scientists and reef managers with the important information they need to make critical decisions to ensure the Great Barrier Reef has a future. It allows all Australians around the country to dive into the beautiful waters, explore the reef and learn about the science involved in observing, classifying, modelling and predicting the future of the largest living thing on Earth! And that can only improve our understanding and care for our incredible natural world.
"The response we've had from citizen scientists has been amazing," says spatial scientist and project leader Dr Erin Peterson from Queensland University of Technology. "We're taking their classification data and feeding it into our scientific models of the Reef, to better understand issues like changes in coral cover across the Reef."
So what is involved in taking part? Simply dive online and you'll be shown underwater images of the Reef. Using the simple classifying tool, you are asked to identify whether there is coral, algae or sand etc at different spots in the images. It's simple and fun to do – and by participating you could win a GoPro camera. You get more competition entries the more images you complete!
In a later phase of the project, divers and snorkelers will be able to submit their own underwater images taken on trips to the Great Barrier Reef, which will be made available for everyone to classify online.
And what incredible success we have seen so far with this Science Week project! Since the Virtual Reef Diver website went live we have had so much science-ing!
Total activity so far:
176.1K images
2.6 million data points
2344 days
(data as of 12.30pm Saturday 18/8)
The project has been attracting some diverse attention, with interviews and promotions at the Brisbane Broncos NRL match in Brisbane this week, and ABC Science producing a Reef Diver video in Chinese!
A huge thank you to all involved. The project has seen a fantastic collaboration across numerous partners throughout our Australian scientific and community networks – check out the website to see everyone on-board. And there have been many reef and marine themed Science Week events providing hands-on as well as virtual opportunities to get involved.
And a fabulous well done to all you citizen scientists out there – awesome work! Keep identifying and clocking up the data points – remember the more images you do, the more competition entries you get. The competition closes on 31 August 2018, but please keep on classifying to your heart's (and the reef's) content.
So spread the word and get your friends, family, neighbours and workmates all taking the plunge with #VirtualReefDiver and participating in some citizen science that really will help the future of our Great Barrier Reef.
Photo courtesy of The Ocean Agency