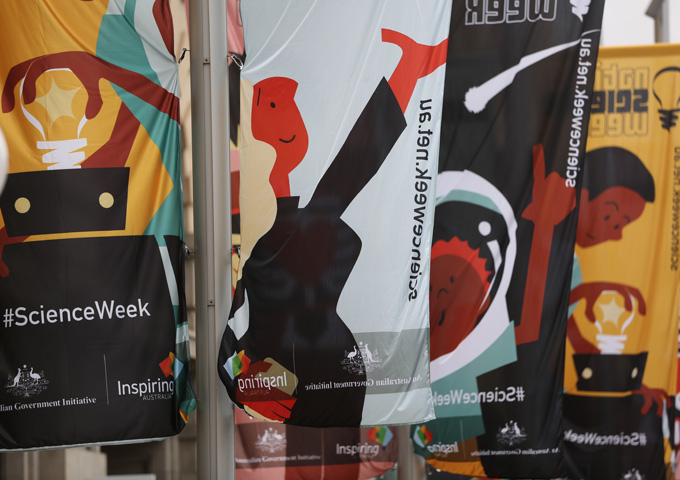 The Sydney Science Festival has just released its inaugural program; and it is astronomical. In venues across Sydney from 13 – 23 August during National Science Week, the Festival program is full of events, tours, workshops, exhibitions, and fun science activities for kids and science fans of all ages.
A stellar Festival lineup will include talks from some of the world's leading names in science, including astrophysics' pop hero Dr Neil deGrasse Tyson, space tweeting and singing astronaut Colonel Chris Hadfield, and Stanford University's own genetic guru Professor Kelly Ormond; alongside home-grown science brain Dr Karl. Leading local researchers will tackle topical issues from alterative energy solutions and sustainable food production to bringing science to wellness. Rising Sydney science stars will also present their cutting edge findings.
Over 10 000 visitors are expected to attend 70 events across 34 venues in Sydney, including The Powerhouse Museum, The Australian Museum and The Australian National Maritime Museum, university campuses and local libraries.
"The Sydney Science Festival extends our mission of inspiring curiosity and creativity in our community" said Museum of Applied Arts and Sciences Director, Rose Hiscock. "We're delighted to be connecting community, research organisations and industry partners under the banner of the Festival during National Science Week."
NSW Chief Scientist & Engineer Professor Mary O'Kane said National Science Week is a chance for everyone to experience the wonder of science and its relevance to everyday life.
"With events happening across Australia and throughout New South Wales, National Science Week is a great opportunity for people everywhere to discover the wonders of maths, science and engineering, and how these disciplines solve pressing problems."
National Science Week celebrations across the state include science festivals on the Sapphire Coast and in Newcastle, Lismore, Wagga Wagga, Port Macquarie, Albury Wodonga and Armidale.
The Powerhouse Museum opens National Science Week in New South Wales and the Sydney Science Festival, with an official launch: a free over 18s science-themed party, MAASive Lates: Science, on Thursday 13 August. The event will be launched by special guest, UK space scientist and presenter of The Sky at Night, Dr Maggie Aderin-Pocock The party will be a cold fusion of performances and hands-on activities, with music, drinks and delicious eats.
The first weekend of the Festival begins in a super collider of imagination and invention with the Sydney Mini Maker Faire (15 and 16 August) at the Powerhouse. The Faire is a family event for kids of all ages, where science fans can meet, greet, and see Sydney's most innovative makers and their inventions.
Astrophysicist and social media juggernaut Dr Neil deGrasse Tyson will bring his Ship of the Imagination to The Hordern Pavilion on Saturday 22 August on a world mission to progress critical thinking, and to shine a light on the importance of science in our modern-day landscapes.
The star talk will continue with famed Astronaut, New York Times bestselling author and YouTube sensation Colonel Chris Hadfield, who will take part in a live interview with veteran TV journalist Ray Martin for: A Spaceman's View of the Planet on Tuesday 18 August at the State Theatre.
Australian spacewomen Amanda Bauer, Katie Mack, Lucyna Kedziora-Chudczer and Venessa Moss, will talk stars, galaxies and black holes, with ABC's Wendy Zukerman in Space Jam. This panel of leading Australian astronomers will endeavor to answer the age old question of what's going on (with the universe)?
Australia's most notorious science communicator Dr Karl Kruszelnicki will speak on the strange and wonderful things that can go wrong with the human body. His talk, Health and Medicine Questions: Snake Oil to Sex to Sneezes, addresses everything from diet and drug myths, to brains, breasts and bowels, backaches, bone-breaks and bacteria.
For DNA enthusiasts, things that go wrong can also go right, especially if you are interested in joining Stanford University professor of genetics Kelly Ormond, speaking at the Garvan Institute of Medical Research. Her interactive conference exploring the potentials and pitfalls of DNA information, and its insights for ancestry, identity and health promises to overload the central dogma.
For those who would prefer to shoot the breeze on energy and ecology over polymers, the Wesley Conference Centre is hosting a Q&A forum with top scientists and engineers, led by ABC science journalist and broadcaster Robyn Williams. The session will discuss cutting-edge, alternative-energy technologies available for a sustainable Sydney.
Kids and their grown-ups can join in with Science in the Swamp! at Centennial Parklands. Meet a dinosaur, discover the science of bread making, or see how honey is made in a native beehive. Head to the Australian Museum Family Science Day for super shows, wonderful workshops and daring demonstrations or to visit Redfern Community Centre to experience bush teas and medicines, make Aboriginal tools or try your hand at boomerang making at the Indigenous Science family Fun Day.
The Festival will finish up with a big bang during Explode it with Science, Sunday 23 August. This fiery day of demonstrations, workshops and interactive performances, from a safe distance at the Powerhouse Museum, is just the way to blast over the nearest event horizon and into a black hole, just for fun.
For more information about regional National Science Week events search the events database on this site.
Follow Sydney Science Festival on:
Facebook: www.facebook.com/sydneysciencefestival
Twitter: @SydScienceFest #sydsciencefest