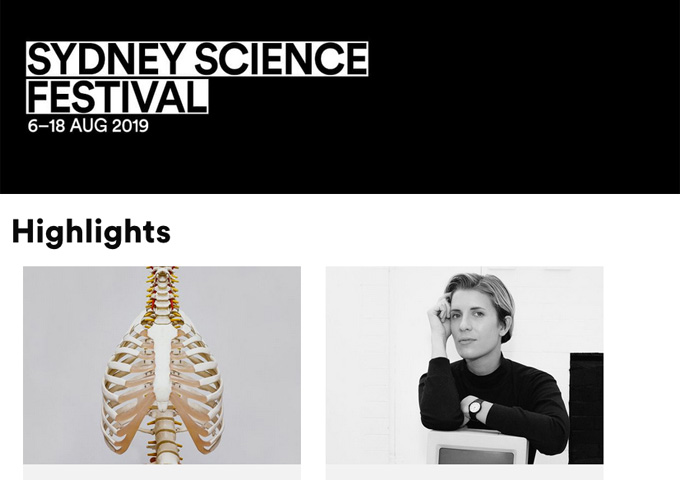 The Sydney Science Festival 2019 program is now live! Produced by the Museum of Applied Arts and Sciences with support from Australian Museum and Inspiring Australia, the fifth citywide Festival to mark National Science Week in Sydney features a huge range of events across the city from 6 –18 August.
High-profile Festival guests include pioneering marine biologist, oceanographer and explorer Dr Sylvia Earle, marine photographer Michael Aw, Nobel Laureate Dr Elizabeth Blackburn, physicist, writer and broadcaster, Professor Paul Davies, ISS Flight Controller Andrea Boyd, marine biologist Professor Emma Johnson, broadband historian Claire L Evans, science author Dr Karl Kruszelnicki, maths teacher extraordinaire and Australian Local Hero Eddie Woo and mathematician Professor Geordie Williams.
Also joining the citywide program will be a wide variety of Sydney scientists who'll deliver short talks about their research as part of Talking Science, a series curated by Inspiring Australia in partnership with local libraries. Hundreds more researchers will participate in science week activities on campus and in parks, gardens, museums, community centres and galleries, including as part of the inaugural Soapbox Science program at Circular Quay.
Among activities at the Powerhouse Museum will be the Appollo 11 exhibition commemorating the 50th anniversary of the Moon landing, a Big Science Day featuring a Hidden Mathematics talk with Festival Ambassador Eddie Woo and a panel of leading female scientists who will discuss Australia's unique opportunities in the new space race.
Super Science Saturday returns to the Australian Museum with live animals, hands-on experiments and outrageous science demonstrations, including activities to appeal to the littlies, teenagers and parents. There'll also be a free day for children at Taronga Zoo, in collaboration with the University of Sydney, for families to experience first-hand conservation science in action.
Don't miss State of our Oceans with Sylvia Earle, a night of stunning imagery and lively conversation at the Australian National Maritime Museum on 13 August featuring legendary oceanographer Dr Sylvia Earle, marine scientist Professor Emma Johnson AO and multi-award-winning international nature photographer Michael Aw who will share fascinating stories from the field.
Highlights supported by Inspiring Australia include:
Science in the City from 6 to 15 August, Australian Museum's schools' program that brings practical science to life with hands-on activities and explosive workshops.
Why music is Maths, a free lunchtime event on Wednesday 7 August at City Recital Hall where mathematician Professor Geordie Williamson will delve into the shape of sound and sound waves to explore the fascinating world of timbre, overtones, modes and frequencies.
ArtSci, a series of art/science events and competitions presented in libraries and community centres on Sydney's Northside, that will culminate in a free family festival on 17 August with demos and shows at the CSIRO's stunning Linfield facility.
Science in the Swamp, a much loved event sure to welcome thousands of community members to experience science presentations from diverse presenters in Centennial Park on 18 August. In a separate event at the Park on 17 August, Sydney Youth Orchestras will present an outdoor evening performance of The Planets by Gustav Holst accompanied by an opportunity to stargaze through telescopes and learn about the night sky from astronomy experts.
Science in the Wild – Dinosaurs vs Superpowers, a chance for community members to enjoy free outdoor family and community activities at The Australian Botanic Garden Mount Annan on 11 August with a focus on science superpowers.
The Innovation Games at Sydney Olympic Park on 18 August, a free family fun day on Sunday 18 August full of sporting, science and technology action including drone simulators, virtual reality gaming, a scooter and skate challenge, a BYO-device augmented reality treasure hunt, Australian wildlife shows, sports and fitness challenges, wellbeing talks, participatory Indigenous art, chemistry shows and films. This event will bring science to sports fans attending the AFL game at Spotless Stadium.
The National Indigenous Science Education Program @ Redfern, a unique schools' program with participation by Indigenous students, Elders and the community alongside scientists and outreach providers who will offer a wide range Indigenous and Western science, technology, engineering and mathematics (STEM) activities. The public community day at Redfern Community Centre on Sunday 18 August is free and open to all.
Living Laboratory, a celebration of the environmental sciences at the Royal Botanic Garden Sydney on Sunday 18 August with stalls, talks, demonstrations and scientists at the ready to address your burning questions. A mini version of this event will also be presented at the Blue Mountains Botanic Garden in Mount Tomah.
The Ambidextrous Brain: The Neuroscience of Imagination & Creativity, two talks at the Art Gallery of NSW and Sydney Startup Hub by University of Sydney Psychology Professor David Alais that explore the artistic brain.
Harbour Cruise: Aboriginal Perspectives of Sydney Harbour: the Australian National Maritime Museum will offer a unique opportunity to discover Aboriginal Perspectives of Sydney via a stargazing experience on board Tribal Warrior's Mari Nawi (Big Canoe), with an all-Indigenous crew who will share stories and techniques used to navigate by the stars for thousands of years.
As part of Sydney Science Festival, Sydney's universities have each developed a suite of outstanding science engagement offerings including:
Elizabeth Blackburn: The Telomere Effect: a presentation by Nobel Laureate Elizabeth Blackburn at the City Recital Hall that will ask why ageing takes such different paths for different individuals and Paul Davies: The Demon in the Machine, transformations in technology and medicine, the physics of two-headed worms and answer the age-old question of whether or not we are alone in the universe. (UNSW).
The Al – Zr of the Periodic Table: a journey through Al-Zr of the Periodic Table in a comedic ensemble of quick-witted scientists including Dr Karl Kruszelnicki, Adam Spencer and Dr Alice Motion (The University of Sydney).
Pollinator Power: A chance to meet researchers investigating the role of pollinators in producing some of Australia's favourite fruits, nuts and vegetables, as well how they are vital in maintaining healthy, functional native ecosystems. (Western Sydney University).
Spectra: The Art and Consequence of Collaboration: A group exhibition featuring the work of Australian artists and designers working at the nexus of art and science that explores their increasing convergence and how each area impacts the other. (UTS).
Another Pale Blue Dot: The SETI Institute's Search for Exoplanets: a talk by Dr. Franck Marchis, Senior Planetary Astronomer and Science Outreach Manager, SETI Institute (Macquarie University).
Visit Sydney Science Festival to browse the full program or find an event near you on the National Science week events directory.