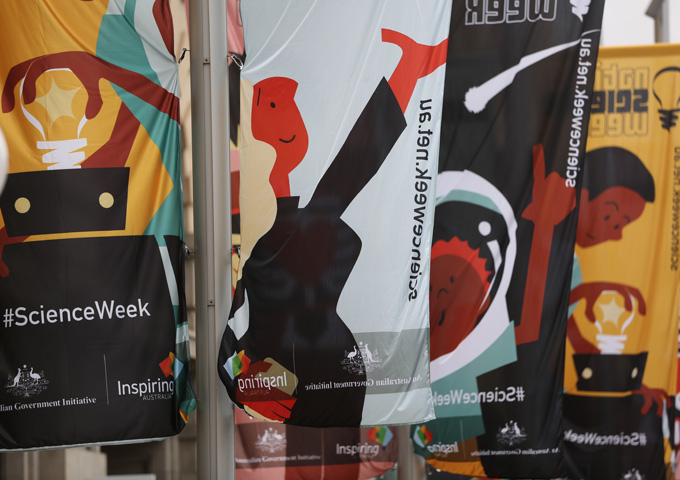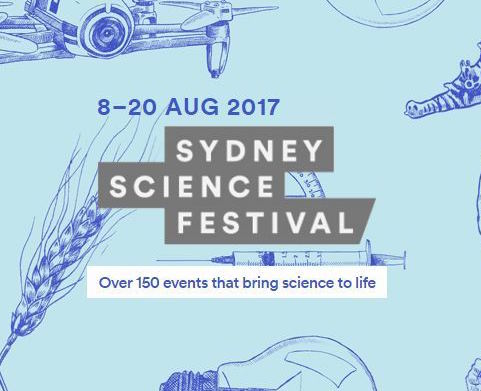 The third Sydney Science Festival presents a stellar line up of science events for all ages in venues across Sydney from Tuesday 8 to Sunday 20 August 2017. With 175 registered events on offer delivered by 80 partners across the greater Sydney region, the Festival celebrates National Science Week and aims to encourage an interest in science among the general public and young people.
Sydney Science Festival also provides an opportunity to highlight Sydney's scientific credentials and foster partnerships between the community, research organisations and industry.

"Sydney Science Festival celebrates the achievements of our scientists and engineers and technologists and the tremendous contribution they make to our everyday lives," says NSW Chief Scientist & Engineer, Professor Mary O'Kane.
Sydney Science Festival is produced by the Museum of Applied Arts and Sciences and the Australian Museum as part of National Science Week, in partnership with Inspiring Australia.
Attend the public launch event
All welcome to celebrate the launch of the Festival on Thursday 10 August at MAASive Lates: Science at the Powerhouse Museum from 7-10 pm. Meet experts, get creative with a range of hands-on activities, tour exhibitions and chat with curators in this huge night of science.
Be first to see the brand new This is a Voice exhibition before it opens to the public on 11 August
Speed meet a scientist (or two)
Drive a Mars rover across the Museum's Mars Lab
Enjoy curator tours of some of the Museum's exhibitions
Escape into virtual reality in The Lab
Take part in hands-on activities
Arrive early for happy hour from 7–8pm (cash bar)
Program Highlights
There's so much to do for school groups at the Australian Museum where students will take a hands-on approach to science as they meet the experts, ask the hard questions, try some experiments and get excited about the future of science. The Science Festival Schools Expo takes over the Australian Museum from 8–11 and 15–18 August.
Life on Mars: NASA's 2020 Rover Mission brings an incredible panel of NASA experts to Sydney Opera House on Thursday 17 August including Australian astrobiologist Dr Abigail Allwood, Mars Exploration Program scientist Dr Mitch Schulte, theoretical physicist, cosmologist and astrobiologist Professor Paul Davies and astrophysicist MC Dr Graham Phillips.

Browse the program to find opportunities to meet Sydney's up and coming science and technology experts at dozens of free events presented on campus at University of Sydney, UNSW, UTS, Macquarie and Western Sydney University, including at Science + Quiz=Comedy hosted by Adam Spencer and Dr Karl.
Discover the role plants play in your favourite alcoholic drinks, and learn how science, plants and booze collide in Botany Distilled.
Watch U.S. climatologist Michael E. Mann, psychologist Stephan Lewandowsky and advocate Anna Rose discuss government's role in climate change in The Madhouse Effect: What is Stopping Action on Climate Change?  Hear interesting perspectives and share suggestions on the much debated topic Wednesday 16 August at the Sydney Opera House.

Baffle your senses with tactile and visual illusions and immerse yourself in the bizarre sensory world of animals in A Night of Illusions at 107 Projects, Redfern.

Get set for some outdoor fun with Science in the Swamp at Centennial Park. The free family day includes lots of hands on science experiments, life-size roaming dinosaurs, experiments, shows and demonstrations.
Bring the whole family along for an awesome day out at Taronga Zoo for the Wild Science Race. Family fun continues at Science in the Wild at the Australian Botanic Garden, Mount Annanand with Gondwana Garden at the Blue Mountains Botanic Garden, Mt Tomah.
Explore hands-on science, sport and technology action at the Innovation Games at Sydney Olympic Park, an interactive expo of live shows, daring demos, crazy creatures and the latest gadgets.
Get hands-on at the Indigenous Science Education Family Fun Day at Redfern Community Centre, the Australian Museum's Super Science Saturday and the Powerhouse Museum Family Fun Day.
Find out more of what's on in the Sydney Science Festival.