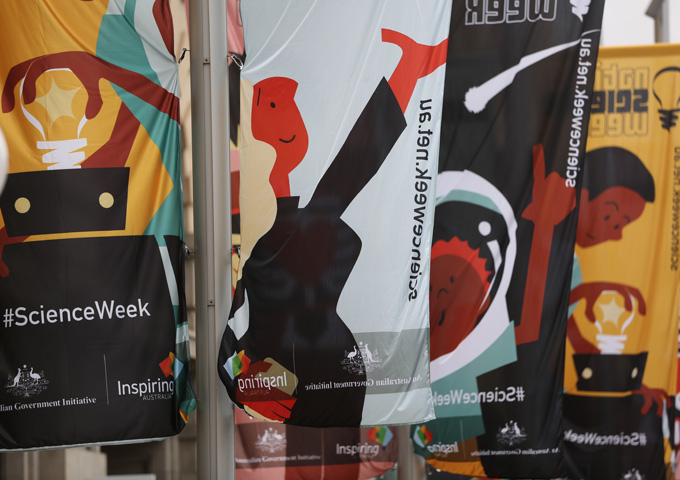 Congratulations to the following successful National Science Week grant recipients in Tasmania, and thanks to everyone else who applied. 2012 is shaping up to be yet another great year of science events and activities!
Circular Head Council's Education & Training Consultative Committee "Power Up" Science GIG and Roadshow
These National Science Week events will feature competitions for everyone in the community, from pre-kinder to adults. The community "Gig" evening event will feature competitions around the National Science Week theme of Energy Evolution, and displays from local industry representatives and schools. This public event will be followed by science field trips for high school students, with the aim of further stimulating association between food production, energy and science.
Queen Victoria Museum and Art Gallery Science Open Season
Over the nine days members of the public will be able to experience science careers, enjoy the Scinema Festival of Science Film, explore science through playgroup and other hands-on activities, engage with the planets, enter Map It 2012, be enthused by Women in Science at breakfast time and have fun at Energise 2012. The Queen Victoria Museum and Art Gallery (QVMAG), proudly owned and operated by Launceston City Council, is the largest regional museum and art gallery in Australia.
Elizabeth College The Evolution of Energy in Tasmania: Wood -> Water -> Wind
This program focuses on providing science activities, scientific open forums, seminars and science career information to Tasmanians of all ages and occupations, and will include:the National Science Week 2012 Launch Luncheon, the 12th annual National Science Week Elizabeth College Workshop, the Inaugural "Prepare a Practical for a Parent" evening, "The Evolution of Energy in Tasmania; Wood to Water to Wind" symposium, and a Government House reception to mark National Science Week 2012.
Faculty of Science, Engineering & Technology at the University of Tasmania Celebrating the STARs
This program celebrates the successes of Science and Technology Achievers and Researchers (STARs) with their home communities, particularly in regional areas of Tasmania. Reconnecting with their home town, the STARs will share stories of their career pathways and current research activities through locally-supported events, interactive presentations and online. The aim will be to inspire interest, increase understanding, and provide insights into different areas of science and technology, as well as to highlight opportunities for further engagement, both in their local communities and further afield.
National Science Week in Tasmania is proudly supported by the University of Tasmania and the Tasmanian Government.